Religious leaders from across Leeds came together for a unique interfaith event in the city last weekend as they denounced violence and hate crimes.
Christians, Jews and Muslims gathered at St George's Church for the one-off 'Standing Together' event, organised to promote dialogue between different communities.
In what was described as an 'act of solidarity', clergy and respected figures from each of the three faiths spoke not of the suffering within their own religion but within that of another.
Rabbi Jason Kleiman condemned the suffering of Muslims at Srebrenica by those who considered themselves 'Christian', whilst Imam Zeeshan Baloch recounted how Christians had been targeted by members of the Pakistani Taliban in Lahore.
Meanwhile, Professor Debbie Murdoch Eaton, of St George's, was the third speaker and vehemently disapproved of the persecution of the Jewish community.
Joanna Seabourne, Associate Rector at St George's praised the unity shown in the event.
"The idea for Standing Together originally came from one of our church networks which had been in discussion for some years with members of the Jewish community and had begun discussions with members of the Muslim community," she said.

"To be able to meet and hear one another's stories and partake in genuine discussion was such a privilege and really enriching."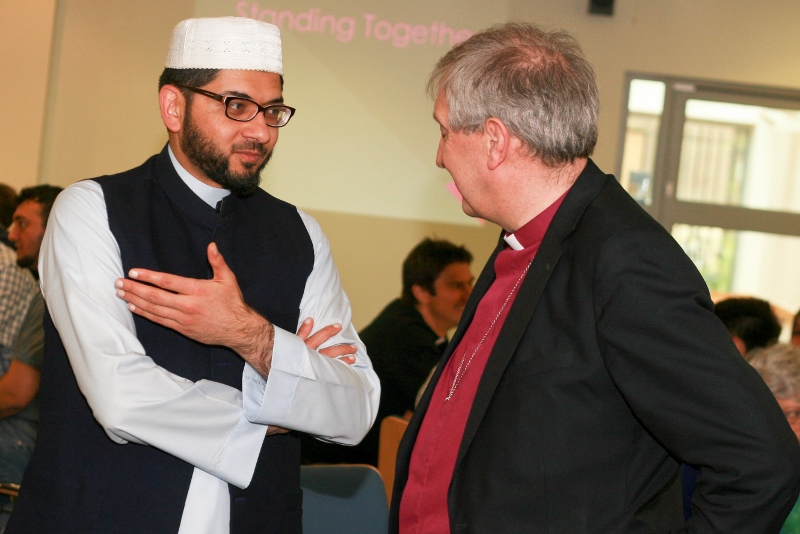 Just under 100 members of the Jewish, Muslim and Christian communities attended the project to say 'no' to violence in the name of religion and 'yes' to supporting one another as people of faith.
Rabbi Kleiman, who recently visited Srebrenica – where over 8,000 Muslims were slaughtered in an act of ethnic cleansing by Serbs – said it was important to unite on a "glocal" scale.
He added: "It is heart warming to see how we all share the goal of promoting harmony and understanding and seek a world free of intolerance, prejudice and racism."
As well as hosting the dialogue, the event also served a second purpose – giving members of different faith groups an opportunity to converse around coffee tables.
Heston Groenwald, Vicar of All Hallows, was table leader of a group of young faith members.  
He commented: "There was a very generous spirit around our table. The young people said that they wanted to make peace – not war. They saw this as a task for their lifetime – but said they were up for the challenge."  
At the conclusion of the event, the attending faith leaders signed a declaration condemning violence in the name of religion; anti-Semitism; Islamophobia and the persecution of Christians.