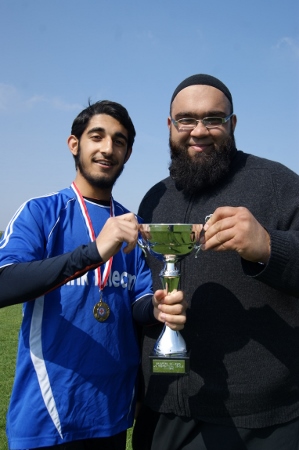 U-19 Football team 'kept going when it got tough'
Laisterdyke Leadership Academy has had a 'pitch perfect' sporting season this year, after their Under 19 football team clinched the local school league title with a thumping final day victory.
After a nerve-wracking draw with St Bede's in their penultimate fixture, the plucky and talented team thrashed local rivals Carlton Bolling 4-2 in a gritty matchup to sweep up the accolade.
Coaching the teenagers to the top was Mo Waqas, who is also a Learning Support Teacher at the academy.
He said jubilantly: "This is the first time we've won it. The team got very close to winning last year. To make things even better, this is the first time the post-16's have ever won the championship from this school too."
Mr Waqas said the team "are easy to coach" because they're "a fantastic bunch of lads."
He continued:  "The boys are amazing. There's strong camaraderie between them and they all know each other – as the majority play Sunday League as well.
"They have the right chemistry, a lively team spirit and adopt a 'never-say-die' attitude which has been clearly demonstrated this season."
Amongst the championship-winning team was 18-year-old Huzayfa Dad.
He said: "It feels absolutely brilliant to win. After the hard season, we got our hands on the trophy and finally got the plaudits we deserve."
Also playing for Laisterdyke was 16-year-old Danyal Yasin, who laces up his boots for the Thornton Grammar team at Sunday League too.
He said: "We followed the manager's philosophy of 'keep going when it gets tough'. This led us to victory."
Lee Allington, Director of PE at the school, said: "These lads have been with us all the way through the school from Year 7 and to see them as they are now is a real honour.
"The team have left a legacy for the rest of the school and have helped build up the reputation of Laisterdyke. They've done very, very well."