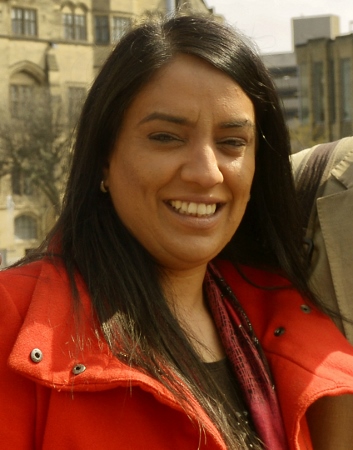 MP Naz Shah suspended by Labour
Less than one month after a former Bradford Lord Mayor was suspended by the Labour Party over alleged anti-Semitic Facebook posts, Bradford West MP, Naz Shah, has been slain by the same sword.
Labour leader, Jeremy Corbyn, took the decision to suspend Shah after posts she made on Facebook in 2014, in which she appeared to endorse a suggestion to deport Israelis to America, came to light.
In a Facebook post in 2014, prior to her becoming the MP for Bradford West, Ms Shah shared an image of Israel's outline superimposed onto a map of the US under the headline "Solution for Israel-Palestine Conflict – Relocate Israel into United States", with the comment "problem solved".
Another post made used the hashtag #IsraelApartheid above a quote saying "Never forget that everything Hitler did in Germany was legal".
She resigned from her role as a parliamentary assistant to Shadow Chancellor, John McDonnell, on Tuesday 26th April, before being summoned to a morning meeting with Corbyn on the following day.
Despite being able to continue in her position initially, following growing pressure, including from Prime Minister David Cameron, Shah was suspended later in the day.
He told her that her comments were "offensive and unacceptable" but that he believed she no longer held such views.
The Bradford MP "wholeheartedly apologised" in the House of Commons adding that she "deeply regret(ted)" causing "upset and hurt" to the Jewish community.
She said the post did not reflect her views and was made "at the height of the Gaza conflict in 2014, when emotions were running high around the Middle East conflict".
"As you know, when a government minister makes a mistake they can correct the record. I hope you will allow me to say that I fully acknowledge that I have made a mistake and I wholeheartedly apologise to this House for the words I used before I became a member," said Shah.

"I accept and understand that the words I used caused upset and hurt to the Jewish community and I deeply regret that.

"Anti-Semitism is racism, full stop. As an MP I will do everything in my power to build relations between Muslims, Jews and people of different faiths and none.

"I am grateful and thankful for the support and advice I have received from many Jewish friend and colleagues, advice I intend to act upon.

"I truly regret what I did and I hope, I sincerely hope, that this House will accept my profound apology."
On Wednesday 27th April, she published a further apology in Jewish News, saying: "With the understanding of the issues I have now I would never have posted them.
"The language I used was wrong. It is hurtful. What's important is the impact these posts have had on other people.

"I understand that referring to Israel and Hitler as I did is deeply offensive to Jewish people, for which I apologise."
Jeremy Corbyn and Naz Shah have mutually agreed that she is administratively suspended from the Labour Party by the general secretary," said a party spokesman.
"Pending investigation, she is unable to take part in any party activity and the whip is removed."
Corbyn's decision not to immediately suspend Shah, labelled by Cameron as 'extraordinary', is the latest in a string of anti-Semitic incidents to hit the Labour party.
Former parliamentary candidate, Vicki Kirby, was recently suspended after bring readmitted to the party following a number of offensive messages on Twitter.
Likewise, Councillor Khadim Hussain, who has now quit the party, was put under investigation in March for sharing a post on Facebook which stated: "your school education system only tells you about Anne Frank and the six-million Zionists that were killed by Hitler".
Former London Mayor Ken Livingstone, who has also been suspended on Thursday 28th April  following his support of Naz Shah. He had said that "Ms Shah's remarks were not anti-Semitic and her suspension was unnecessary."
"What we have at the moment is a lot of people making a big issue about anti-Semitism in the Labour Party. In 47 years I have never heard anyone say anything anti-Semitic," said Ken Livingstone.
Shah's rally of supporters have said that her actions on social media have been naïve and took place before she entered the political arena.
Councillor Mohammed Shabbir, who was an elected Labour member of Bradford Council who represents the Labour Party in the Heaton ward in Bradford and works in Ms Shah's parliamentary office, has also been suspended for allegations of a similar nature.