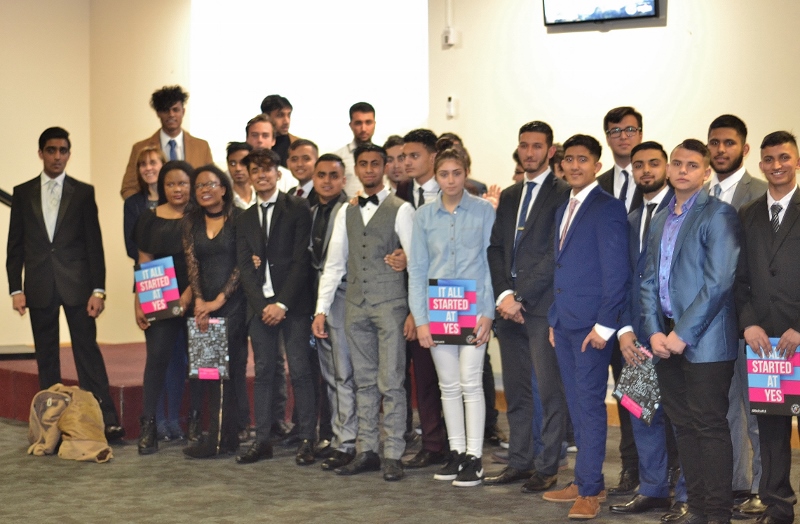 A group of students from Bradford College are celebrating after completing the National Citizen Service programme (NCS).
The 22 students were joined by parents and guests for a graduation ceremony at Bradford City Football Club.
The college students were among 130 young people from across the city of Bradford to sign up for NCS in autumn 2016, dedicating their October half term and three November weekends to building new skills, meeting new people and contributing to local communities.
Two Bradford College students, Glenda Kunaka and Mohammed Awais, were elected Assistant Team Directors on NCS and their speeches at the graduation ceremony were met with cheers and applause from the audience.
Mohammed spoke about the fun day his team had put on to promote the work of CHAS at St Vincent's, while Glenda spoke about how NCS had given her and her team "an opportunity to show our skills and help each other overcome our fears", as well as the chance to develop "an amazing friendship group".
Julie Warden, Learner Progress and Cross-College Tutorial Manager at Bradford College, attended the ceremony and said: "It was fantastic to see so many of our students celebrating their achievements – the skills they have built will help them succeed here at college and in whatever they want to do next. We are very proud of them and can't wait to see more students follow in their footsteps in 2017."
Clare Higgins, NCS Engagement Team Leader in Bradford added: "It has been a real pleasure working with Bradford College this year and it's brilliant that over 50 students took part in our summer and autumn programmes. We are excited to continue working with colleagues across the college to support even more students to take part in NCS in 2017."
The students have now joined a network of over 200,000 NCS graduates around the UK, with access to lots of opportunities to build on their new skills and ambitions through the NCS graduate programme TCS (The Challenge Society).
Two Bradford College students, Shuayb Khan and Layton Stocking, have already taken up TCS opportunities, with both of them part of TCS Bradford Youth Board.
NCS is open to all young people aged 16-17. As well as the autumn programme, three-week programmes run throughout the summer.
Providing an opportunity to boost CV experience, personal statements, and UCAS forms, the programme is a government-funded initiative that brings together schools, community organisations, businesses and individuals to build a stronger and more cohesive society.