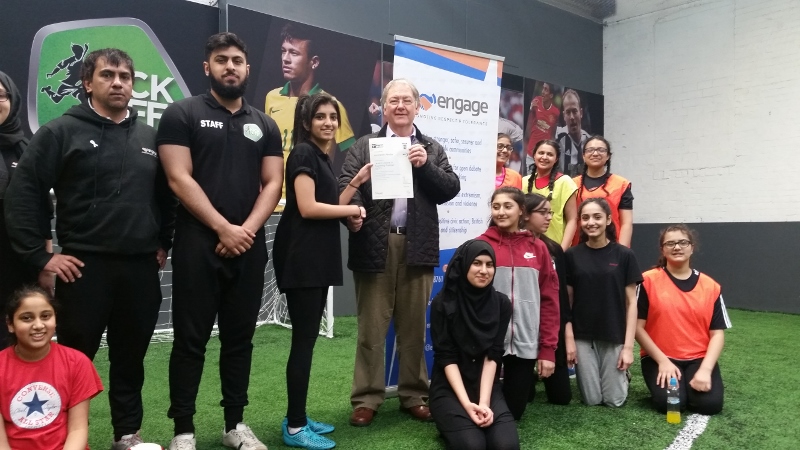 Soccer success at seventeen
A sporty teen from Dewsbury took her first step up the football coaching ladder last week as she earned her first official FA grading.
Three months ago, 17-year-old Ammarah Pandor, from Dewsbury, started volunteering with Engage Dewsbury – a voluntary community project set up to tackle radicalisation.
As part of her work, the young volunteer coached girls in football every Sunday for three hours, with her dedication and talent eventually leading to her becoming an FA Level 1 qualified coach.
The course, produced by FA Education provides an introduction to the football organisation and to the delivery of safe and enjoyable coaching sessions for players.
Ammarah's Level 1 course was funded by a charity called 'Let June Make a Difference', which aims to provide one-off grants to underprivileged children in North Kirklees, in memory of June Dewhirst who died in April 2014.
Haroon Adam, founder of Engage Dewsbury, mentored Ammarah through the course.
He said "We recognised Ammarah's talent very early on. She is a gifted footballer and has a real enthusiasm and commitment to pass on her skills and knowledge to other females.
"We put her forward for this and we hope she uses this qualification as a stepping stone to bigger and better things in women's football."
He continued: "Engage is all about working with the youth – we want young people to appreciate that there is life beyond their smartphones."
Jamil Baig, director of Kick off Dewsbury also congratulated Ammarah and presented her with £30 worth of Sports Direct vouchers.
He said: "Ammarah has been coming here since we opened last August and we are proud to have been able to make a little contribution to her progression. We will continue to support Ammarah in any way we can."
Ammarah says she is very excited about her own future in the sport and looks forward to progressing further up the coaching ladder.
She said: "It's not often that you get a female from an ethnic minority background playing and coaching football, so hopefully I am breaking down barriers and stereotypes.
"I want to thank Engage Dewsbury, Let June Make A Difference and Kick off Dewsbury for their wholehearted support and encouragement."
Colin Bradley, a Trustee of Let June Make A Difference, added: "We were introduced to Ammarah through Engage Dewsbury and we were thrilled to be able to help her obtain her Level 1 FA coaching qualification.
"Our charity aims to help children living in North Kirklees undertake potentially life changing experiences which will stay with them through the rest of their lives.
"We are looking forward to working with Engage Dewsbury in the future as our organisations develop and grow."