Bradford College is home to a showstopping £10 million Techno-Centre   
Bradford College's £10 Million Advanced Technology Centre (ATC) offers fantastic opportunities in the heart of Bradford to grow small businesses.
It's an ideal space for entrepreneurs and start-ups, who will feel the benefit of premium enterprise zones equipped with state-of-the-art technology, at competitive rates that are viable for companies still finding their feet.
The ATC supports innovative businesses to succeed in motivating, cutting edge environments. Located in the heart of Bradford's learning quarter, your business can benefit from 1000m2 space of inspiring, light and airy work zones, consisting of three enterprise zones and an IT suite.
Conveniently located in the city centre of Bradford, the ATC is only a five-minute walk from the relaxing City Park.
Beyond the City Park is the City Centre, an up-and-coming metropolis that conveniently hosts all the amenities you'll need.
The Advanced Technology Centre is approximately a 10-minute walk from both Bradford train stations and a 30-minute drive from Leeds Bradford Airport.
Choosing to base your business within the ATC provides you with access to a range of benefits.
Your business will run smoothly with free Wi-Fi and super-fast broadband (with speeds up to 150MB), a range of virtual office services with dedicated IT support on hand.
Flexible serviced office space, free utilities and guest parking, along with discounted NCP rates are also available to you.
As well as working in modern, cutting edge environments there is also a staffed reception 8am to 5pm, Monday to Friday, plus access to the Dye House art gallery, conference rooms, meeting and exhibition facilities.
Furthermore, you will have access to the Bradford College library and e-library, recruitment services, gym and sports facilities and catering and restaurant facilities.
Accredited courses, including a wide range of online courses, are offered to you including staff training and development through Bradford College and City Training Services.
With prices starting from as little as £100 per person per month, furnished business-ready enterprise zones and discounted prices for print, design services and website development, along with discounted accommodation at various local hotels, are included within the various benefits.
Preferential rates are available for Bradford College students and former students.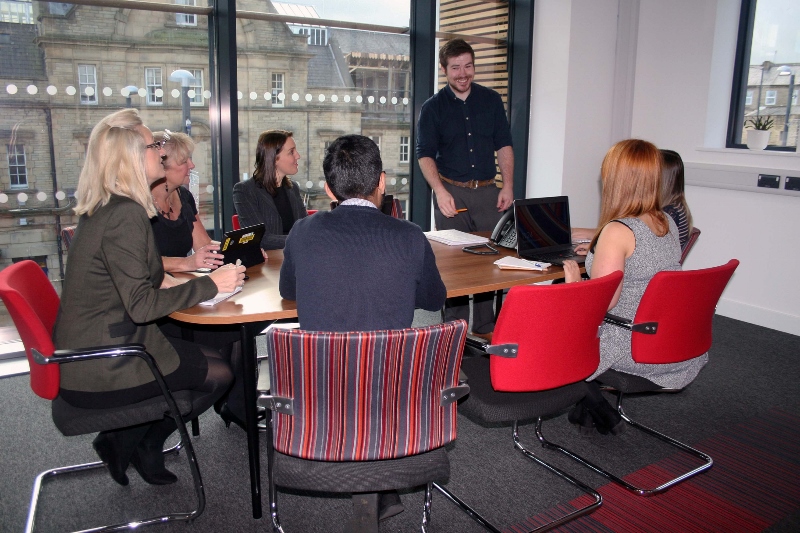 The ATC is part of Bradford College's vibrant and sprawling campus. Bradford College is an award-winning Further and Higher Education institution based in Bradford city centre.
The College has a strong professional and vocational focus in order to provide its alumni with tangible employment opportunities and helps to prepare each and every one of them for the working world.
The Further Education student body is 20,000 strong and the centre itself has recently undergone a multi-million pound state-of-the-art renovation in order to provide its students with the best possible facilities.
With cutting-edge facilities, state-of-the-art technology and light and airy breakout spaces, the Advanced Technology Centre is the perfect space for an up-and-coming and innovative small business to create, develop and grow. If you would like more information or would like to come and look around, please don't hesitate to contact us.
You can call 01274 436120 or 07854 983191, or alternatively email us on atc@bradfordcollege.ac.uk.