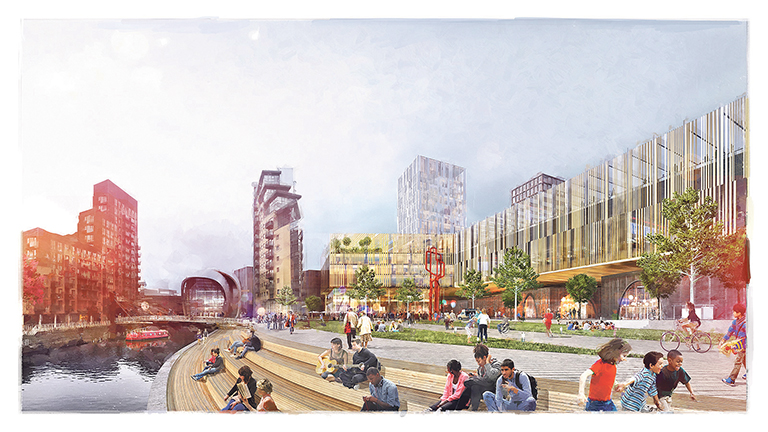 Station passenger flows set to rival Heathrow Airport
Ambitious plans for the redevelopment of Leeds Station, into an integrated high-speed transport hub for the city, have been released this week.
The much anticipated report by the chair of HS2-Ltd, Sir David Higgins, has revealed his recommended option for how to remodel the station to accommodate future high-speed rail, whilst boosting through-rail services in a single integrated hub.
His recommendation to government would see the station redeveloped as a 'Yorkshire Hub' utilising a 'T-shape' design.
This would see the existing east-west rail lines being combined with connecting new north-south lines to accommodate HS2, operating as a single station serving connecting cities and towns across the Leeds City Region and beyond.
This recommendation replaces the original proposal of a new station for HS2 at New Lane, and follows detailed discussions as to the ideal solution for Leeds Station to meet current and future needs.
Sir David further explained: "Leeds Station is already the busiest station in the north of England, and also a major transport hub for the city, Yorkshire and the wider north of England as a whole.
"Given the physical constraints of the existing station, and the rising level of demand for services, coming up with a solution that meets all those needs has not been easy, but, thanks to the efforts of the council, the Leeds City Region and the Chamber of Commerce, as well as HS2 and Network Rail experts, we have reached a consensus."
Over 27 million people pass through Leeds Station every year with this figure projected to rise by as much as 114 per cent by 2045.
Sir David's recommendation for the station redevelopment has been welcomed by civic and business leaders in Leeds and across the Yorkshire region.
Councillor Judith Blake, Leader of Leeds City Council said: "Leeds City Council and partners have worked together to push for a solution for Leeds Station that meets the city and region's aspirations, creating the connectivity the region clearly needs; and I am delighted that we have such a strong proposal in place now.
"This major project will not only transform the station into a landmark gateway to welcome visitors and business travellers in the city and region, but will be transformative in terms of new jobs, skills, regeneration, and business opportunities.
"Redeveloping the station in Leeds alone will create 10,000 new jobs and we are determined that people in the city benefit from these opportunities."