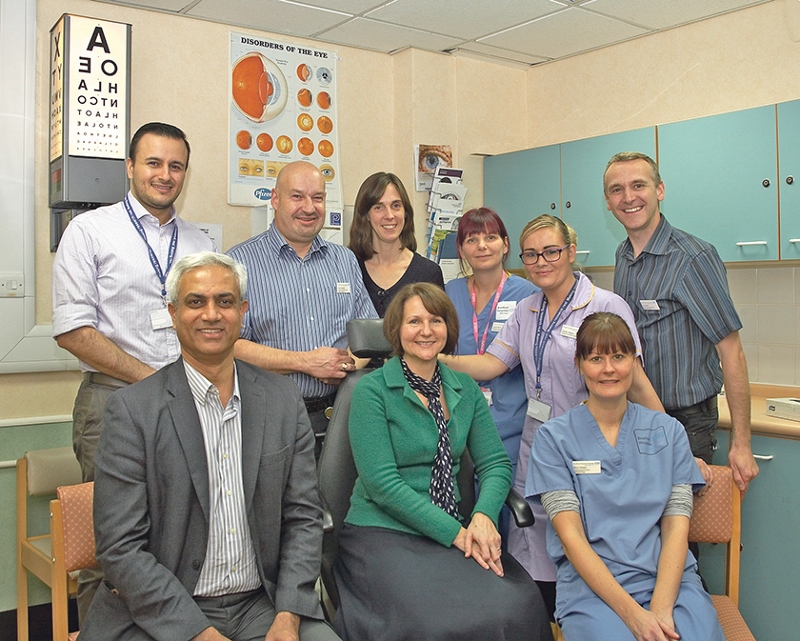 Bradford patients who are helping test ground-breaking new drugs – some of which could help prevent blindness – got together with doctors and nurses to celebrate another year of success.
More than 50 patients and their carers heard how their participation in research trials is benefiting others as they joined together with the city's leading eye research clinicians at a festive party at the Bradford Royal Infirmary's Listening for Life Centre on Friday 4th December.
Professor Faruque Ghanchi, consultant ophthalmologist and head of the Bradford Ophthalmology Research Network (BORN), said: "We owe a sincere debt of gratitude to everyone who participates in our studies and the research team organised this Christmas party to celebrate another fantastic year of pioneering research in partnership with our patients.
"The involvement of patients, as our partners in our research work, is something that we are immensely proud of. We strive to provide them with better health outcomes as their wellbeing is our number one priority.
"Events like this also give us the opportunity to share the latest information and results about our trials with patients and their families."
Professor Ghanchi added that Bradford patients have been instrumental in the team's success and that the unit were planning to start a new eye research patient group in the New Year to further develop work of the BORN.
The patients, aged 50 to 90-years-old, took part in 10 studies this year aimed at tackling sight-threatening conditions such as wet AMD (age-related macular degeneration), geographic atrophy, central retinal vein occlusion, branch retinal vein occlusion and posterior uveitis.
Lead eye research nurse, Nicci Hawes, said: "Today's event celebrates our success in having taken part in our highest number of studies ever and to thank all our patients as we couldn't have done it without them."
The eye research team is led by Professor Ghanchi and his consultant colleague, Miss Helen Devonport, and includes Dr Zeid Madanat, Sister Nicci Hawes, Sister Sarah Moss, associate practitioner Hayley Higgins, optometrist Dr Charlotte Hazel, and clinical photographers Anthony Dook and Paul Creasey.