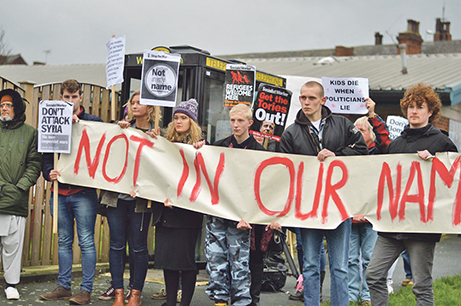 Constituents unhappy with their MP support for Syria bombing
Leeds Central MP Hilary Benn, who received rousing applause from both sides in the Commons for his oratorical speech in favour of bombing in Syria, faced a different reception from his constituents last weekend. And there are reports that he is to get the axe from the Shadow Cabinet.
At his office in Beeston, Mr Benn was greeted by between 30 to 50 anti-war placard-bearing protestors.
"Where did you get the authority to vote for bombing? Did you consult any of the churches, the mosques? Who is it you consulted because I don't think that you consulted anybody," said Stephen Johnstone, of Leeds Coalition Against the War.
Mr Johnstone said this was the fourth war that Mr Benn supported and suggested that he did it against the wishes of his constituents.
Mr Benn responded: "I hear what you say about the views people hold but in the end as members of parliament we need to take decisions and to be held to account and I will be held to account for what I've done."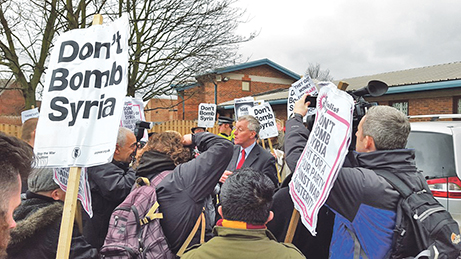 Another protestor said: "I am a constituent of Hilary Benn and I completely disagree with what he's doing … I think if Hilary Benn is not willing to listen to his constituents then we should move towards deselection and put pressure on the Labour Party and go about it that way."
One banner held by the protestors denounced Mr Benn's vote as it read: 'Not in our names' and a placard read: 'Don't bomb Syria. Fight for a Labour Party against war and austerity'.
Mr Benn was one of 66 Labour MPs who voted in favour of military action, contributing to the government's comfortable majority of 397 to 223 votes to join an international coalition targeting Daesh (ISIS) operations in Syria.
In his speech, Mr Benn said that he supported the action because it was necessary for the UK to confront 'the evil' known as Daesh.
Since the vote, the Royal Air Force carried out at least three bombing raids on oil fields controlled by the extremist group in eastern Syria.
Reports suggest that Mr Benn could be one of five MPs that will be removed from the Shadow Cabinet during a New Year shuffle, set to occur as early as January.