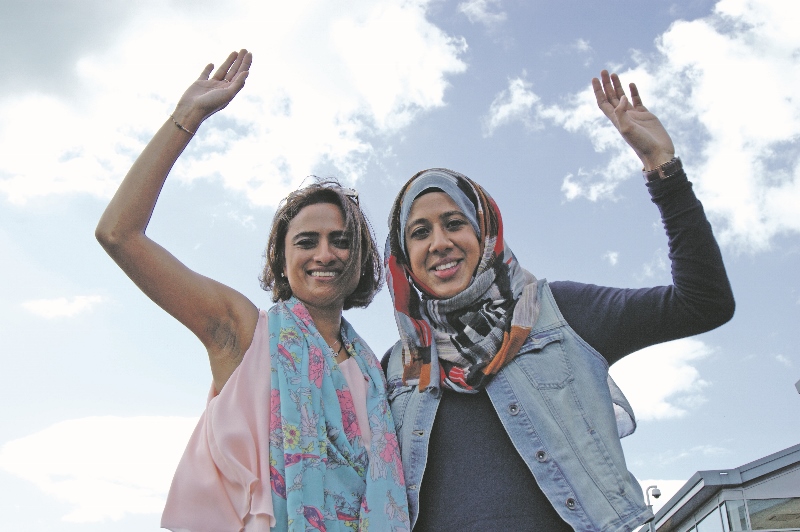 Two determined fundraisers from Leeds are preparing for the 'tallest' challenge of their lives next month as they fall from 15,000ft in aid of local charities.
Bhranti Naik, from Adel, and Zara Nasir, from Chapel Allerton, will complete their first-ever skydive on 18th October as part of the Give a Gift initiative.
Raising funds for the Children's Heart Surgery Fund at Leeds General Infirmary and Martin House Children's Hospice, the brave duo will have their heads in the clouds as they join a team of fundraisers in Lincoln.
Both women are ambassadors of the Give a Gift project and have helped with previous events in the past.
However, neither have completed a skydive before and for 21-year-old Zara there is an extra incentive to going up in the plane.
"For both of us, we are doing this skydive primarily to help children who don't have the advantage of health in their lives at this moment," she said.
"I think we all have a responsibility to look after others, especially the kids, and if we can raise money to support them by doing this then that is a great thing to do."
She added: "I have also put myself forward for the jump to conquer my fear of heights and what better way to do that than by joining in a skydive."
Bhranti, who is a school teacher by trade, says she is looking forward to the event having climbed mountains, modelled catwalks, danced Zumba and distributed toys for the charity previously.
"It is a totally different experience but one I am pleased to be a part of and am ready for it now," she said.
"I just hope people will dig deep enough for the causes and help us raise even more money for these two incredible charities."
The Give a Gift initiative was set up in 2013 as a way of allowing the local Asian communities to support causes in their area.
Building strong links with the Children's Heart Surgery Fund and Martin House, thousands of pounds have already been donated, whilst a giant toy appeal is held every year around Eid.
Give a Gift Ambassador, Rifhat Malik, who has helped organise the skydive, praised the efforts of the fundraisers and wished them the best of luck before they let gravity take over.
"This is the fourth challenge we have set this year through Give a Gift and it is great to see people supporting it," she said.
"A big thank you to all our skydivers and long may their volunteering and fundraising continue."
If you would like to sponsor Bhranti and Zara on their daring fundraiser, please contact Rifhat Malik on 07711 623 386.