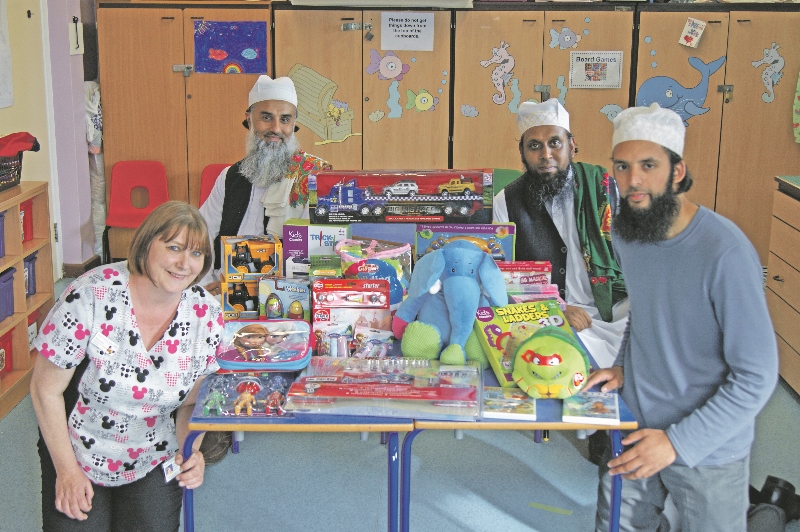 Toy distribution at Bradford Royal Infirmary
As Muslims around the world celebrated Eid last week, one group of volunteers from Bradford headed down to their local hospital to ensure every child had a holiday to remember.
Three members of the Naqshbandia Active Development Association (NADA), which runs the city's Jamia Masjid Naqshbandia Aslamia, visited the children's ward at Bradford Royal Infirmary on Wednesday 23rd September.
Armed with gifts for children of all ages, the group handed over their Eid presents to senior play specialist at the BRI, Alison Kay, as they spread the holiday spirit to the hospital's wards.
It is the third year running that NADA has carried out their distribution to coincide with the Islamic holiday of Eid al-Adha.
Amjad Aslam, Chairman of NADA, was joined by general secretary, Nazim Ali, and executive committee member, Mohammed Aslam, for the project and said it was a 'rewarding' initiative that continues to grow every year.
"For us, Eid is a time of sharing what you have with humanity," he said. "Speaking personally, my brothers and sisters have spent a lot of time in hospital growing up with bone marrow transplants so I know what it can be like spending time on a ward all day.
"To be able to put a smile on a child's face by giving them a gift on Eid means the world to me. It is the message of every religion to help others and it is an honour to be able to do this every year."
Mr Aslam added that donations had already been made to the group to help fund the purchase of more presents for next year's Eid celebrations.
Nazim, who also spent time in hospital as a child for treatment of tuberculosis, added: "This initiative was a sincere and humble gesture on our part to make our little difference.
"We are Muslims and our faith makes it incumbent upon us to engage in the wider society so that we can all live side by side in a virtuous and harmonious society."
Gifts are distributed to children of all faiths on the ward during Eid with the message of 'Eid Mubarak' from NADA.
Alison Kay added: "For children who have to spend time in hospital during any holiday, whether that is Eid, Christmas or Diwali, it can be hard for them.
"We tell the children that these gifts have been donated because of Eid and you can see the huge difference it makes."