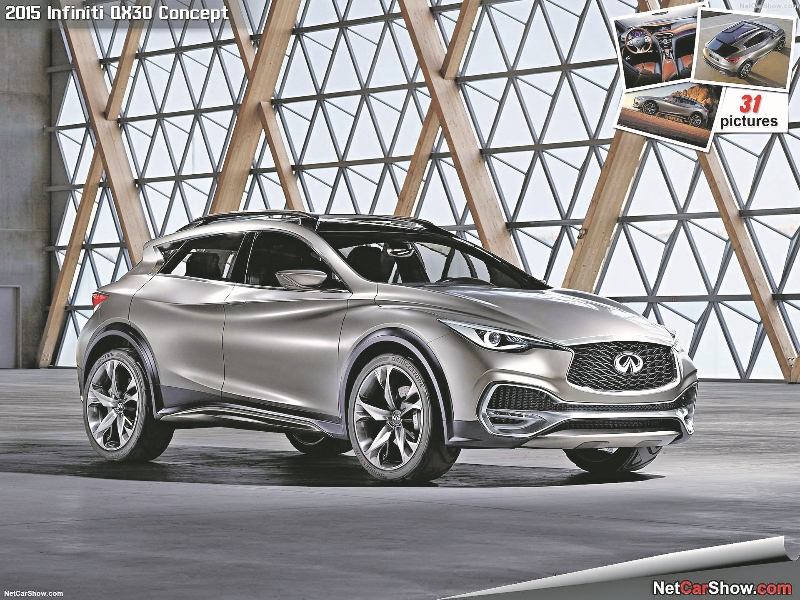 Infiniti signalled further intentions to grow in the premium compact segment with the world premiere of the QX30 Concept at the Geneva International Motor Show.
The QX30 concept is Infiniti's design vision for a new premium compact crossover, targeting at a new generation of individualistic premium customers.
Bringing together the sleek lines of the coupe with the command sitting and all-wheel drive of a crossover, the QX30 Concept promises to be just as capable navigating city streets as it is exploring weekend getaways.
"With the QX30 Concept, we're showcasing a distinctively contemporary alternative in the premium compact segment for those who want something more than the status quo," said Roland Krueger, Infiniti President and CEO.
An international team designed the QX30 Concept to appeal to the global customer. Complementing the vehicle's higher stance, the designers added visual cues which instantly identify the concept as a crossover such as 21-inch wheels, large tyres, lower bumper, sculpted skid plates, and very distinctive roof racks.
"We've used expected materials in an unexpected way, and given functional elements an artistic twist," said Albaisa. "It is the unconventional execution of a conventional element that makes the QX30 Concept a design leader."
In addition, the Q60 Concept made its European debut at the show, hinting at Infiniti's next sports coupe. The stunning two-door concept is a unique combination of eye-catching contours, the promise of heart-pumping dynamics, and highest-quality finishes, giving premium customers a fresh and expressive design icon to which they can aspire.