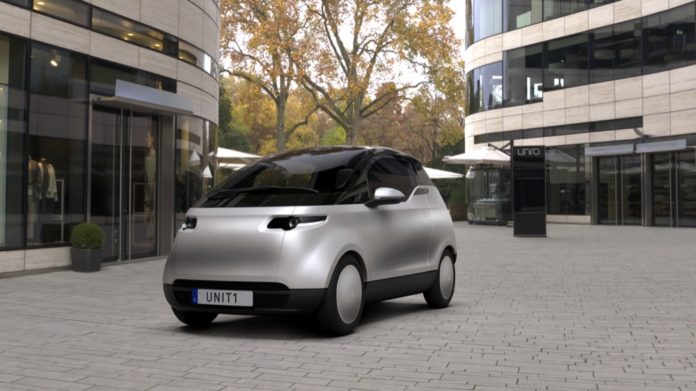 Uniti, Sweden's ground-breaking mobility pioneer, has just revealed the pricing and specification for its eagerly-awaited debut vehicle, the fully-electric Uniti One.
Setting new standards in sustainability and offering a fresh interpretation of urban mobility, the Uniti One has been designed in response to today's changing transportation needs, and to provide flexibility for the future.
---
ADVERT: Want a true taste of the Punjab? Visit 'Fanoosh' on Street Lane, Leeds
---
Designed in Sweden and engineered in the UK, the Uniti One has been created from the ground-up to be an urban electric vehicle: fully optimised for efficiency, sustainability and affordability, whilst maximising interior space for three adults. All of which has been achieved without sacrificing quality, comfort or real-world usability.
Offered with a choice of two battery sizes, the Uniti One has a range of up to 300 km1, which can be charged from 20% to 80% in just seventeen minutes with a 50 kW CCS charger.
Adopting a clean and minimalist approach to styling, the Uniti One's graceful lines and uncluttered functionality is in keeping with the best of Scandinavian design, creating a distinctive, beautifully-detailed and highly desirable product.
The Uniti One comes well-equipped as standard and can be further enhanced and personalised through a suite of carefully-selected options.
Space for three
The Uniti One's intelligent packaging can accommodate up to three adults within its ultra-compact footprint. Its unique-in-class and highly-flexible one-plus-two seating configuration offers unrivalled ergonomic and visibility benefits for the driver, with ample space for two adult passengers to sit behind, as well as generous load-carrying potential.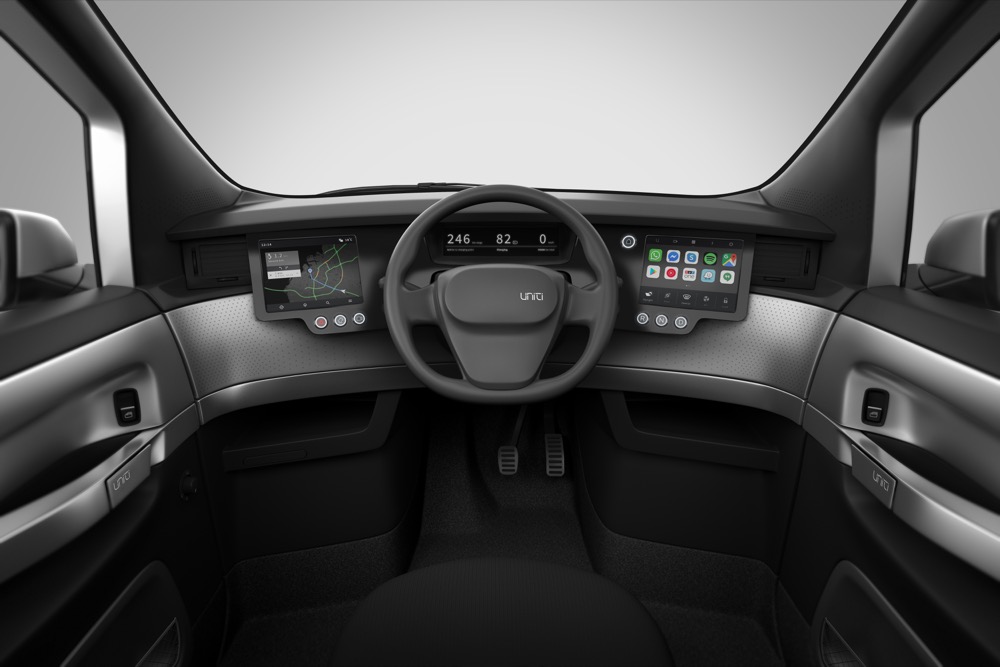 With the battery situated beneath the floor, the Uniti One's interior space is both generous and highly adaptable, affording the car a number of practical applications.
The central driving position gives rear passengers quick and easy access into and out of the cabin, whilst minimising driver disruption, making the Uniti One the perfect urban vehicle for everything from the school-run to a micro taxi vehicle.
A split-folding rear seat is fitted as standard, further increasing the Uniti One's flexibility and, with three occupants on-board, the vehicle provides 155 litres of rear cargo capacity. Additional storage space either side of the drivers' seat means that longer packages fit with ease.
With the rear bench folded flat, and in its maximum load-carrying configuration, the Uniti One turns into a single-seater, providing the driver with a generous 760 litres of usable cargo space.
Fully connected
The Uniti One leverages the benefits of Android Automotive OS, an integrated system that brings access to Google Maps, Waze, Spotify and dozens of other Play Store apps and services without requiring a dedicated or connected smartphone.
Beyond infotainment, the interface also provides easy access to key vehicle functions, such as lighting, heating and ventilation, all controlled via a familiar touch screen or hands-free, voice activated interface.
Performance
The Uniti One is optimised for energy and resource efficiency. A permanent magnet motor drives the rear wheels, producing an output of 50 kW (68 ps)1 and 85 Nm1 of torque and ample performance for real-world urban driving.
A direct benefit of the car's ultra-compact footprint and light-weight construction, the Uniti One's standard 12 kWh battery provides 150 km (93 miles) of range1 from a single charge, while the optional 24 kWh battery extends range to an impressive 300 km (186 miles) 1. A hundred kilometres (62 miles) of range can be added in just ten minutes using a 50 kW CCS charger.
The car accelerates from 0-50 km/h (0-31 mph) in 4.1 seconds1 and 0-100 km/h (0-62 mph) in 9.9 seconds1, before reaching its top speed of 120 km/h (75 mph).
Pricing
With orders expected to open shortly, customers that place a deposit before the end of November 2019 will secure a place in Uniti's exclusive 'Founders Club', entitling them to a host of exclusive benefits, including free software upgrades and enhancements for life.
With prices starting from just £15,100 (after £3,500 UK Government subsidy) the Uniti One offers a revolutionary new platform for affordable and sustainable mobility.
---
ADVERT: Want a true taste of the Punjab? Visit 'Fanoosh' on Street Lane, Leeds