PARIS ATTACK: Growing debate on Muslims and freedom of speech
---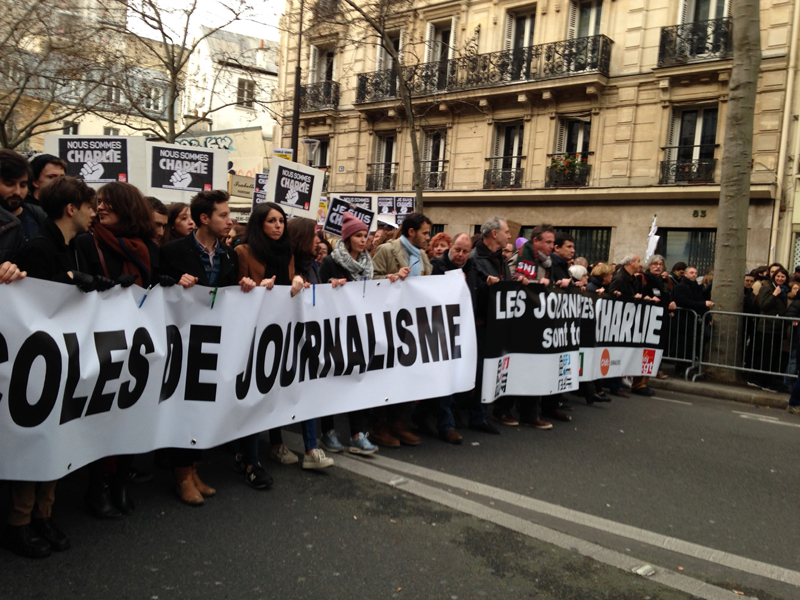 "When we are globally aware that using religious slurs such as 'hebe' or 'hid' (for Jews) or ethnic slurs such as 'golliwogg' and 'nigger' (for Africans) are hideously offensive and socially unacceptable, why would someone maintain that it's their right to use it – for the sake of having their freedom of speech?"
In the wake of the terrorist attack, where gunmen in Paris killed 12 people, many Muslim clerics across the globe quickly condemned the attack and said there was no acceptable justification for the killings.
It was a signal from some of the Islamic world's strictest voices that cartoons lampooning the Prophet Muhammad in the French satirical magazine Charlie Hebdo were not a reason to kill the artists.
On Sunday 11th January, hundreds of thousands of people including a number of world leaders such as Angela Merkel, Benjamin Netanyahu, and David Cameron gathered in Paris for a unity rally, to stand in mourning, in defiance.
These declarations were a display of solidarity with those who lost their lives and those who survived.
Western critics are become increasingly brazen about suggesting there is something inherent in Islam that is sparking violence by some of its adherents. Most Muslims reject this, arguing that the conflicts in the Middle East have created fertile ground for fuelling anger and discontent on foreign policies of the Western world.
What has become rather alarming to see are the relentless calls for the Muslim communities across the world to denounce terrorism carried out by radicalised individuals and groups.
Where Muslims are making gestures of solidarity via social networks, they can share the frustration, fear and devastation of acts of terror, but in reality most are not be able to do much more. They don't feel competent enough to feign expertise in a matter they know little of.
The dilemma now is how to engage in the growing debate within Islam on how to reject the radicalised minority that most Muslims fear is dragging them into conflict and wrecking the faith.
The attack on Charlie Hebdo prompted the West contending that Islam fuels violence, but hundreds of thousands of Muslims say they are tired of apologising for an extremist fringe who is distorting the view of their religion.
Despite the sadness and immense sense of grief for those who have lost their loved ones through acts of terrorism, one can't help but sit back and reflect upon the situation.
Charles Hebdo, for years, intentionally and repeatedly made a mockery of religion and ridiculed Muslims openly saying that Prophet Muhammed meant nothing to him and that he had the right to exercise his "freedom of speech".
Where calls to defend the right to practise freedom of speech, Andleeb Hanif – Managing Editor of Asian Express says: "Self-restaint applies to every law of the universe" and that "there are limits and boundaries for everything.
"Firstly, there is no justification for the grotesque murders which took place in Paris. Islam is not that weak to be brought down by cartoons and caricatures," comments Andleeb.
"Where I agree to freedom of speech and expression, as with everything in life - that too I believe, comes with responsibility and moderation. Freedom of speech is an infinite void, which may inevitably lead to being offensive, but there's a huge difference between that and having a purposeful campaign to repeatedly offend.
"When we are now globally aware that using religious slurs such as 'hebe' or 'hid' (for Jews) or ethnic slurs such as 'golliwogg' and 'nigger' (for Africans) is hideously offensive and socially unacceptable, why would someone maintain that it's their right to use it? For the sake of having their freedom of speech?
"The next issue of Charlie Hebdo's satirical magazine is set to publish, yet again, another cartoon of the Prophet Muhammed this week.
"My question to this is – in the light of the recent Paris attack, the world has yet again become aware of how offensive it is to Muslims (in general) to depict an image of the Prophet Muhammed – then why continue to do so?
"We wouldn't continue to, nor is there any excuse to use the words nigger and hibe now that we are so acutely aware of how repugnant these terms are to the people, so why continue to insult Muslims by continuing to do something that has so publically been denounced?
"What kind of freedom of speech is this? The literate world (it seems to me) has just proven how illiterate it can be."