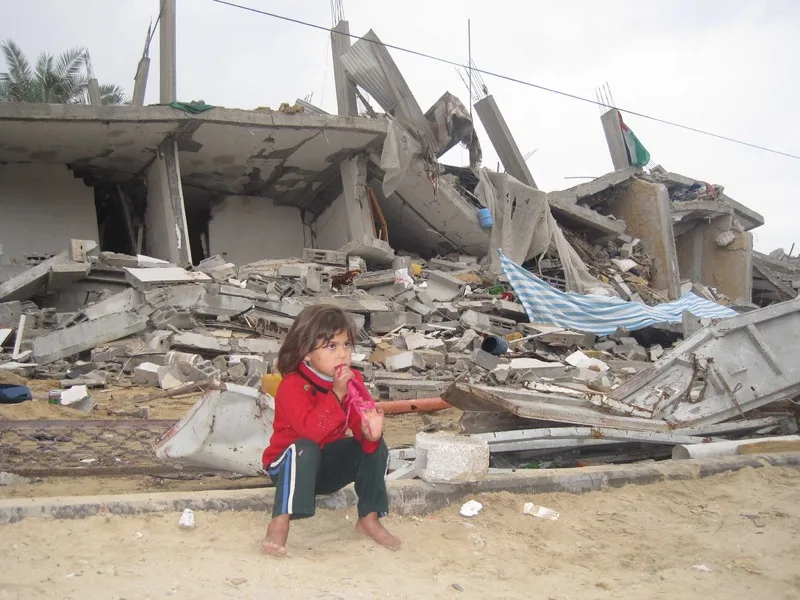 Since the start of Israel's latest assault on the Gaza Strip, in response to Hamas's horrific attack on 7th October, its military has killed around 11,000 people, at least 4,300 of whom are children. Thousands more are missing or entombed under the rubble.
But, the plight of the Palestinians resonates not only with Muslims, but with people of conscience worldwide due to the universal principles of human rights, ethics and justice say the British Muslim Scholars group.
Now, over 100 British Muslim Scholars asking for immediate ceasefire in Gaza, given that a child being killed for every 10 minutes of Israel's military attack.
In a statement, the British Muslim Scholar group expressed their views, stating:
"We, the undersigned British Muslim Scholars, unequivocally condemn the indiscriminate killing of innocent Palestinians and the continued intensified bombardment of Gaza by the Israeli military forces.
We reiterate our call, as set out in our initial statement on 18th October, for an immediate ceasefire and the unimpeded delivery of life-saving supplies at the scale needed.
To date, more than 10,000 people are reported to have been killed and tens of thousands injured in Gaza. One child is said to have been killed for every 10 minutes of the military attacks.
The UN Secretary General has warned that Gaza is becoming a 'graveyard for children'.
The entire population of Gaza continues to be deprived of electricity, water, food, fuel supplies, medicine and other life-essential aid.
We emphatically reaffirm that the civilians of Gaza must not be subjected to mass brutal killings, and Israel must adhere to international humanitarian law. This includes the lifting of the Gaza blockade; protection of civilian infrastructure such as shelters, mosques, churches, schools and hospitals; and prevention of the forced transfer of people and further loss of innocent lives.
The plight of the Palestinians resonates not only with Muslims but with people of conscience worldwide due to the universal principles of human rights, ethics and justice.
The UN, Amnesty International, Human Rights Watch, and the International Committee of the Red Cross have all suggested Israel is potentially committing war crimes. Such claims of war crimes must be urgently and independently investigated and those responsible for war crimes must be held to account.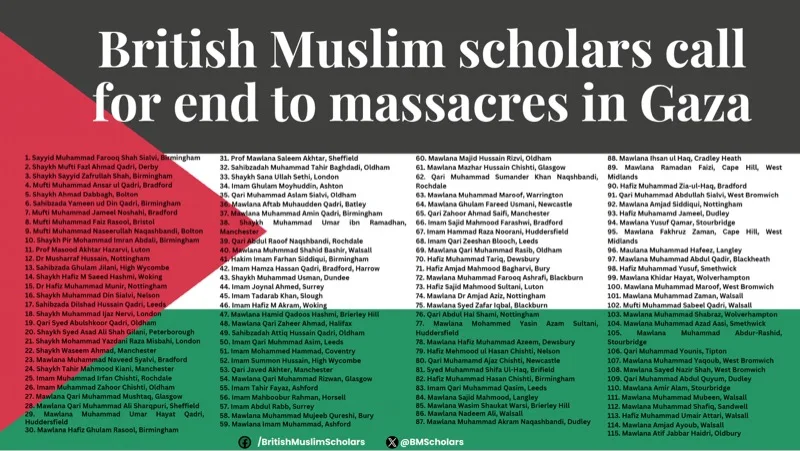 Over the past few weeks, we have been continuously liaising with MPs, elected members, faith leaders in other communities, and non-governmental organisations to emphasise the urgent need for a ceasefire.
Many political and faith voices, including Jewish voices, have echoed our call for an immediate ceasefire and a cessation of all hostilities. The international community must not be bystanders and continue to watch the massacre of innocent Palestinians.
This is the moment to intervene, in order to prevent further bloodshed and injustices. History will judge us all on both our actions and our inactions.
While the world's attention is focused on Gaza, we cannot ignore the West Bank, where continued violence and forcible evictions by illegal settlers has intensified.
As expressed in our earlier statement, until the underlying issue of the occupation of Palestine, which perpetuates the cycle of violence, is permanently resolved through political and diplomatic means, we fear innocent people will continue to endure violence and destruction.
We will continue to advocate for justice, lasting peace, safety and security for all in the region. We appeal to everyone in our local communities to join us in the pursuit of peace and justice for Palestinians.