Journalists, broadcasters and creative professionals from across the UK were honoured at this year's Asian Media Awards.
The stars of radio, TV and broadcasting gathered at the 11th Asian Media Awards ceremony at the Hilton Manchester Deansgate.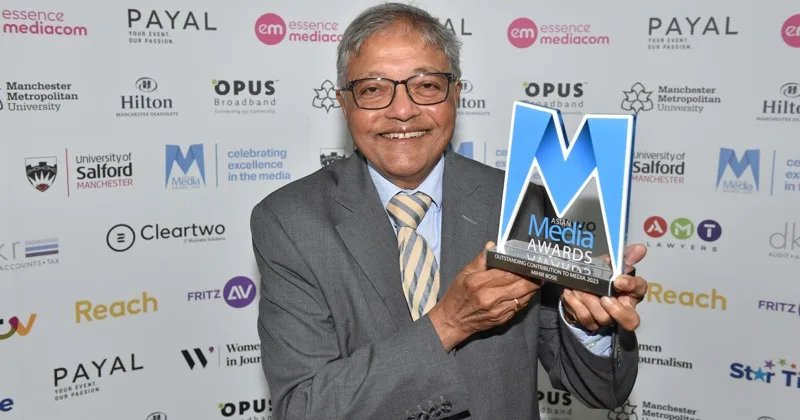 The awards, which are supported by the University of Salford, celebrated winners in a range of categories in journalism, stage, online and creative media and were hosted by Magic FM's Neev Spencer.
Those honoured on the night included broadcaster Tina Daheley, LBC presenter Sangita Myska and Mihir Bose who received the Outstanding Contribution to Media Award.
This year, Meera Syal and Sanjeev Bhaskar were recognised with the Sophiya Haque Services to Television, Film & Theatre Award.
Shabaz Ali who takes merciless aim at the seemingly spoilt, the weird and the bizarre on Tiktok picked up the Best Video Channel accolade whilst Polite Society star, Priya Kansara was named Best Newcomer.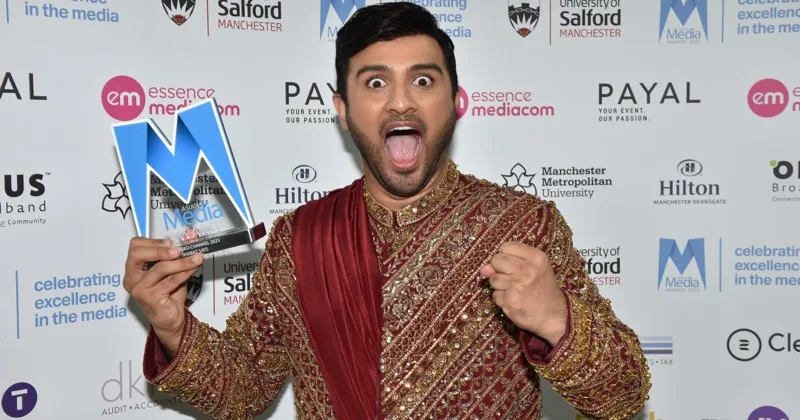 The awards paid a special tribute to some of those professionals who had died over the past year including, Artistic Director, Abdul Shayek, Businessman and Asian Radio Pioneer, Avtar Lit, Radio Presenter Ranj Rekhi, actor and choreographer Jaimal Mistry and journalist and broadcaster George Alagiah.
On hand to present honours this year were Apprentice stars, Harpreet Kaur and Akshay Thakrar; BBC 2's the Ultimate Wedding Planner, Raj Somaiya, Derby County FC Women's forward, Kira Rai, broadcasters Sunny & Shay and from Race Across the World, Zainib & Mobeen.
This year's Asian Media Awards winners were announced at the Hilton Manchester Deansgate on Friday October 27.
Previous recipients of an Asian Media Award include Asian Express Newspaper, Krishnan Guru-Murthy, Waris Hussein, Art Malik, Mehdi Hasan, Nina Wadia, Anita Rani, Shobna Gulati, Faisal Islam, Adil Ray & Lisa Aziz.
The University of Salford are Premier Partners to the Asian Media Awards. Partners to the awards include ITV, EssenceMediaCom, Reach PLC & Women In Journalism.
The awards are also supported by Manchester Metropolitan University, AMT Lawyers, DKR Accountants, Opus Broadband, Hilton Manchester Deansgate, Fritz AV, Payal Events & Cleartwo.
Asian Media Awards 2023 Winners
Tina Daheley – Media Personality of the Year
Meera Syal & Sanjeev Bhaskar – The Sophiya Haque Services to Television, Film & Theatre Award
Mihir Bose – Outstanding Contribution to Media
Reha Kansara – Correspondent, BBC News, Journalist of the Year
Sky Sports – Diversity In Media Award
Sangita Myska – Radio Presenter of the Year
Humza: Forgiving the Unforgivable – Drummer Television for BBC Three, Best Programme/Show
Priya Kansara – Best Newcomer
Adam Hussain – as Aadi Alahan in Coronation Street, Best TV Character
Shabaz Says – Best Video Channel
The Shamima Begum Story, Series 2 of I'm Not A Monster Josh Baker, Joe Kent & Sara Obeidat, Best Investigation
Aaron Paul – Reporter, Commentator & Presenter, BBC Radio 5 Live Sport, BBC London Sport & ITV Football, Sports Journalist of the Year
Windrush Repatriations – Navtej Johal for BBC News, Report of the Year
Raheem Rashid – Journalist, ITV News Central, Outstanding Young Journalist
Mahatir Pasha: Reporter, ITN ITV News London, Regional Journalist of the Year
Plus Size Campaign: Bold & Beautiful, Anisha Vasani Creates for Amretto's World & Nim Boutique, Creative Media Award
Open Iftar 2023 – Best Live Event
Sunrise Radio – Radio Station of the Year
Orpheus, Opera North – Best Stage Production
Blythe Jandoo as Louise in Gypsy – Outstanding Stage Performance
Summaya Mughal – Brown Gal Can't Swim, Best Podcast
Geo TV – TV Channel of the Year
Oceanic Media – Media Agency of the Year
Lyca Radio – Lyca Breakfast, Best Radio Show
BizAsiaLive.com – Best Blog/Website