Cricketer Azeem Rafiq fought back tears as he told MPs today about the bombardment of racism he suffered and the "constant uses of the word 'p***'" during his time at Yorkshire County Cricket Club (YCCC).
Rafiq first alleged racial harassment and bullying against the county and accused them of institutional racism in September last year, with the club launching an investigation soon afterwards.
However, their handling of it has been heavily criticised. They finally published summary findings of the investigation in September this year and, while the investigation found there was "no question" Rafiq had been subjected to racial harassment and bullying, no individuals faced disciplinary action.
"Me and other people from other Asian backgrounds… there were comments such as 'you'll sit over there near the toilets', 'elephant washers'… and there seemed to be an acceptance in the institution. No one really stamped it out," says an emotional Rafiq today (16th November) in a shocking testimony.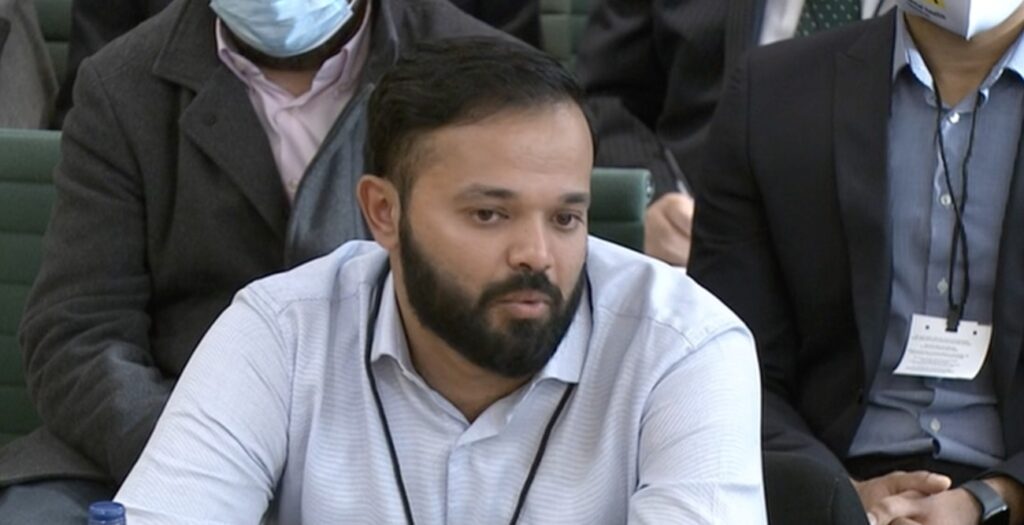 Rafiq, 30, who has been involved in the cricket set-up in Yorkshire since the age of 11, said there seemed to be an acceptance of racism in the institution, and that no one really stamped it out.
The protection of parliamentary privilege, Rafiq – a former all-rounder and ex-England U-19s and Yorkshire captain, means he can give evidence to MPs and is free to name names without worrying about legal reprisals.
Rafiq, who played two spells at Headingley between 2008 and 2018, initially voiced his claims in an interview with Sky News in September 2020, alleging "deep rooted" racism at the club left him close to taking his own life.
Yorkshire County Cricket Club launched a formal investigation and concluded he was the victim of "racial harassment and bullying" but nobody at the club faced disciplinary action.
A leaked report suggested that the use of "the P word" towards Rafiq was made in the context of "friendly banter".
The panel also heard of an incident Rafiq recalled when he was 15. Rafiq who is a Muslim, was "pinned down" by an older cricketer and forced to drink red wine at the age of 15.
"We were in a car. I've got a witness. No one intervened," he says.
"I'm angry at myself for looking the other way."
"The player played for Yorkshire and Hampshire. I (then) didn't touch alcohol until about 2012 and around that time I felt I had to do that to fit in. I wasn't perfect, there are things I did which I felt I had to do to achieve my dreams. I deeply regret that but it has nothing to do with racism."
"All I wanted to do is play cricket and play for England and live my dream and live my family's dream," he said.
Rafiq left Yorkshire for the first time in 2014 after he started taking medication for his deteriorating mental health.
He is then asked if anyone has ever stood up for him during his time playing the game.
"At the time, no one stood up for me. That's the institution. You had people who were openly racist, then you had bystanders."
A committee member asks Rafiq if he has faith in the independent commission for equity in cricket.
"I spoke to Cindy [Butts, chair of the commission] a few months ago and said I am going to encourage everyone to come tell you everything, because I want you to hear the experience and then you will be judge on your actions," he says.
"I would encourage the ECB – and I hope you guys will later – that action is needed now.
"We are sick and tired of equity commissions and inqiuries. All we are asking for is equality, to be treated fairly, regardless of the colour of our skin."
Rafiq adds: "It is important that the way Yorkshire has handled this there is accountability to the leaders so everyone know that if you do this, there will be repercussions.
"We need organic change, putting a person of colour between eight of non-colour, that is not what we want. The problems are in the dressing room, there needs to be something set up to keep an eye on that throughout the country."