A 76-year-old grandmother has handed out more than 2,200 free vegan ready meals to frontline NHS workers, the elderly and those shielding at home from Covid-19 during lockdown.
Akila Chokkalingam, was determined to make the healthiest and tastiest Indian food in Britain and in 2018 started testing and trialling gourmet curries out of her kitchen in Keighley, West Yorkshire.
Chef Akila, who was born and raised in South India says she noticed a lack of nutritious but tasty curries for sale in supermarkets and takeaways.
Combining her 60 years of culinary experience along with input from nutritionists, health experts and doctors, including her son, NHS consultant Dr Senthil Kumar, Akila created healthier versions of her traditional recipes.
The vegan range, made up of nine dishes including vegan Tikka Masala and Spinach dal Kootu, is gluten-free and is registered with The Vegan Society's Vegan Trademark.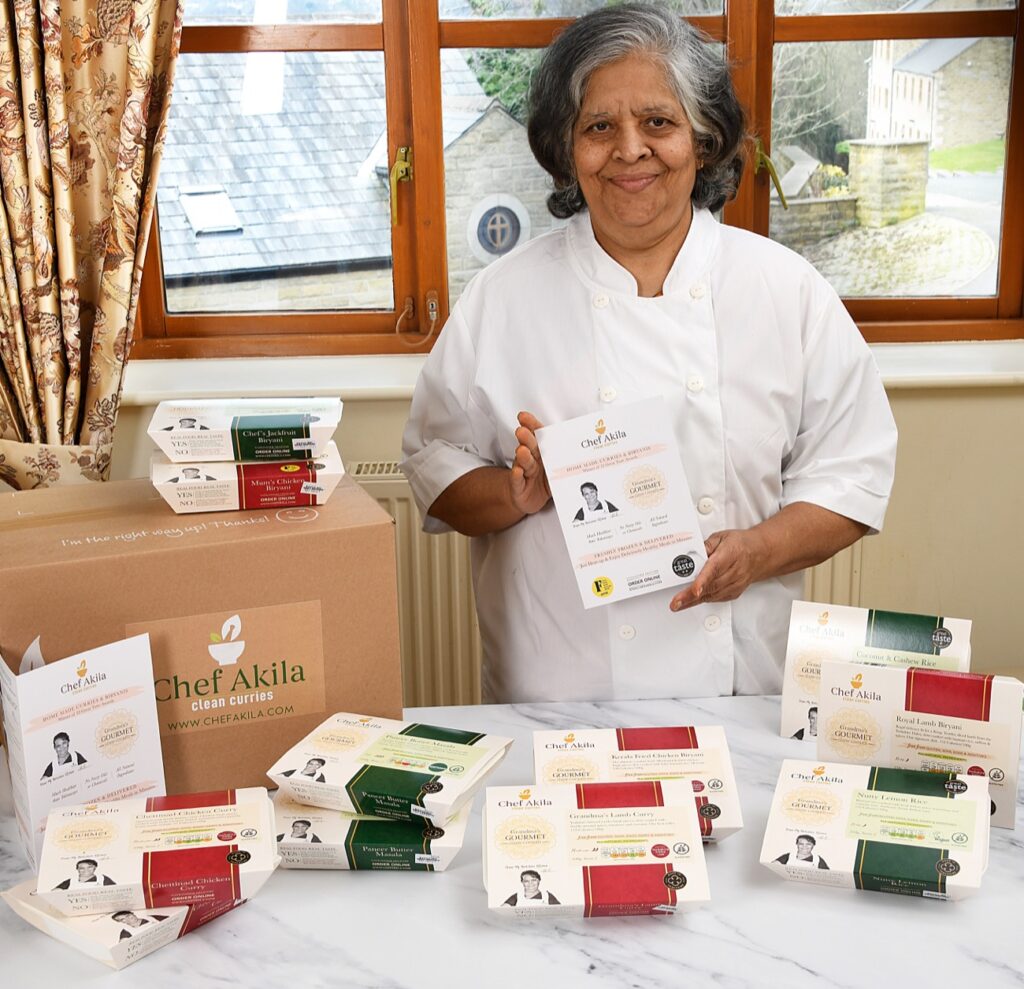 Since its official launch last year, the business has already accumulated multiple accolades, including 24 Great Taste Awards.
But, since the nation went into lockdown a year ago, Chef Akila has witnessed an unprecedented 680% increase in sales and had to take on new members of staff to cope with the demand.
As the pandemic unfolded, Akila decided to start delivering curries to hospitals, and also offered discount codes for subsidised prices to keyworkers. Curries were also dropped off to elderly and vulnerable people in the local area.
On top of this, the company has donated more than 50,000 meals to children in India over the last 12 months as part of its "buy one – feed one" initiative.
Akila, who has spent the majority of the pandemic in her kitchen says: "We are incredibly grateful to have experienced such a growth in 2020, and even happier that we were able to give something back during the pandemic."
Ericka Durgahee, at The Vegan Society added: "It's fantastic to see a company that is registered with the Vegan Trademark going above and beyond for those in need during what has been an incredibly difficult year."
"We're delighted to hear that frontline workers and elderly and vulnerable people have been able to enjoy top quality and tasty vegan meals."
The Vegan Trademark has been helping users identify that a product is suitable for vegans since 1990. Look out for the Vegan Trademark on over 48,000 products worldwide, including cosmetics, clothing, food, drink, household items, and many more.