A newly published survey focused on the perceptions of COVID-19 vaccines amongst the British Indian community, has found that females held concerns surrounding the potential impacts on fertility and family planning – a concern which is held by many beyond the British Indian demographic.
The research was conducted by the 1928 Institute, a University of Oxford backed think-tank, focused on researching and representing the British Indian community also said that less than six in ten respondents (56%) would take a vaccine.
With three vaccines currently approved for use in the United Kingdom, nearly a third (28%) of those would take a vaccine, see it as their civic duty, while 35% believe it is the ideal solution to alleviate the challenges created by the pandemic and pressures on the National Health Service.
Dr Nikita Ved, Co-Founder of the 1928 Institute and Research Fellow at Oxford University said: "Despite research highlighting that the British Indian community is at higher risk of contracting the virus, our survey found that those willing to take vaccine is significantly lower than the national average, and the averages of those in different ethnic groups.
"We would however hope to see this number increase over the coming weeks and months as the UK's programme continues to gather momentum, and as more of the British Indian community receives their doses."
Many respondents expressed concerns around the vaccines, with a quarter stating they would like more information before making their decision. Alongside this, 14% stated they do not trust the Government while 7% have no trust in the manufacturers of the vaccine.
Risks to pregnancy – a critical crossroad
The research found that 52% of female respondents would be willing to take the vaccine, compared with 63% of the male sample.
Further investigation of this gender split, through focus groups, found females held concerns surrounding the potential impacts on fertility and family planning – a concern which is held by many beyond the British Indian demographic.
In total, 14% of female respondents were not willing to take the vaccine, compared to 10% of men, while a further 34% of female and 28% of male respondents were undecided.
Dr Ved, continues: "The survey further emphasises the need for robust, long-term safety data. Whilst a vaccine has the potential to negate any major risks of COVID-19, the longer-term impact of the treatment has not been tested enough. As Indian women are more likely to suffer from gestational diabetes, pre-eclampsia and polycystic ovary syndrome, their hesitance is understandable."
COVID-19's impact on physical and mental health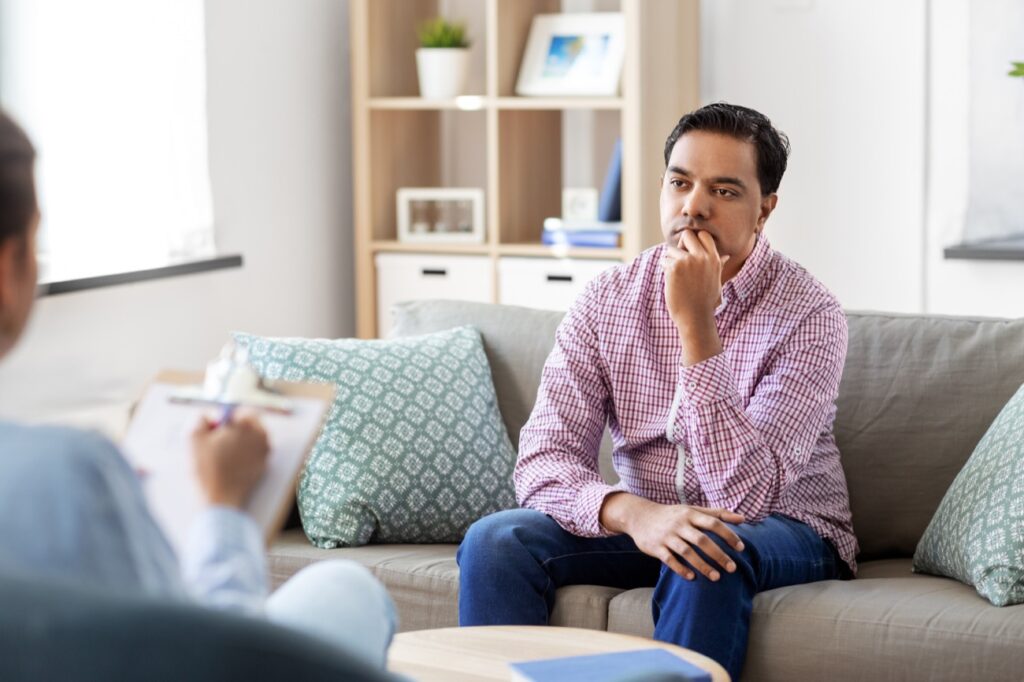 When asked about the pandemic's impact on respondent's mental and physical health, the survey found these were worsened by 39% and 29% respectively.
Wider data from Public Health England found that deaths from cardiovascular diseases are 50% higher than average amongst the South Asian community, and 45% of South Asians who died following a positive COVID-19 test also had diabetes.
Exploring this further, almost half of the sample (45%) selected "no" when asked if they were mitigating risks against illnesses which affect their families, such as diabetes (66%), high blood pressure (58%) or asthma (24%). Coincidently, analysis of this by age group found those aged between 46 to 50 are the most active in reducing the risk of falling ill to heritable illnesses.
The impact of mental health concerns has been widely documented throughout the pandemic; however, the subject is highly controversial within the British Indian community.
One in five respondents stated they feel a stigma is attached to accessing mental health services, with many commenting that that the biggest barriers to accessing mental health services are cost and lack of culturally nuanced provisions, or a lack of Indian mental health professionals.
Despite over 3 in 4 British Indians facing barriers in accessing mental healthcare, a high number reported that those within their family or friends circle would not seek help until it was too late, mostly due to a lack of awareness of the key symptoms. Analysis during focus groups uncovered that 97% of male respondents raised the concern of suicide, with the group either having had, or know a person who has suicidal thoughts.
54% live in a multi-generation household with two or more generations under one roof. When asked about thoughts on social bubbles guidance, respondents feel official guidelines do not align with the values of British Indian families or take the circumstances of a traditional nuclear family into account, resulting in elderly family members felt isolated, negatively impacting their mental health.