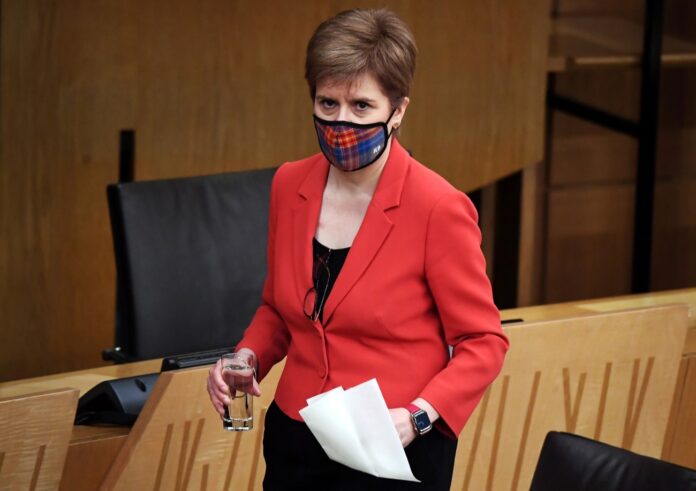 Scotland went into full lockdown as of Tuesday 5th January, as has England.
The first minister told Scottish Parliament there will be a legal requirement for people to stay at home for the rest of January, with schools remaining closed to most pupils until the start of February at the earliest.
Statistics show almost half of all cases of Covid-19 are due to the new 'faster-spreading' variant of the coronavirus.
"It is no exaggeration to say that I am more concerned about the situation we face now than I have been at any time since March last year," Ms Sturgeon said.
Ms Sturgeon added that new laws will require people to stay at home and work from home where possible, and those in the "shielding" category are advised not to go in to work at all.
Outdoor gatherings are also to be cut back, with people only allowed to meet one person from one other household.
Places of worship are to be closed, group exercise banned, and schools will largely operate via online and remote learning until at least February.
These rules will apply across the Scottish mainland until at least the end of January, and will be kept under review.
Today, 1,905 new Covid cases recorded in Scotland, while government figures showed that 15% tests taken returned positive results. No new deaths were reported, although this is likely due a delay in records over the weekend.
As of December 31, Scotland's death toll for the virus stands at 4,578.
On Sunday Ms Sturgeon described the rapid increase in infections as of 'very serious concern'.
She said: "All decisions just now are tough, with tough impacts. Vaccines give us way out, but this new strain makes the period between now and then the most dangerous since start of pandemic."
And she said a "steeply rising trend of infections" was threatening to put "significant pressure" on NHS services, saying hospitals could breach capacity within three to four weeks.
The new rules – which will be put down in law – mean Scots will only be allowed to leave home for essential purposes, such as essential shopping, exercise and caring responsibilities.
She said: "The Scottish government will do everything we can to speed up distribution of the vaccine. But all of us must do everything we can to slow down the spread of the virus.
"We can already see – by looking at infection rates in the south of England – some of what could happen here in Scotland. To prevent that, we need to act immediately and firmly.
"For government, that means introducing tough measures – as we have done today. And for all of us, it means sticking to the rules."