Rotary's Global Polio Eradication initiative has vaccinated more than 2.5 billion children over 35 years
Dr Manoj Joshi DL, a retired pharmacist from Bradford and former district governor of Yorkshire and North Lincolnshire for Rotary International, decided he wanted to do something about the lack of awareness about Rotary's humanitarian work locally and globally.
Since its inception over 115 years ago in Chicago, the Rotary club has grown to 1.2 million members across it's 35,000 clubs spread over180 countries.
In 1979, Rotarians began a vaccination programme in an ambitious effort to eradicate polio from the world, and became a founding member of the Global Polio Eradication initiative. In the past 35 years, more than 2.5 billion children have received the oral polio vaccine.
"It's surprising how little people know of the work the Rotary does to eradicate polio," says 68-year-old Dr Joshi.
Earlier this year, Joshi led a delegation of British Rotarians to Amritsar at the start of this year to assist medical teams during a national immunisation day in India, which has been polio-free since 2014. He says he personally administered the vaccine to around 80 children.
Dr Joshi, a much-loved key Yorkshire community figure, in October made international headlines when he shaved off his 52-year-old moustache in a bid to raise money for the 'End Polio Now' campaign. As well ridding his distinctly recognisable big hearty signature 'tash, he had dyed his facial hair purple ahead of the big shave.
"To increase awareness and improve the image of Rotary, I've initiated the first ever District Governor personal award to recognise individuals who have made outstanding contributions and supported Rotary in their humanitarian work."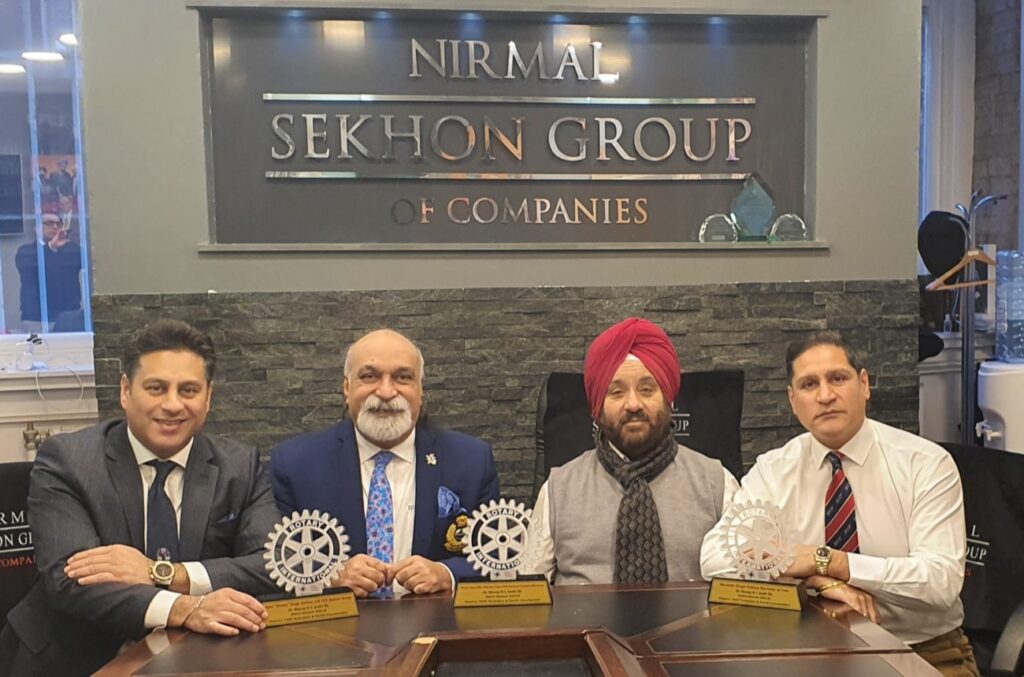 Dr Joshi presented his special and personal award to Yorkshire businessman Nirmal Singh MBE and his two sons Iqbal Singh Sekhon – a solicitor, and barrister Narinder Singh Sekhon, in recognition of their unstinting support for #EndPolioNow campaign.
Mr Singh comments: "Rotary is an international service with a global reach. To us, joining Rotary is one of the best decisions we have ever made because its bigger than anything we will ever do… and its lots of fun too!
"It's the sort of thing that gives you that warm feeling inside – you know… knowing that you're physically doing something and contributing to make the world a better place.
"You also gain additional skills that you would be unable to get anywhere else, and build your network both personally and professionally. It's an excellent support network."
The Sekhon Family and their business the Sekhon Group are already great philanthropists and support many charitable organisations. But they want more people of all walks of life to join Rotary so that its benefits can reach more needy people especially during these Covid-19 pandemic.
During the Covid-19 pandemic, Rotarians have raised much needed funds to support hospices, food banks, as well as for PPE for the NHS and care homes.
Rotary in Yorkshire comprises of 99 clubs, which meet weekly at various times and in a variety of venues throughout the counties of Yorkshire and North Lincolnshire.