A much-loved key Yorkshire community figure decided to shave off the moustache he's donned for over 52-years, along with his beard.
68-year-old Dr Manoj Joshi DL, distinctly recognised by his big hearty signature 'tash, took to supporting the global 'End Polio Now' campaign, and had dyed his facial hair purple ahead of the Big Shave on Saturday 24th October.
Surrounded by his wife and friends on the day in City Park, Bradford, Dr Joshi says he was "very nervous" on the day, but his determination to raise both money and awareness of the polio vaccine campaign spurred him on.
"Having my beard and moustache shaved off for charity was such a great feeling.
"I've had so many people support me – it's been simply fantastic! The money we raised – over £3,600, will help to vaccinate 75,000 children against polio – that's a wonderful, wonderful feeling."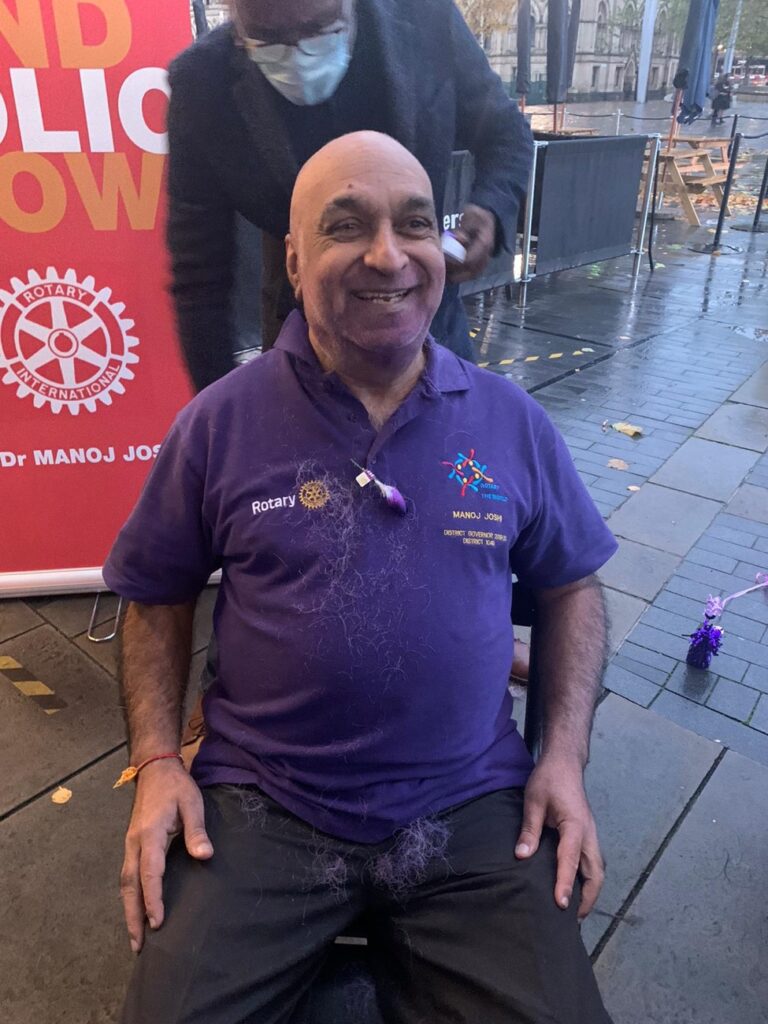 And it seems that shaving off his facial hair has caused quite a bit of a stir, his wife Bhavna says her husband looks 20-years younger!
The entire adventure of 'The Manoj Joshi' big shave attracted quite a few onlookers in city centre, as well viewer at the live steaming across social media.
"People were looking on at me, whilst I sat there in the rain, probably wondering what this strange man with a big purple beard was doing," he laughs.
Dr Joshi, considered a stalwart figure in the City of Bradford, has over the years supported numerous worthwhile causes, as well as rallying for community cohesion and assisting inter-faith dialogue.
Born in Uganda, with heritage from both India and Pakistan, the Joshi family were established textile bosses in East Africa. But in 1972 the family fled in a state of panic under the command of the new dictatorship, leaving their legacy and belongings behind.
Having moved and made Bradford the family home forty years ago Dr Joshi, a Gujarati Hindu-Brahmin, threw himself into inter-faith relations. Himself along with his family would be seen attending festivals, Eid gatherings, Diwali functions, Vaisakhi celebrations as well as Christmas and Hanukkah.
"We are known as the Hindu's who host Iftaars (breaking of the fast) for our Muslim friends during Ramadan," he says happily.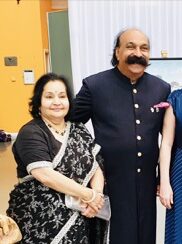 Dr Joshi built a successful career in pharmacy, and after retirement continues his work to improve the lives of deprived and underprivileged children in the district. He is currently the chairman of governors at Bradford Academy, which last year won the prestigious National Times Educational Supplement (TES) Award for Community and Collaboration.
He's also been a Rotary member for 37 years – and is believed to be the first South Asian member of any Rotary Club in Yorkshire; and is currently the immediate past district governor for Rotary International in Great Britain and Ireland.
His decision to shave off his facial hair came as part of a Rotary Club initiative to raise awareness and funds to end polio.
Currently, confirmed by the World Health Organisation Afghanistan and Pakistan are the only two countries where polio is still classified as endemic. Polio is a contagious viral illness that in its most severe form causes nerve injury leading to paralysis, difficulty breathing and sometimes death.
"I hope actions like mine can make a difference to children and now help to eradicate polio in Afghanistan and Pakistan", Dr Joshi said.
"Shaving off my moustache, which I have had for 52 years, was a personal sacrifice but which will save a lot of lives and take burdens off of families.
"Inside I feel very proud and satisfied, but from the outside, it looks very strange to me, because I have never experienced looking in the mirror and not seeing my moustache!
"I feel strange externally, I keep touching my face to see where my moustache has gone – people look at me and say 'wow' and I've been told I look twenty years younger!
"I would like to take the opportunity to thank every single person who has contributed and supported me. However, the fight to end polio is still not over – not until we get rid of it completely and World Health Organisation certifies that we've got rid of polio across the world for good."