Desperate calls for help from vulnerable families soar as the Covid-19 pandemic continues.
For many asylum seeking families with no access to public funds, the struggle to feed themselves during the coronavirus crisis has become more difficult than ever before.
Now Islamic Relief UK is supporting local Leeds-based charity Give a Gift with £21,900 to help over 900 people with food packs and vouchers.
Give a Gift, which helps disadvantaged people including asylum seekers, has already started safely distributing food packs door to door to some of the most vulnerable people in Harehills, Beeston, Armley, Burley Hyde park, Gipton, Seacroft and some parts of Bradford.
Prior to support from Give a Gift, one asylum seeking family in Leeds had not received any food packs for a month and when they did receive one, it had very little.
With the mother 26 weeks pregnant, a health visitor referred them to Give a Gift who were then able to immediately supply both the food required and other much needed items for the three children, all aged under seven.
The food packs contain essential items such oil, teabags, sugar, rice, flour, pasta, red lentils, tinned chickpeas, tinned tomatoes, meat and dates. The pack will feed a family of six for a week. Food vouchers are also being given to enable families to buy general goods from supermarkets to supplement their food packs.
Although some of the families are receiving food packs from other agencies, the parcels are generically packed and can contain non-halal items. Give a Gift is ensuring the food packs are culturally appropriate and has seen demand increase considerably during the Ramadan period.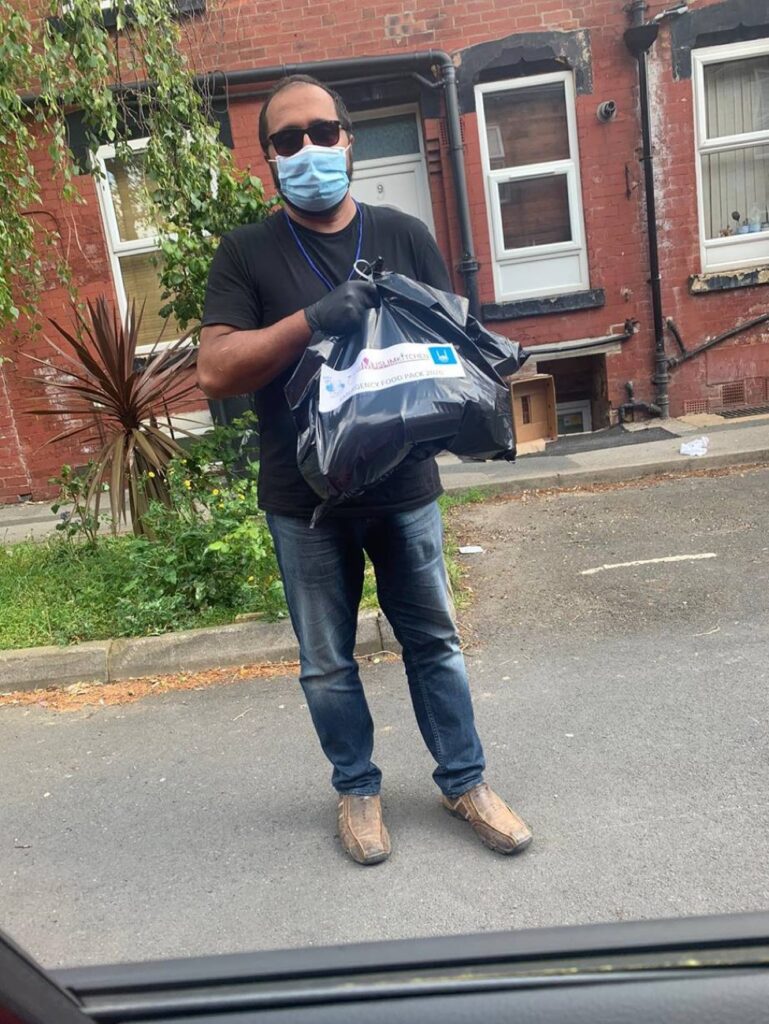 Rifhat Malik MBE, Project Manager at Give a Gift said: "The demand for help during the lockdown is unprecedented and we are doing everything we can to help some of the most vulnerable communities including asylum seekers.
"We are also trusted by the Muslim communities to ensure that we follow their dietary requirements of Halal food.
"With support from local supermarkets and partners such as the Barakah team and the Muslim Kitchen, the families feel reassured knowing they will receive a weekly food supply. The support of the community is also enabling us to support non-Muslim families at this vital time"
As the holy Islamic month of Ramadan continues, many of the Muslim volunteers at Give a Gift are fasting as they work non-stop to help others, making their days extremely challenging.
Tufail Hussain, Director of Islamic Relief UK said: "I've witnessed Give a Gift's efforts on the ground, supporting the most vulnerable refugee families; we are honoured to be supporting such a vital charity doing amazing work to help people in this extremely difficult time.
"The Give a Gift team are extremely dedicated and work long hours with huge demands to bring much needed relief to some of the most vulnerable communities. We are truly humbled by their efforts, especially as many will be fasting during the holy month of Ramadan."
Covid-19 has sadly claimed the lives of more than 33,000 people in the UK and has brought the way of life of millions of people to a standstill. The number of deaths continue to rise, as does the number of confirmed cases. Many communities are finding themselves in vulnerable situations financially, emotionally and without access to essential support.
Islamic Relief UK launched an emergency appeal last month to support the country's most vulnerable people during the coronavirus outbreak through local charity partners. It committed to making £500,000 available to support these organisations.