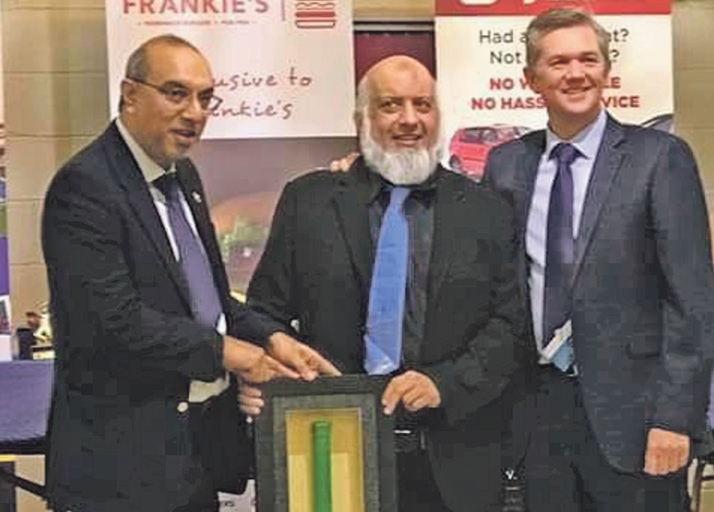 Sporting elites from English & Wales Cricket Board and Yorkshire County Cricket attend club event
Mount Cricket Club in Batley hosted their annual event, where over 800 attendees got the chance to rub shoulders with some of the biggest names in cricket from this region.
On Saturday 14th January Mount Cricket Club celebrated its 39th Annual Presentation Event in the presence of a whole host of leaders from the community and voluntary sector, statutory organisations, public and private businesses and members of the cricket elite too.
John Wright and Mohammed Arif from the English & Wales Cricket Board (ECB), Mark Arthur and Richard Pyrah from Yorkshire County Cricket (YCC) graced the evening. Collis King the ex-West Indian cricketer who played in the 1979 Cricket World Cup final against England with a telling contribution – 86 runs off just 66 balls, also attended.
In front of a packed audience at the Al-Hikmah Centre, Batley, the club reminisced about how it had been formed back in 1976 by two friends – Mr Hanif Mayet and late Mr Farid Karolia (who sadly passed away in 2014).
Special messages were read out from Father Eamonn O'Higgins, L.C. Manager and Committee, the Team of St. Peter's Cricket Club, the Vatican and from Professor Lord Kamlesh Patel of Bradford OBE.
Mr Colin Graves, Chairman of ECB sent a very special message congratulating the Club as follows: "From their tireless work in the local community to their success on the field, Mount Cricket Club is a shining example of what a community club should be.

"We believe that cricket truly is a game for all and can bring people together from different walks of like, faiths and cultures. Mount Cricket Club represents that and more. Thank you for everything you do."
Also in attendance was Maryam Ali who recently received the 'Inspiration Award' at the 2016 Asian Cricket Award and the Club's Women's Group are looking forward to working with her to develop cricket and coaching for girls and women.
A photographic exhibition 'From Parks to Pavilions', illustrated the grass roots beginnings of Asian Cricket in Yorkshire.
Mr Hanif Mayet, Chairman of Mount Cricket Club, commented: "Mount's Annual Presentation Evening is a keenly awaited occasion for our supporters, sponsors and stakeholders where we celebrate the achievements made both on and off the pitch.
"I said that 2015 was a great year, but 2016 has eclipsed this which has been even more memorable.

"We were honoured to be selected for the special cricket fixtures and inter-faith events to win hearts through the medium of cricket.

"On behalf of the Club, a very big thank you to everyone for their continued financial support as we are dependent on the generosity of businesses and residents to allow us to support and serve our community".

Mr Mark Arthur, Chief Executive from Yorkshire Cricket, commented that: "Seeing so many young boys and girls participating in the game of cricket is remarkable, as well as your development programme for girls and those with disabilities. It was wonderful to see Mount celebrate a season of success."
During the evening the audience were informed of Mount's application to play its senior cricket in 2017 with the Halifax Cricket League (HCL).
Mr Anthony Briggs, Chairman of the HCL, thanked the club saying how impressed he was by both the junior and senior players.
Mr Abdul A Ravat, Mount's Development Officer summarised what the club has achieved and what its future challenges are: "'Mount has been running community cricket for almost four decades and what a journey it has been," he said.

"Mount is a unique community asset capable of doing so much and we have lots of plans for 2017 and beyond. So a humble plea for your support, skills, expertise and above all prayers that together we can deliver our objective of improving the playing facilities and pavilion at the Field of Dreams."