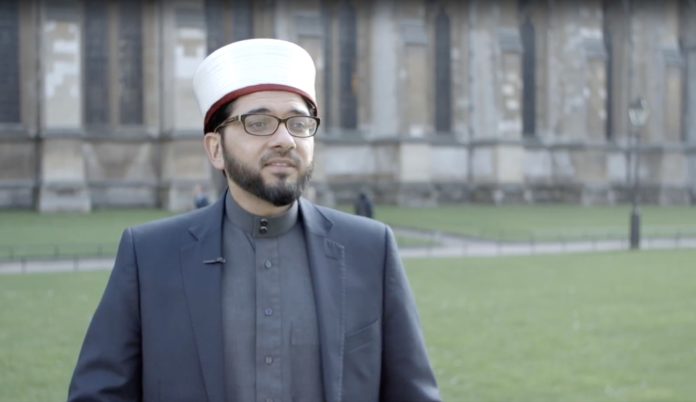 "We need to challenge hostile media coverage"
A Leeds Imam has called for Muslims to "challenge hostile media coverage" on how mainstream newspapers are reporting news about Muslims to ensure it is fair, accurate and inclusive.
Imam Qari Asim's call to action comes after his 10-month battle for an apology from the Mail on Sunday newspaper for publishing deleterious information. They had (wrongly) accused him, in April 2019, of supporting a cleric in Pakistan who had campaigned for Christian woman Asia Bibi to be hanged for blasphemy.
---
Imam Qari Asim MBE is Head Imam at the Makkah Mosque in Thornville Road, Leeds, is deemed as one of Yorkshire's most senior Muslim clerics and is appointed as the Government's Islamophobia adviser.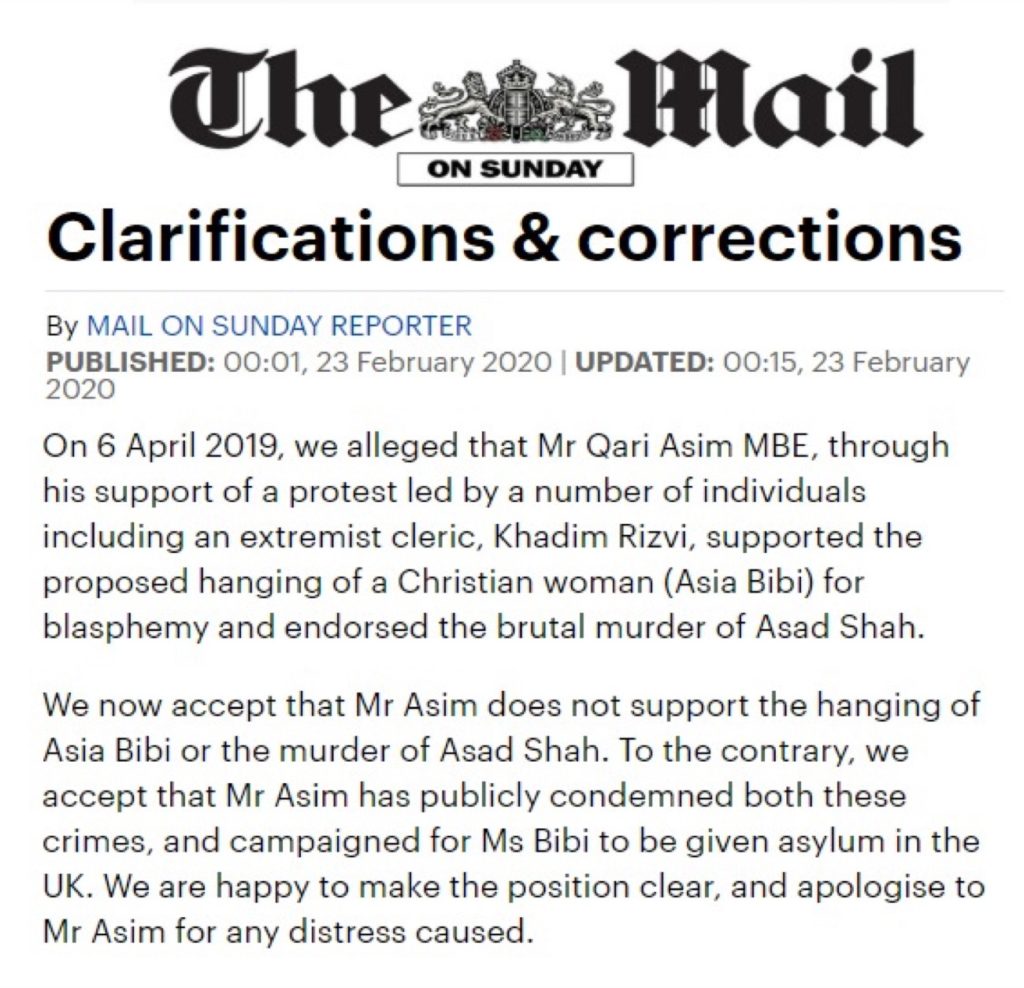 The Mail on Sunday apology appeared in their Clarifications & Corrections section on 23rd February 2020.
It said: "On 6 April 2019, we alleged that Mr Qari Asim MBE, through his support of a protest led by a number of individuals including an extremist cleric, Khadim Rizvi, supported the proposed hanging of a Christian woman (Asia Bibi) for blasphemy and endorsed the brutal murder of Asad Shah.
"We now accept that Mr Asim does not support the hanging of Asia Bibi or the murder of Asad Shah. To the contrary, we accept that Mr Asim has publicly condemned both these crimes, and campaigned for Ms Bibi to be given asylum in the UK. We are happy to make the position clear, and apologise to Mr Asim for any distress caused."
This is the second apology in as many months from the Mail on Sunday. The Asian Express featured the story of council officer Wajed Iqbal who was wrongly accused as grooming ring 'fixer' and who won £180,000 in damages from the Mail on Sunday.
And it comes as no surprise that a study by Cambridge University last year found that the focus on "negative narratives" in media reporting about Muslims in the UK was contributing to an atmosphere of rising hostility.
Whist researching the recent apology from the Mail on Sunday to Imam Qari Asim, Asian Express newspaper found almost non-existent coverage about Imam Qari Asim wining this battle.
This raises unnerving concerns on how the internet is funnelling our searches and continuing to (worryingly) bring up the same old inaccurate articles as top hits, whilst making valid up-to-date information very difficult to find.
Speaking to Asian Express newspaper Imam Qari Asim said: "A section of the UK media too often misrepresents Muslims.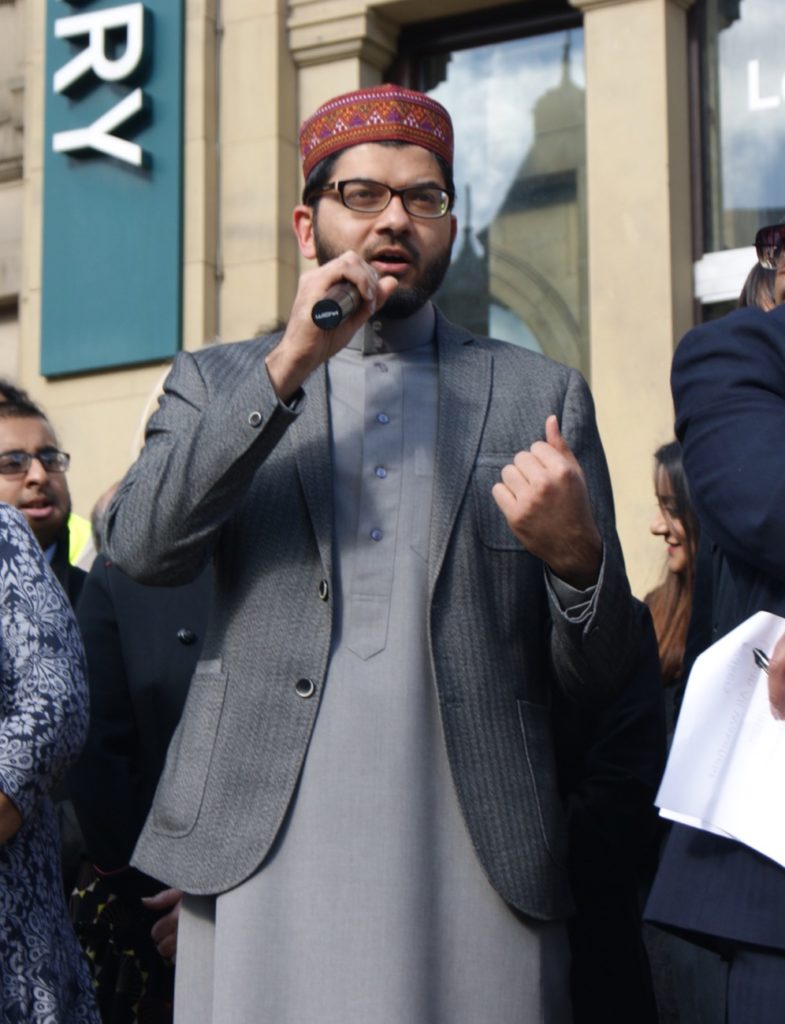 "Lazy journalism, inaccurate reporting or even "fake news" about Muslims is extremely reckless and dangerous; such incorrect reporting, big-click journalism painting overwhelmingly negative picture about Muslims fuels prejudice against Muslims and increase anti-Muslim hatred in society.
"It also tars the diligent work by many journalists across the country."
Talking about the harrowing experience of being a person in the public domain and being so widely accused of something that he never did, Mr Asim adds: "The story in the Mail on Sunday was utterly incorrect.
"A cursory look on the internet would have confirmed to The Mail that I am actually reported to hold completely the opposite views than those alleged in their article.
"There is no one single statement of myself supporting Mr Khadim Rizvi's extreme views, yet despite lack of factual evidence, Mail on Sunday decided to publish a story linking me to Mr Khadim Rizvi.
"We desperately require greater care in the reporting of Muslims in this country, given a plethora of inaccurate, myth-making stories reported about British Muslims. The religious and cultural literacy of journalists also needs to be improved.
"We also need to challenge hostile media coverage so what they are reporting about Muslims is fair, accurate and inclusive."
Andleeb Hanif, Founding Partner and Managing Editor of Asian Express newspaper commented: "Journalism plays a vital role in society and democracy.
"But the barrage of inaccuracies and blatant lies propagated about Muslims has reached beyond ridiculous levels. No other community in Britain receives such a regular deluge of negative and inaccurate reporting.
"We must raise concerns when we come across such false news with the Independent Press Standards Organisation (Ipso).
"But there also needs to be a stronger deterrent to reporting that fails to meet the highest professional standards that members of the press subscribing to Ipso have undertaken to maintain."
Independent Press Standards Organisation
The outgoing chairman of the Independent Press Standards Organisation, Alan Moses recently acknowledged the disparity in reporting and biases against Muslims within media, stating; "I speak for myself, but I have a suspicion that [Muslims] are from time to time written about in a way that would simply not write about Jews or Roman Catholics."
There is evidence that anti-Muslim prejudice has become an engrained element of media practice, to the point where sensationalism presides over journalistic ethics.
Between October 2014 and September 2018, IPSO received 22,652 complaints under clause 1 (accuracy) and 16,310 complaints under clause 12 (discrimination). Of these, only 5.61% (1,269) of complaints under clause 1 have been resolved or a breach determined, and 0.45% (73) of complaints under clause 12.
Policymakers are being called upon to commit to the full implementation of the royal charter on press regulation and the commencement of the second part of the Leveson inquiry, including an investigation into the prevalence of Islamophobia within the media.
Furthermore, in order to stem a culture of journalism underpinned by misreporting and unconscious bias, it is imperative to close the gulf between editors, journalists, and the communities being reported on.
According to research from City University in London less than 0.5 per cent of UK journalists are Muslim, compared to almost 5 per cent of the national population, thus highlighting the extent of under-representation of Muslims in the media.