A gift to Manchester of a bronze statue of the iconic spiritual leader Mahatma Gandhi was unveiled outside Manchester Cathedral in the 150th anniversary year of his birth.
VIPs included Andy Burnham, Mayor of Greater Manchester, Sir Richard Leese, Leader, Manchester City Council, the Right Reverend Dr David Walker, Bishop of Manchester and Pujya Gurudevshri Rakeshbhai, Founder, Shrimad Rajchandra Mission Dharampur (SRMD).
The statue is an initiative of SRMD, a worldwide spiritual movement. Shrimad Rajchandraji was Mahatma Gandhi's spiritual mentor.
Gandhi's memorable accounts on Shrimadji testify the profound influence that Shrimadji's personality exerted on the Mahatma's life.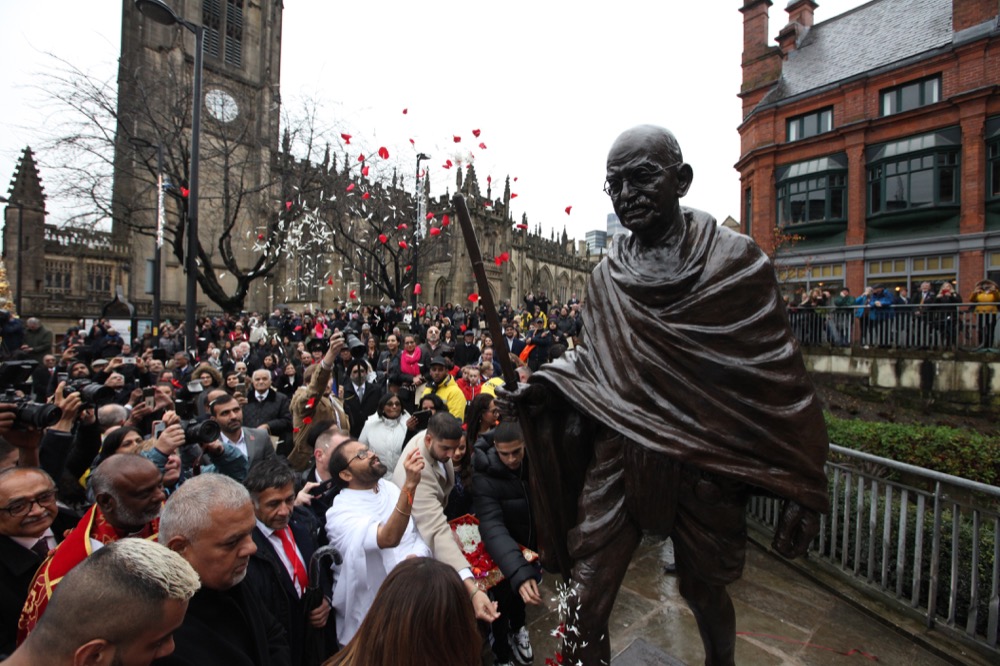 Shrimadji's emphasis on truth, compassion and non-violence in every walk of life, later crystallised as the fundamental tenets of Gandhism, which played a significant role in the Indian struggle for independence.
Gandhi is renowned as a messenger of non-violence, thus this initiative was undertaken by Shrimad Rajchandra Mission Dharampur during Gandhi's 150th birth anniversary year.
The costs to install the 9ft high, 800kg statue, by Indian artist Ram V. Sutar, in the city's Medieval Quarter were sponsored by the Kamani Family in memory of their grandfather Bhanji Khanji Kamani (1888-1979). Sutar is the man who has designed Statue of Unity – the world's tallest sculpture.
The Gandhi statue project is supported by Manchester Cathedral, Manchester City Council, the Manchester India Partnership and the High Commission of India.
Before the project began, carefully planned considering the location, scale in the context of the space and ensuring there will be necessary pedestrian and disabled access.
Invited guests include senior figures from the Indian government and representatives of High Commission of India, UK to join the head of SRMD UK, Pujya Gurudevshri Rakeshbhai.
Representatives from both religious and non-religious organisations across Manchester and beyond attended the event.
Sir Richard Leese, Leader of Manchester City Council, said: "This statue of Mahatma Gandhi, a leader who tirelessly championed the power of peaceful protest, will find a welcome home in Manchester.
"In the turbulent times we live in, his legacy of peace is one we can all appreciate and reflect on."
Andrew Cowan, CEO of Manchester Airport and chair of the Manchester India Partnership, said: "The unveiling of this statue is the latest example of the 'living bridge' that exists between Greater Manchester and India.
"A huge amount of work has gone into forging closer ties between the two since the formation of the Manchester India Partnership 18 months ago.
"I would like to congratulate all those involved in the Mahatma Gandhi Statue project, it is a welcome addition to our city and is sure to prove popular with everyone who visits the city centre in the years ahead."