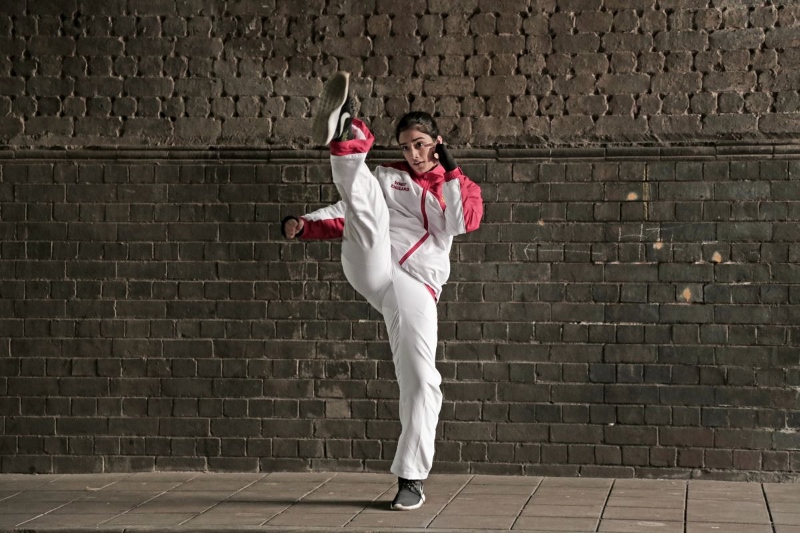 Sporty head girl wins Asian Women of Achievement Award
A 17-year-old martial arts champ has won a top prize at The Asian Women of Achievement [AWA] Awards, in association with NatWest.
Harleen Kaur from Bradford has scooped the number trophy thanks to her dedication to the sport after 10 years of relentless training.
She said: "I was totally shocked to receive the award. I was up against women who have had much longer careers than I have, and achieved such amazing things – I really didn't expect to win."
A head girl at Appleton Academy Sixth Form, Harleen has held a weekend position at Footasylum in The Broadway Bradford since its opening last year and was awarded the prize for her sporting achievements.
She is also the WMKF World Champion Silver Medallist, a martial arts competitor and a 2nd Dan Black belt in Karate.
The teenager currently trains in a combined programme of karate and kickboxing and is part of the WMKF England team. She has claimed top titles in various tournaments, including Taekwondo Opens.
Harleen is an ambassador for the Asian Sports Foundation, is one of a handful of competitors in her field who competes internationally in martial arts and is the current WMKF British Champion in kickboxing and UK All Styles National Champion.
Head girl Harleen is completing her A-Levels and hopes to continue into further education studying Sports Science.
"I'm an ambassador for the Asian Sports Foundation," Harleen continued, "so I'm always trying to motivate and empower Asian women to get involved in sport. I've had great support from my family and from school which I think is so important.

"It's also great to work in Footasylum, as it means I'm constantly surrounded by sport and get to pass on my sports knowledge to customers, and hopefully inspire them to push themselves further in sports."
Pinky Lilani CBE DL, Founder, Asian Women of Achievement Awards said, "We are thrilled for all the winners, who are united by their passion and inspirational achievements. The diversity of this year's winners highlights that Asian women in Britain are bucking stereotypes while making an enormous contribution to British life.
"I am immensely proud to stand alongside this inspiring group of women."
Ian Ward, general manager of The Broadway Bradford, adds: "We at The Broadway are very proud of Harleen's success. She is incredibly dedicated and passes on her in depth knowledge of the sport to shoppers at Foot Asylum here in the shopping centre. We are lucky to work with her and wish her well with her upcoming challenges."
The Awards, now in their 17th year, celebrate the contributions made by Asian women both professionally and in their communities, cutting across a broad range of sectors in British life from business and media to sport, culture and public service.