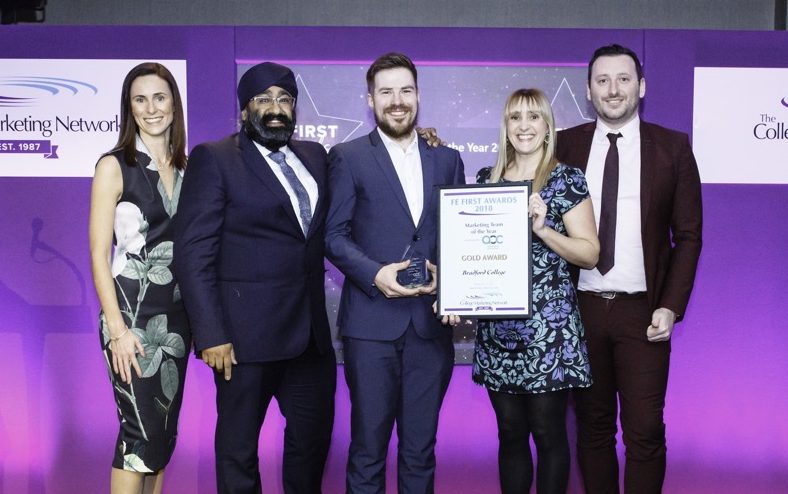 The marketing team at Bradford College has scooped a top industry award.
The team was named Marketing Team of the Year at the FE First Awards 2018.
Organised by the College Marketing Network, The awards celebrate the best in college marketing from all over the country and the Bradford College team won gold in its category.
The judges were impressed with the team's ability to overcome a number of obstacles to deliver a creative and effective student recruitment campaign.
The winning Learn More Earn More campaign was designed to highlight to potential students that education pays off with better jobs and better salaries. Neon light typographical style adverts were used online, in newspapers, billboards and digital displays and to complement the advertising, college open days were redesigned with a focus on careers and earning potential.
The awards were presented at a gala dinner at the Hilton Warwick with the trophies and certificates handed out by Jo Maher, Principal and CEO of Boston College.
In Warwickshire to collect the award was Julie Sokald, Marketing and Campaigns Manager at Bradford College, Digital Marketing Manager Sukhwant Lota and Marketing Analyst Donald Dunkerley.
Dawn Leak, Director of Employer Responsiveness at Bradford College, said: "This is a really well deserved award. They are a fantastic team of individuals whose combined ideas produce fun, dynamic and engaging marketing campaigns for our existing and prospective students.
"The awards allowed them to showcase their best work and as a college we are really proud of their achievement."