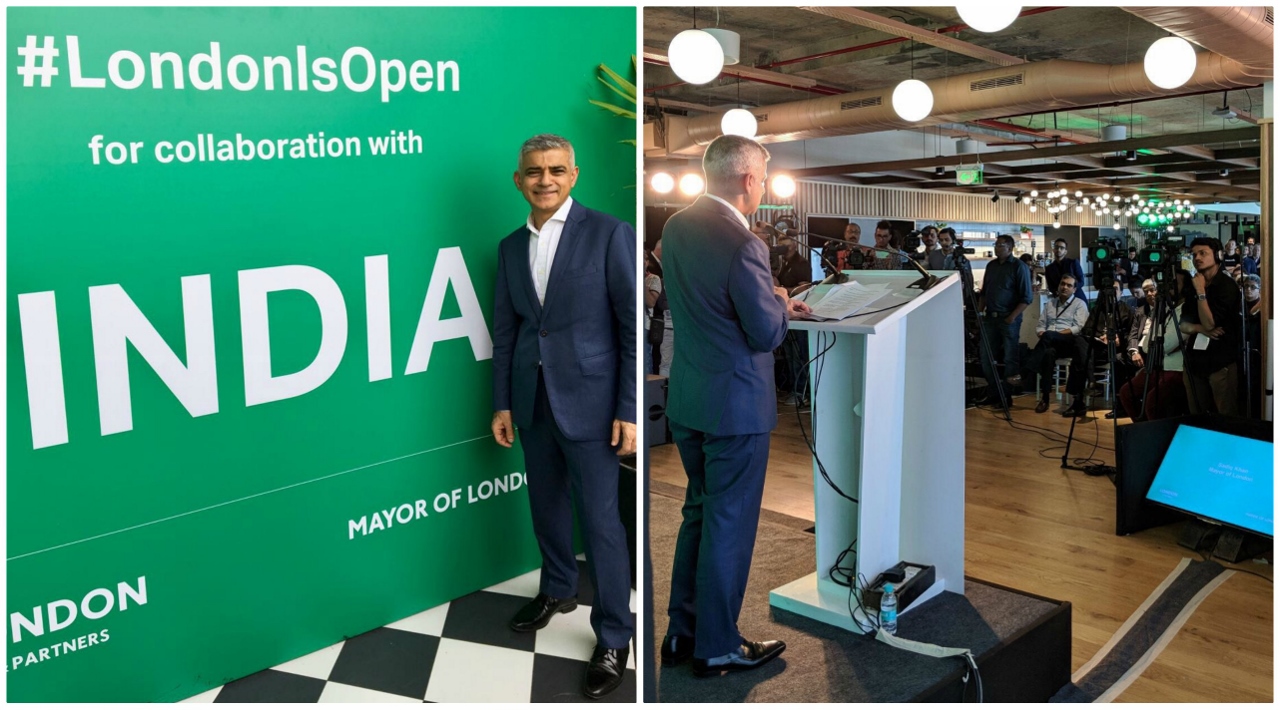 The Mayor of London, Sadiq Khan, today told senior Indian business leaders that he wants the UK and India to forge a new special relationship that is not only
based on trade and investment – but also encourages talented Indian people to study and work in London.
Delivering a keynote speech in Mumbai, Sadiq said that the best way to
achieve this would be for the UK Government to commit to a more flexible visa system. This would benefit not only the UK's relationship with India, but with other growing economies around the world.
He voiced his frustration that, while there has been a drive to increase UK trade with India, business is hampered by our visa system. Many Indians, particularly young students, are finding it harder than ever to gain visas to work and study in the UK. These Indians are choosing to go to the USA, Canada and Australia instead, who are reaping the benefits.
To address this, Sadiq promised call on the UK Government to introduce a new post-study work route for international students.
In particular, he criticised the Government for closing down the previous Tier 1 post-study work route. The number of Indian students coming to London has fallen by over 40 per cent since 2010, partly as a result of this, and now stands at 4,705 (2015/16).
Sadiq also wants Government to change the rules to make it easier for Indian entrepreneurs and skilled workers to gain visas, and to set up a new India-UK International Work Experience Programme to encourage young people from both countries to spend time and learn about India and the UK.
The Mayor is currently visiting India to promote London as a business and tourism
destination and to strengthen the bonds between India and the capital.
Speaking at WeWork in Mumbai, he highlighted his strong emotional bond
to India and explained how it has helped to shape the person he has become.
On his strong emotional bond to India, Sadiq said: "Of course – I'm here in my capacity as the Mayor of London. But I can't deny that coming to this incredible, historic country also feels special to me on a personal level. This is where both my grandparents and my parents were born and raised.
"And it's where many of the people who inspired me the most throughout my life came from, and put their talents and philosophies into action. From the father of your nation, Mahatma Gandhi – whose messages of peace and love will always endure.
"To Srinivasa Ramanujan – the amazing mathematician, and Savitribai Phule – a true
inspiration for many of us still fighting for gender equality."
On the UK and London's future relationship with India, Sadiq said: "I fully recognise that we can't rely on our old bonds with India to secure a valuable place in
your bright future. And I fully recognise that we can't take for granted that our historic connections will inevitably lead to a tighter, more prosperous bond.
"I fully appreciate the real disappointment that many Indians have felt about the British Government's decision to make it more difficult for Indians to gain visas to work and study in the UK.
"In my view – this is not only counterproductive, but simply wrong for the British Government to launch a charm offensive for Indian trade and investment on one hand, but then to work to enforce a visa system that makes it more difficult for Indians to come to our country with the other."
On a more flexible visa system, Sadiq said: "In London I'm making the case loud and clear for a fair, flexible immigration system that allows us to attract talented people – with fewer barriers and less red tape. As part of this, I'm putting forward detailed proposals for a new post-study work visa for international students.
"The British Prime Minister – Theresa May – got it badly wrong with her decision to close this route a few years ago. Because it's not only led to a substantial drop in Indian students coming to our universities – it's in danger of starving my city of great talent.
"History shows us that people go on to do great things after studying and working overseas.
"It's a way of building connections that last for life, which can later benefit us all.
"So my ambition is to see more Indians follow in the footsteps of the likes of Mahatma Gandhi, Jawaharalar Nehru and Srinivasa Ramanujan, who studied at Britain's world-renowned universities."
Supporting the Mayor's call for a more flexible visa system, Director of the London School of Economics, Dame Minouche Shafik, said: "Increasing the availability of post-study work visas will help encourage the brightest minds from countries like India to study at London's world-leading universities, while reaffirming to the world that London is open.
"Everybody wins. The students who come to study here, our universities, and the firms who want to employ our talented graduates."
Jasmine Whitbread, chief executive of London First, said: "London's success is built on global talent and we must keep our doors open to the people vital to our economic growth. To keep London globally competitive, we need the best possible deal from Brexit but must also build invaluable, long-term links with growing economies like India."