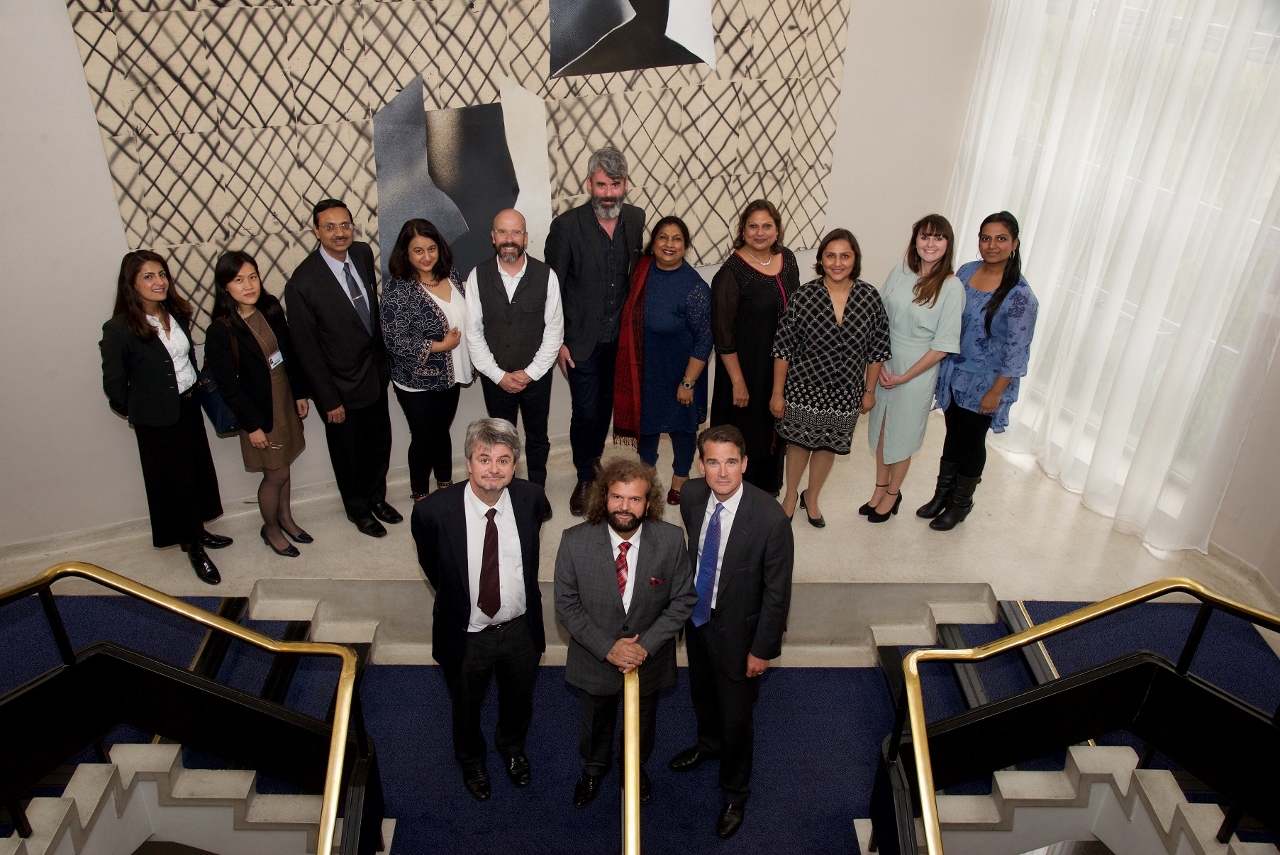 Indian music superstar Hans Raj Hans visited the University of Birmingham and found out more about University life when he met students from India.
The hugely popular Punjabi singer is a national treasure in his home country and has millions of fans throughout the world. One of the finest modern-day performers of Sufi songs, Hans Raj Hans is renowned as folk-revivalist and passionate ambassador for Sufi music.
Professor Robin Mason, Pro-Vice-Chancellor at the University of Birmingham, welcomed Hans Raj Hans to a special lunch held in the musician's honour, following his appearance at the Birmingham Weekender.
Following the lunch – which was attended by guests from mac, THSH, Sampad, Birmingham Hippodrome, Birmingham Weekender and Culture Central – the singer met a group of current students from India. He chatted to them about their studies and life as a student at the University, before touring the Edgbaston campus.
The folk superstar and his band had closed the three-day Birmingham Weekender 2017 free festival with a performance at Birmingham Town Hall on Sunday, 24th September.
Professor Robin Mason said: "I am delighted to welcome our famous guest to the University of Birmingham and show Hans Raj Hans the strength and depth of our links with India, in the country's 70 years of independence.
"We welcomed our first Indian student in 1909 and, since then, the University has provided education to around 2,000 outstanding Indian alumni. This was a great opportunity to introduce Hans to the latest generation of Indian students to study at Birmingham."
A versatile and soulful vocalist, Hans Raj Hans' work spans a wealth of musical styles, including popular Punjabi songs as well as folk, devotional, gurbani, ghazals, Bollywood and classical.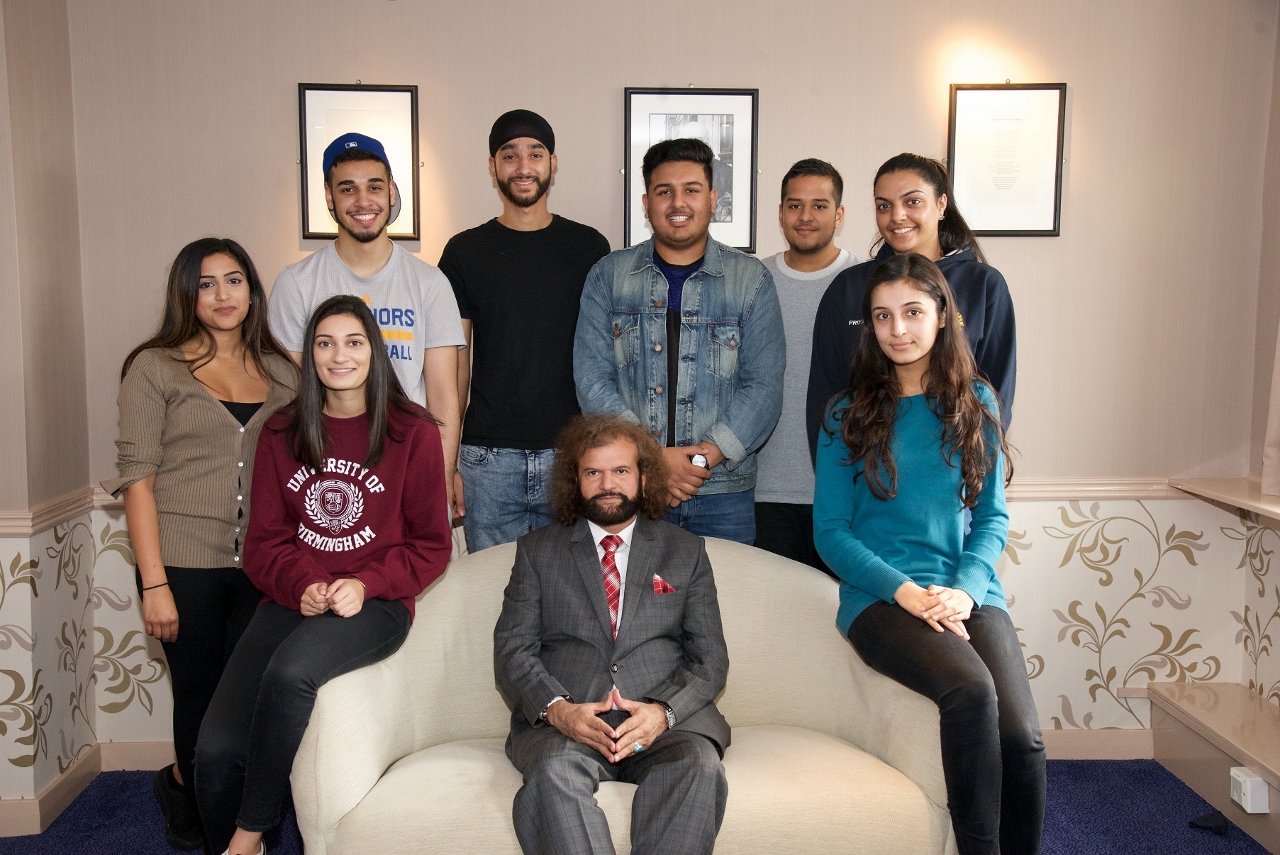 He has collaborated with musical legends such as Lata Mangeshkar and the late Nusrat Fateh Ali Khan, as well as distinguished composer A.R. Rahman. In 2008, Hans Raj Hans was awarded the prestigious Padma Shri Award, one of India's highest civilian honours, for his outstanding contribution to the arts. He is a visiting professor of sufi music at a number of US universities, as well as a life fellow at Punjabi University of Patiala and recipient of the Sangeet Nanak Academy award.
The music superstar's son Navraj Hans studied business at the University of Birmingham and Hans Raj Hans met members of the University's Indian Society as well as the Bharat Parivar student society.
Hans Raj Hans said: "It has been great to discover more about the University of Birmingham and its long-standing connections with India, as well as meeting Indian students who have travelled to Birmingham to further their education and take advantage of the excellent opportunities offered by the University.
"I visited my son in Birmingham many times and it felt very good to return to the campus to meet music staff and leaders of the University. I will be delighted to return to the University in the future to continue supporting students here."
Simran Dhaliwal, President of the Indian Society, said: "It's very exciting to have someone of such high standing as Hans Raj Hans visiting the campus and it's good to see the University of Birmingham engaging with the international student community in this way."
Vijaya Priyadarshini, from Bharat Parivar, said: "It's great to see someone so famous coming to the University of Birmingham to visit students in such a high-profile visit."
The University of Birmingham supported a new discussion series as part of Birmingham Weekender. Hosted in coffee shops and venues across the city, the series offered participants the opportunity to discuss hot topics affecting Birmingham with leading academics from the University.
Talks included Dr Dorothy Butchard discussing Birmingham's aspiration to Smart City status, cultural geographer Dr. Phil Jones talking about using culture to understand our cities, Dr Melrose Stewart discussing how dancing improves the wellbeing of participants, and Professor Jenny Phillimore on the impact of migration and cultural diversity.