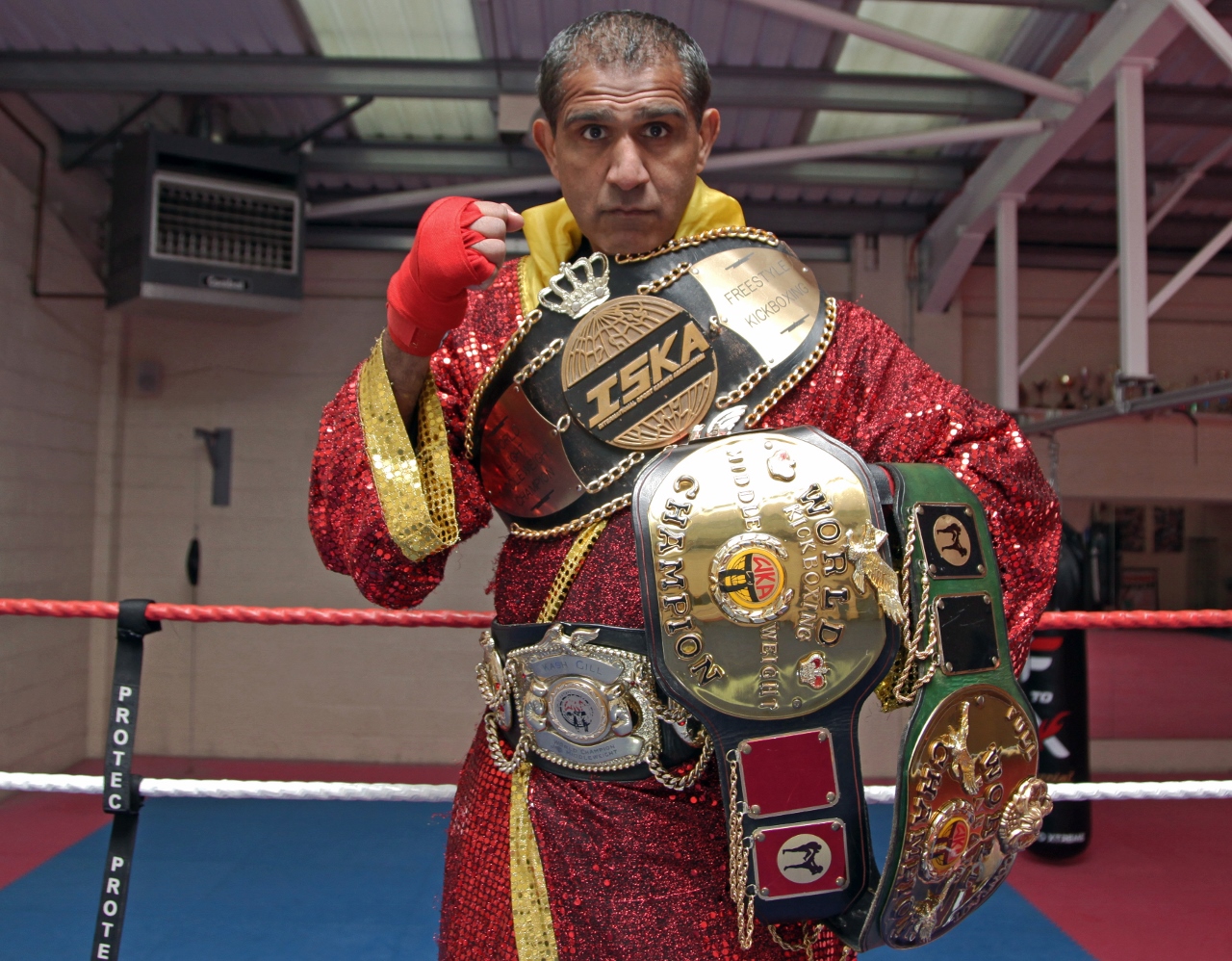 Indefeated four-times World Kickboxing champ's passion is to work with youngsters in Birmingham
Kash 'The Flash' Gill has been described as 'the UK's most prolific kickboxer'. Standing tall at 6ft 3" Kash, a retired British professional kickboxer has an impressive line-up of British, European and World titles under his belt.
Four-times World Kick Boxing Champion – the first Asian to become World Champion in a contact sport, Kash engaged with spectators in a show of demos at the Birmingham Mela.
Kash Gills' Incredible rise from the tough inner city streets of Birmingham, to world fame and domination of his chosen sport, is a fascinating white-knuckle journey.
Discovering kickboxing at the age of 14 when he saw a demo in a local park, he went down for a trial session and fell in love with the sport which was to become his life.
Gill's natural speed and athletic ability as well as his flashy showmanship soon earned him the nickname 'The Flash', a name which fits like a glove.
By 1984, having earned his black belt, Gill at the age of 18, had entered and won his first competition in a three-round contest in full-contact karate.
The list of world kickboxing titles that Kash picked up and added to his collection over the next few years was impressive and his rise to fame gathered impetus in 1986 when he blasted his way to a gold medal at the World PKA Amateur Full Contact Championships.
His sheer determination to rise above and not be defined by his environment and tragedies that beset his early years has inspired multitude of students, fans and professional athletes alike.
He scaled new heights in his career, collecting his first Professional world title, the WKA Junior Middleweight in 1991 when he also won the World full contact Karate championships.
In the two consecutive years following, he went on to win the WKA World Middleweight kickboxing title and the ISKA World Light Middleweight title.
Despite his success in the ring, Kash still has his feet firmly planted on the ground.
The man behind the world champion is an extremely likeable one and he is a sensational coach. Do not let the Flash stage persona fool you, Kash is a charismatic man that cares about his community and the people in it – he is a true peoples champion and a positive role model.
Working with local schools to promote the importance of health and fitness is a huge passion. He's also involved in fundraising and working with local charities that help disadvantaged youths in the area where he grew up.
In 2008 Kash achieved his lifelong dream and opened his own gym with the aim of uniting people from all communities in a love of fitness and sport. His gym includes a boxing ring, plenty of floor space, punch bags, showers and a sauna and offers a variety of classes to suit all ages and abilities.
When he is not coaching he is tirelessly raising funds for various charities and resources for the local community with the same determination that made him World Champion. A sporting hero, role model and inspiration, a towering ambassador of Martial Arts and the disaffected youth of inner cities around the world.
---
Kash The Flash Gill, Stats
The UK's most prolific Kick-Boxer
World Amateur Kick Boxing Champion at the age of 20
Became four times World Kickboxing Champion, an achievement that has not been beaten
world champion in kickboxing at the age of 21
1991, he won the World Kickboxing Association (WKA) light middleweight and super welterweight full contact titles
The following year he won the WKA middleweight championship
He was the International Sport Karate Association freestyle champion of 1993
Formally retired from fighting in 2002
Inducted into the BBC Sporting Hall of Fame
Life in the Flash Lane Documentary
Kash The Flash Interview
---