Over 2,600 houses burnt to the ground in one of the deadliest bouts of violence in Myanmar
More than 2,600 houses have been burnt down in Rohingya-majority areas of Myanmar's northwest region in the last week, in one of the deadliest bouts of violence involving the Muslim minority in decades.
About 58,600 Rohingya have fled into neighbouring Bangladesh from Myanmar  (also known as Burma), according to U.N. refugee agency UNHCR, as aid workers there struggle to cope.
Myanmar officials blamed the Arakan Rohingya Salvation Army (ARSA) for the burning of the homes. The Buddhist group claimed responsibility for coordinated attacks on security posts last week that prompted clashes and a large army counter-offensive.
But Rohingya fleeing to Bangladesh say a campaign of arson and killings by the Myanmar army is aimed at trying to force them out.
The treatment of Myanmar's roughly 1.1 million Rohingya is the biggest challenge facing leader Aung San Suu Kyi, accused by Western critics of not speaking out for the Muslim minority that has long complained of persecution.
Former colonial power Britain has said it hoped Suu Kyi would use her "remarkable qualities" to end the violence.
"Aung San Suu Kyi is rightly regarded as one of the most inspiring figures of our age, but the treatment of the Rohingya is, alas, besmirching the reputation of Burma," foreign minister Boris Johnson said in a statement.
The clashes and army crackdown have killed nearly 400 people and more than 11,700 "ethnic residents" have been evacuated from the area, the government said, referring to the non-Muslim residents.
It marks a dramatic escalation of a conflict that has simmered since October, when a smaller Rohingya attack on security posts prompted a military response dogged by allegations of rights abuses.
"A total of 2,625 houses from Kotankauk, Myinlut and Kyikanpyin villages and two wards in Maungtaw were burnt down by the ARSA extremist terrorists," the state-run Global New Light of Myanmar said. The group has been declared a terrorist organisation by the government.
But Human Rights Watch, which analysed satellite imagery and accounts from Rohingya fleeing to Bangladesh, said the Myanmar security forces deliberately set the fires.
"New satellite imagery shows the total destruction of a Muslim village, and prompts serious concerns that the level of devastation in northern Rakhine state may be far worse than originally thought," said the group's deputy Asia director, Phil Robertson.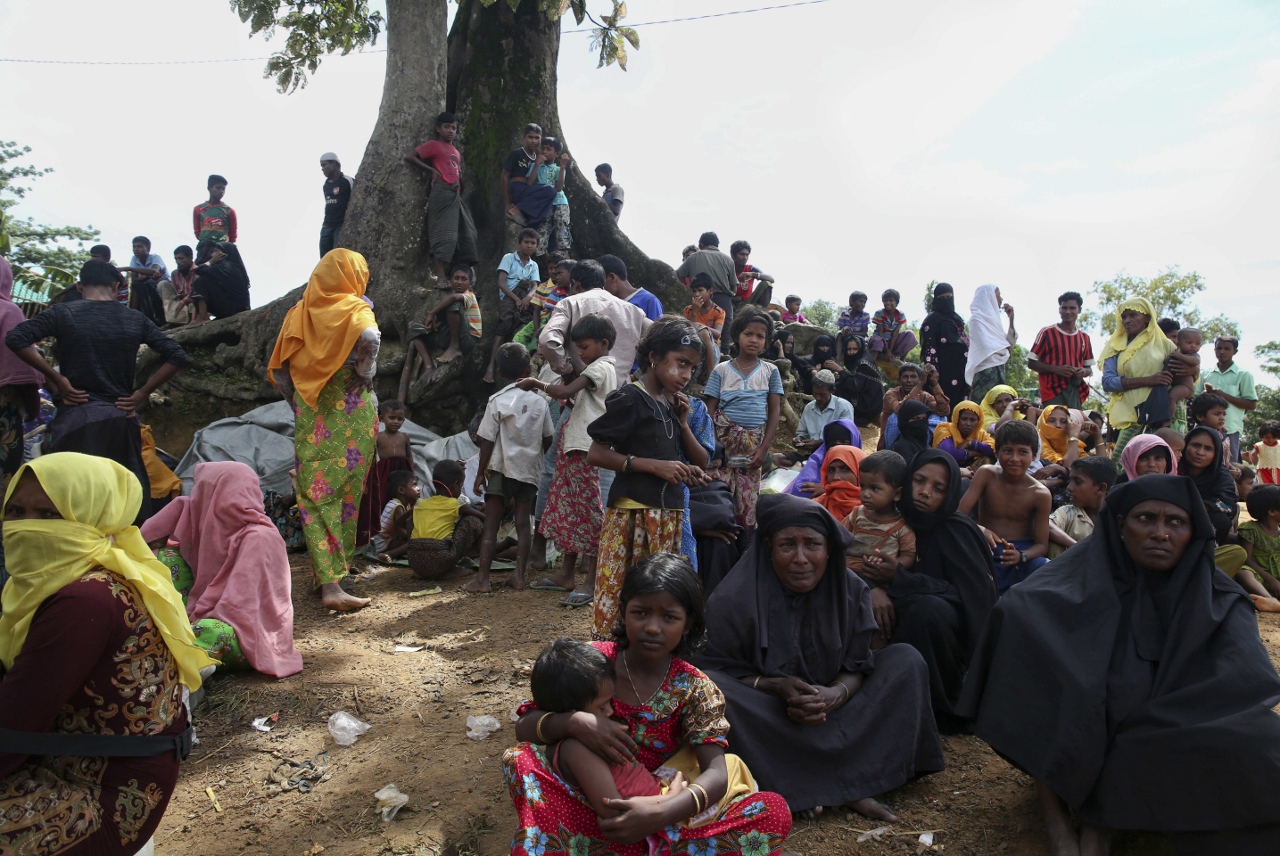 ---
History
Muslims have lived in the area now known as Myanmar since as early as the 12th century, according to many historians and Rohingya groups.
During the more than 100 years of British rule (1824-1948), there was a significant amount of migration of labourers to what is now known as Myanmar from today's India and Bangladesh. Because the British administered Myanmar as a province of India, such migration was considered internal, according to Human Rights Watch (HRW).
The migration of labourers was viewed negatively by the majority of the native population.
After independence, the government viewed the migration that took place during British rule as "illegal, and it is on this basis that they refuse citizenship to the majority of Rohingya," HRW said in a 2000 report.
Shortly after Myanmar's independence from the British in 1948, the Union Citizenship Act was passed, defining which ethnicities could gain citizenship.
According to a 2015 report by the International Human Rights Clinic at Yale Law School, the Rohingya were not included. The act, however, did allow those whose families had lived in Myanmar for at least two generations to apply for identity cards.
After the 1962 military coup in Myanmar, things changed dramatically. All citizens were required to obtain national registration cards. The Rohingya, however, were only given foreign identity cards, which limited the jobs and educational opportunities they could pursue and obtain.
In 1982, a new citizenship law was passed, which effectively rendered the Rohingya stateless. Under the law, Rohingya were again not recognised as one of the country's 135 ethnic groups.
The law established three levels of citizenship. In order to obtain the most basic level (naturalised citizenship), there must be proof that the person's family lived in Myanmar prior to 1948, as well as fluency in one of the national languages.
Many Rohingya lack such paperwork because it was either unavailable or denied to them.
As a result of the law, their rights to study, work, travel, marry, practice their religion and access health services have been and continue to be restricted.
Since the 1970s, a number of crackdowns on the Rohingya in Rakhine State have forced hundreds of thousands to flee to neighbouring Bangladesh, as well as Malaysia, Thailand and other Southeast Asian countries. During such crackdowns, refugees have often reported rape, torture, arson and murder by Myanmar security forces.
After the killings of nine border police in October 2016, troops started pouring into villages in Rakhine State. The government blamed what it called fighters from an armed Rohingya group. The killings led to a security crackdown on villages where Rohingya lived.
During the crackdown, government troops were accused of an array of human rights abuses, including extrajudicial killing, rape and arson – allegations the government denied.
In November 2016, a UN official accused the government of carrying out "ethnic cleansing" of Rohingya Muslims. It was not the first time such an accusation has been made.
---