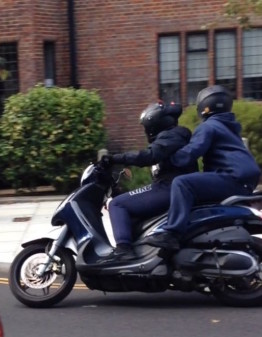 Police have issued CCTV of two robbery suspects and are appealing for anyone with information to come forward after a couple with a baby were robbed at knifepoint.
At around 15:30hrs on Saturday, 2 September, the two victims, a 31-year-old woman and a 32-year-old man, were approached by two men on a moped in Sprimont Place, Chelsea, SW3.
The suspects threatened the victims with a knife and demanded they hand over their watches.
One of the suspects pointed the knife towards a baby in the pram that the couple was pushing.
Fearful for their own safety and that of their child, the couple handed over their watches.
The suspects then made off towards Elystan Place. No-one was injured.
Both suspects were wearing black crash helmets, and are described as being white males wearing navy blue tracksuits and black Nike trainers.
If you have any information about this incident or the suspects, call Kensington and Chelsea Police on 101 or Crimestoppers anonymously on 0800 555 111.