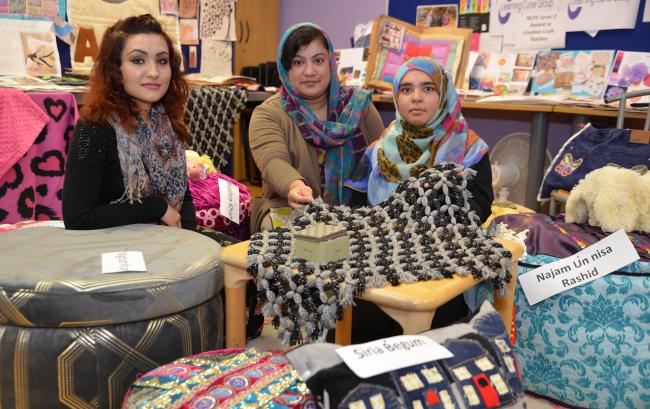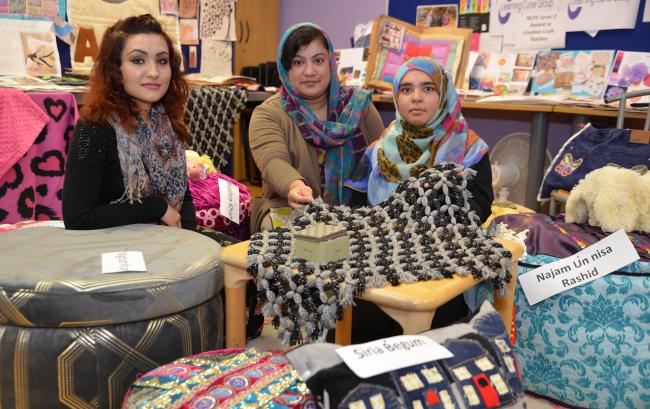 The Meridian Centre is a creative hub in the local community
Women who enrolled on to a Creative Craft course at the Meridian Centre on St Pauls Road have passed with flying colours.
The upcycling course was one of a number of learning opportunities available at the centre as part of its adult education programme.
They aim to teach people from the neighbourhood new skills and get them back into work.
The Centre Manager said the women's creativity deserves to be celebrated:
"I've been so impressed with their work I wanted to share it.
"It's amazing what ideas they've come up with. One of my favourite was a tyre that has been turned into a leg resting pouffe."
Nabila Khan the Course Tutor said "It's not just textile and sewing skills they pick up it's also a chance to socialise with other ladies from the local community and make new friends.
"It's a great starting point if you are wanting to go back to education."
The Manager added the courses were open to any man or woman who want to increase their skills and go on to further education to improve themselves and their lives.
Meridian Centre provides free courses to the local community in Manningham and are well embedded amongst the hard-to-reach communities. They have been able to provide education and training to the community. The courses delivered are in response to a need in the community for courses that aim to lead people into further education and employment.
The courses which include ESOL, Functional Skills, Equality and Diversity, Nutrition and Health, various Art and Craft courses, Childcare, Health and Social Care and Teaching Assistant are recognised by the community as a way of progressing in to further education and employment.
Meridian Centre are offering courses to 16 – 18 year olds such as Childcare Level 1 and 2 and Health Social Care Level 1 and the Security Guard course that is attracting more men on to the courses. In September 2017 they will be offering GCSE Maths and English.
As well as the adult courses the centre offers 2, 3 and 4-year-olds with 15 hours of free early education for those that are entitled for 38 weeks of the year.
To find out more about the centre and what courses might be of interest contact the centre at: 01274 490353.
---
Enrolment dates for some of the courses are listed below:
18/08/17 at 10am for the Door Supervision SIA (Security Guard Course)Level 2
30/08/17 at 10am Childcare Level and Health and Social Care for 16 -19 year olds
23/08/17 at 10am Childcare Level and Health and Social Care for 19+
22/08/17 at 10am for Functional Skills
04/09/17 at 1pm for GCSE Maths
19/09/17 at 1pm for Mindfulness Introduction
18/09/17 at 1pm for Healthy Living Mind and Body – Introduction
---