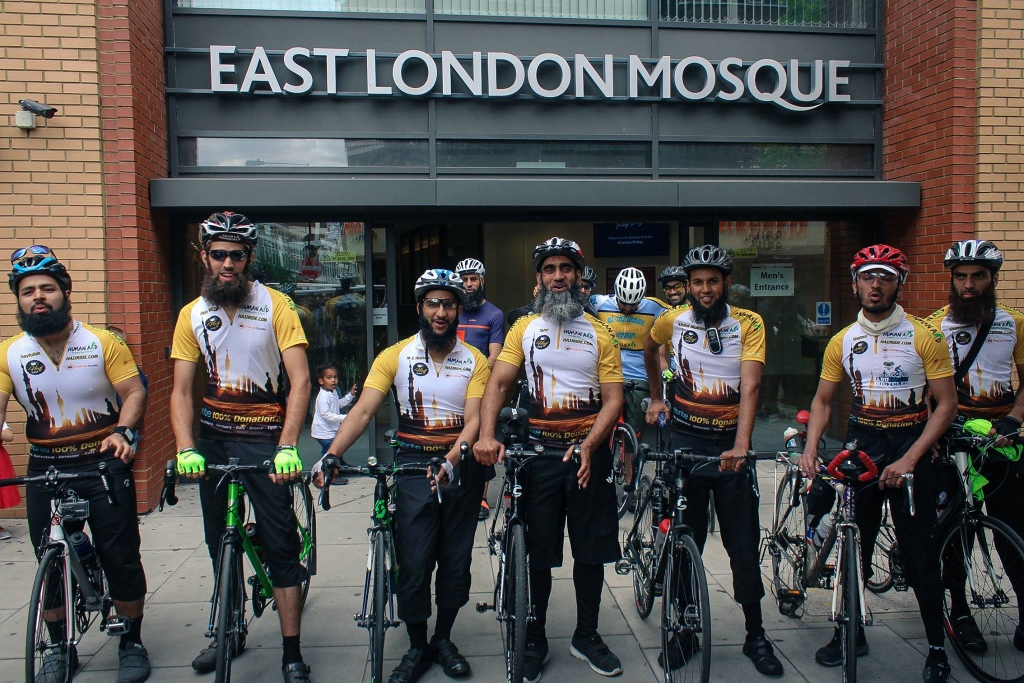 Group of Muslim brothers set out on a 2000-mile bike ride aiming to arrive just in time for the annual Hajj pilgrimage
Eight British Muslims are cycling from London to Saudi Arabia in an amazing journey for Hajj over a six-week period, aiming to raise £1 million for those affecting in the Syrian War.
They began in the UK and will travel through France, Germany, Switzerland, Italy then Greece before taking a ship to Egypt and then onto Saudi Arabia.
The group hope to be the first to travel to Hajj from the United Kingdom on bicycles.
We received an update from the group on day 14 of the Hajj Ride vogue where we find the men in the city of Brescia, Italy.
Having experienced many challenges whilst on the ride the last few days proved to be particularly eventful and testing, both for the cyclists and support staff.
They headed from the city of Vaduz, Lichtenstein (a bonus country on our journey) back into Switzerland.
The route led them over 1,700m above sea level through the Alps to the small town of Zuoz, which included two incredibly challenging climbs.
The second of these climbs was the Albula Pass, which has a peak of 2,315 metres, making it a quarter of the height of Mount Everest.
Being that high up in plummeting temperature, strong winds and oxygen deprivation caused some real issues.
The primary intension around this journey is to perform Hajj; for this reason they needed to remember not to put themselves in unnecessary danger or harm when pursuing their ultimate goal.
The following day they travelled south from Zuoz over the Italian border to Aprica.
Driving down a steep mountain road, an incident occurred with the van in Poschiavo, 10 miles from Italy.
This meant that the vehicle was out of action and they were unable to provide support to the riders for the second half of the ride.
The cyclists continued on without assistance however and reached their destination in Aprica, coping admirably without their luggage or possessions.
The van was thankfully fixed and they were able to rejoin the group in Aprica that night.
Travelling from Aprica down to Brescia was an enjoyable experience for the group as the route was downhill and they were able to take in the stunning Lake D'Iseo.
Heading from their lunch stop in Boario Di Terme, the support van received their first medical call of the trip.
One of the riders failed to see a raised kerb when attempting to stop at the side of the road, and ended up injuring his shins against the pedals as he fell off the bike.
The injury was not major however so after treating the wound he was able to continue to the finish in Brescia.
With three countries still left on their journey the Hajj Ride on track to arrive in time for Hajj pilgrimage.