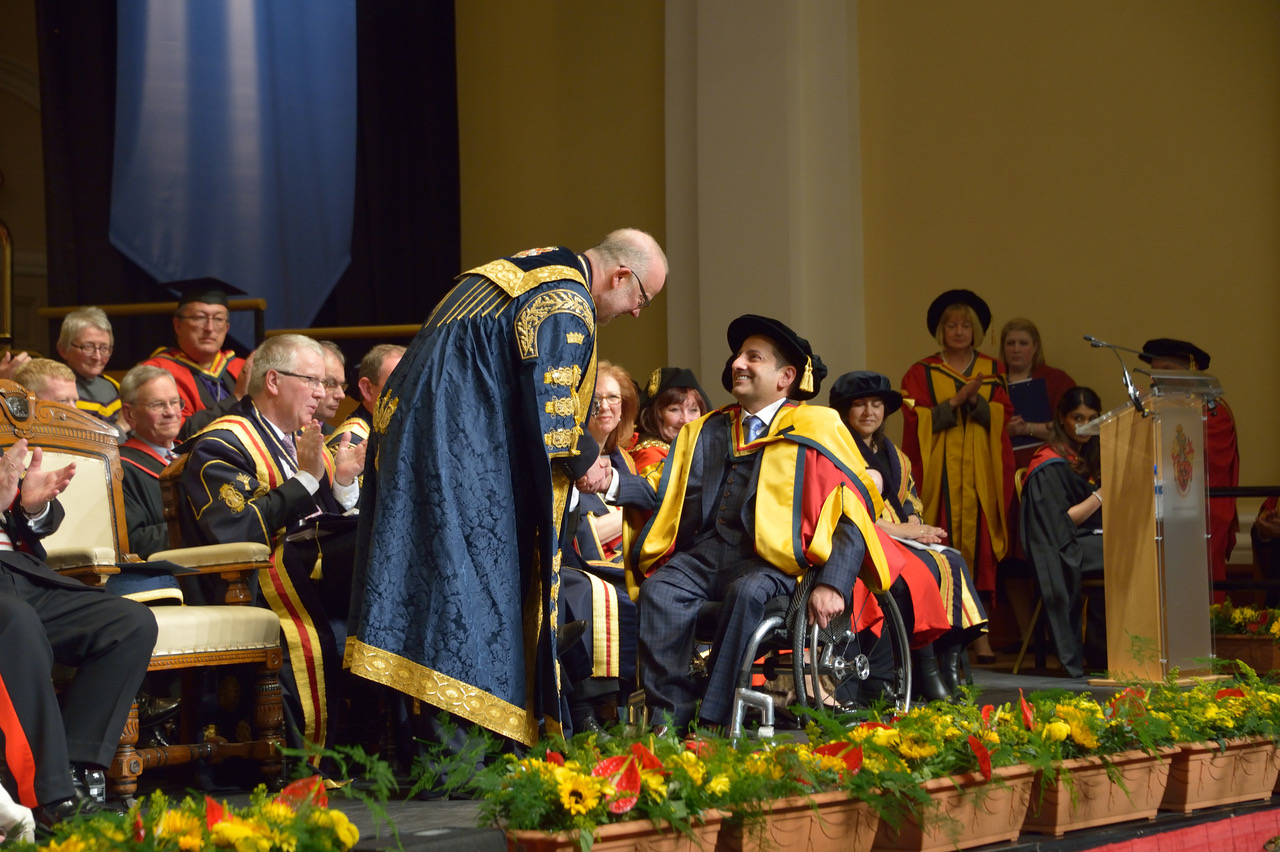 The University of Bolton had awarded 48-year-old Mustafa Mohammed an honorary doctorate for his "outstanding contribution to dental education".
Born in Pakistan, Mohammed had contracted polio as a small boy and came to live in Elland, West Yorkshire. He attended a school in Brighouse following which he went on to complete a degree at Sheffield in Computer Science.
Following his degree, Mohammed created an Urdu word processor and obtained a position as a computer programmer.
In 2005 Mohammed noticed the demand for dentists far outstripped the supply and so he set up his first practice in Garforth, West Yorkshire. He now owns 25 clinics under Genix Healthcare across the UK and has been instrumental in the establishment of the University's Centre for Dental Sciences.
Genix Healthcare is headquartered at the University of Bolton alongside sister company Sparkle, which has created one of Britain's largest and best equipped dental laboratories on the campus.
Mohammed, 48, a married father-of-three, divides his time between his homes in Huddersfield, West Yorkshire, and central London.
Mohammed has been instrumental in the establishment of the university's pioneering Centre for Dental Sciences, the newest dental education department in England.
It offers students access to state-of-the-art, purpose-built dental laboratories and specialist industry-standard equipment. Mohammed has also pioneered apprenticeships in dental care and technology and developed industry standards on behalf of the Government.
The University of Bolton praised the British Asian entrepreneur for giving freely his time and money to support the new Centre for Dental Sciences.
Mohammed received his Doctor of Health Care award at a ceremony to mark the installation of the University of Bolton's new Chancellor, the Earl of St Andrews, who is the eldest son of the Duke and Duchess of Kent.
Mohammed said: "I feel very humbled to receive such a distinction and would like to thank the University of Bolton for bestowing this honour on me and my family.
"I have been successful in life and the best way to give something back is to support the next generation by investing in education and training.
"In partnership with the University of Bolton, we have created the only industrial training centre in Europe and the first in Britain in living memory.
"I am proud to be associated with this important institution and wish it and all of its students every success in the future."