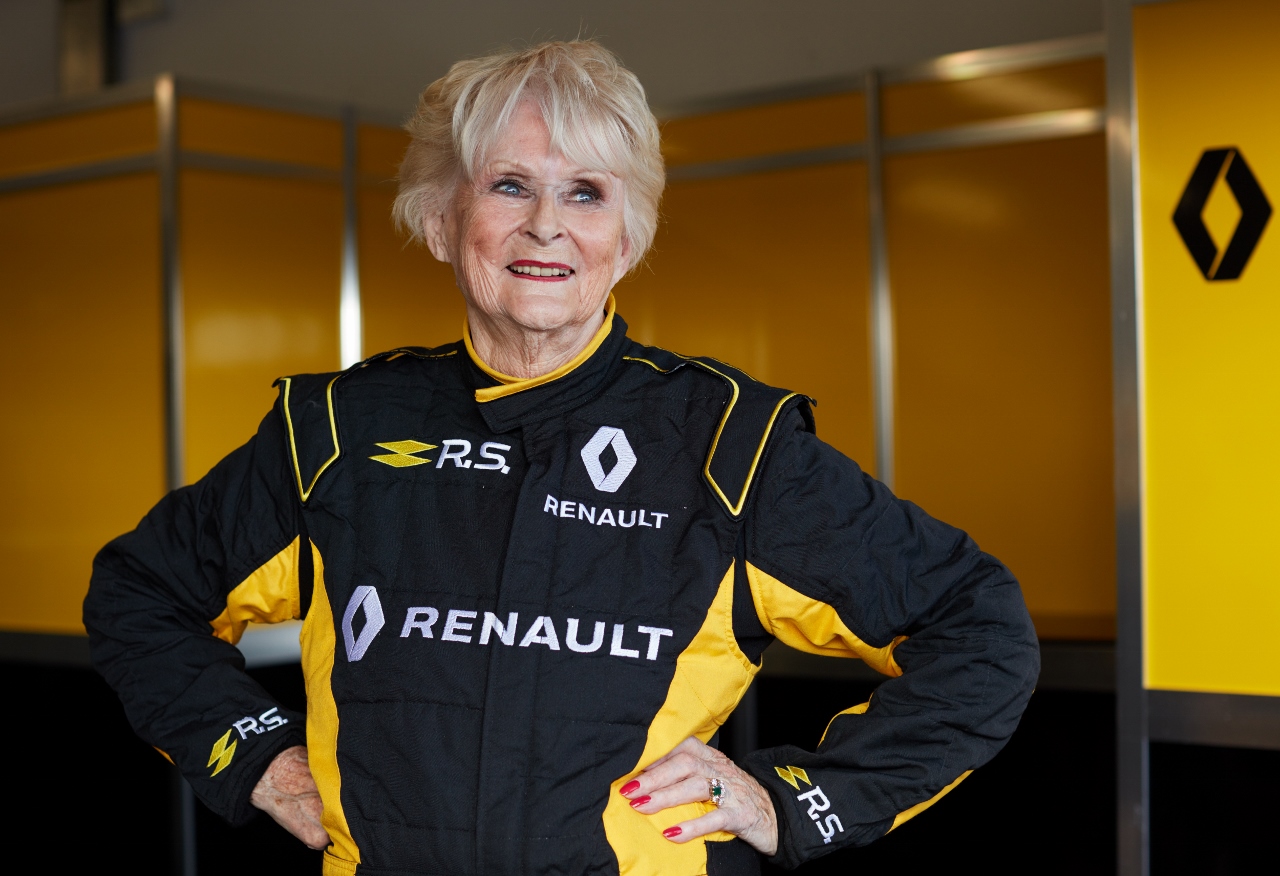 At 79 years old, Rosemary Smith is proving age is just a number as she fulfils her lifelong dream of driving a Renault Sport Formula One™ Team car.
As part of Renault Sport Formula One™ Team's 40th Anniversary celebrations, the team at Renault UK saw an opportunity to make this dream come true for the rally-driver, arranging for her to get behind the wheel of one.
Rosemary initially trained as a seamstress and opened her own dress shop, which unexpectedly became her route into the world of motorsport when one of her clients invited her to navigate in a rally. However, it wasn't long before the Dublin-born craver of excitement switched to driving and the silverware soon followed.
The Irish racer competed in some of the most iconic rallies around the world, taking home many trophies despite disqualifications and people looking to hold her back in the notoriously male-dominated sport. A particularly poignant victory was the famous Tulip Rally, which she won in 1965, an achievement which made not only the motorsport world take notice but also Hollywood, with Elizabeth Taylor and Richard Burton sending her a huge bouquet and congratulatory letter.
After years competing and winning at the highest level in world rallying, Rosemary set up her own driving school using Renault Clios and for the past two decades has campaigned for young driver education to be introduced in schools across the country.
Despite these achievements, Rosemary never got the chance to partake in arguably the greatest motorsport experience – driving a Renault Sport Formula One™ Team car – until now.
Speaking of the experience Rosemary said: "Driving an 800bhp car is something I, like many other racers, have always dreamt of but I didn't think I'd ever have the opportunity to do it, so when the team at Renault UK contacted me I jumped at the chance.
"It was definitely very different to the rally cars I'm used to but was an amazing experience. I could feel myself getting more and more.
"After racing and facing the challenges of competing in a male-dominated sport together for many years I was so happy I was able to share this latest milestone and give me that extra boost. It just goes to show that anyone can fulfil their dreams at any age if they put their mind to it and always follow their passions."