"If I as a Muslim woman from a traditional family, I could serve in the Territorial Army then so can anyone."
An author and motivational speaker, who trained to become part of the British Army's elite fighting force, the SAS, is fighting back against online trolls who have tried to destroy her reputation.
Azi Ahmed was born in Oldham to Pakistani immigrant parents, who ran a kebab shop. She had, what many Asian's in Britain can relate to, a very "traditional upbringing". As well as helping out in the shop, she went to mosque every day after school and studied the Quran. Her mum taught her sewing and knitting and planned to arrange a marriage for her.
But, being the youngest of five children, she had different plans for herself, had ambitions and wanted desperately to break the mould.
So, at 21-years-old she set out to do something very, very different and joined an SAS training course, but didn't tell her parents because she thought they would disapprove.
The SAS women's training scheme was set up by a colonel in the regiment who wanted to give women a chance to serve, but was scrapped just two weeks before Azi was due to complete the course.
"The main thing that stood out to me was the culture clash between my upbringing in a very traditional Muslim family and my experiences in the Territorial Army. It changed my outlook on life.
"I've been brought up always to aim for the best, so I dedicated myself wholly to joining the SAS and doing my best," states Azi.
"The project was scrapped just days before my training finished. No explanation was given."
During her SAS training, she learnt about discipline, teamwork and connecting with people from all areas of life. She now wanted to encourage Muslims to embrace their British identity and support the armed forces rather than treating them with suspicion.
Azi realised that she still had something to offer and went on to write a book, which became a best-seller titled 'Worlds Apart: A Muslim Girl with the SAS', and told the story of her attempt to join the SAS.
"I hoped to encourage more women to apply for positions in the military as they have an important role to play in the armed forces.
"If I as a Muslim woman from a traditional family, could serve in the Territorial Army then so can anyone," says Azi, now in her 40s.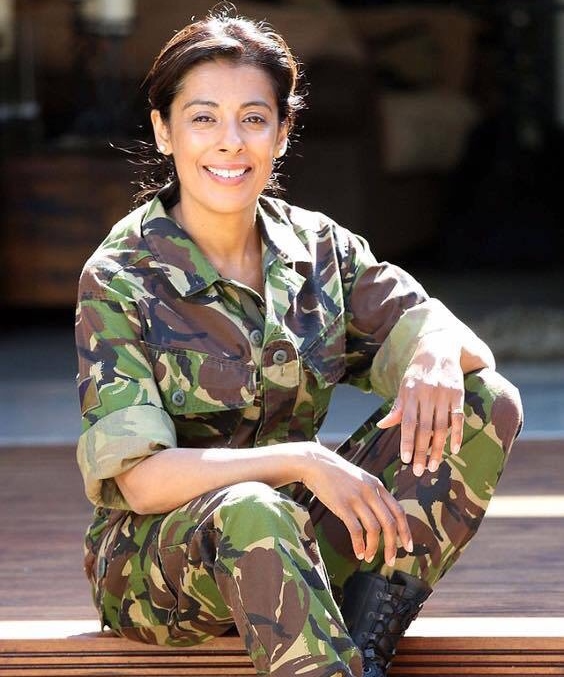 Azi increasingly feels that post-9/11, Muslim communities across the world and indeed in Britain have increasingly turned inward and become more introvert, but believes being British and a Muslim needn't be mutually exclusive.
She took on motivational speaking and even attempted to contribute to public life by serving in Parliament and ran for the Rochdale seat in 2015.
"I was attracted to Rochdale because I knew the area very well from my childhood growing up in Oldham.
"There were sex-grooming and paedophile scandals which needed to be addressed, including the underlying causes. I felt I could make a contribution to the debate, expressly as I come from an entirely non-political background.
"I'm keen to inspire young Muslims and help challenge the polarisation in Muslim communities, promoting a British identity," she explains.
It was during this time a picture of her with defence secretary Sir Michael Fallon during her political campaigning was spotted and the trolling began, she claims.
She became the victim of a vitriolic hate campaign after Russia Today, a publication with close ties to the Russian government, ran an article claiming she had exaggerated her story in her book. The article appeared on the same day that Michael Fallon announced Britain would take a tougher line against Russia for its cyber attacks on the UK.
The horrific abuse which is still ongoing by online trolls includes spoof Facebook pages attacking her. Azi's website was hacked, and she was forced to shut down her social media platforms.
"The online haters claim I've exaggerated the difficulty and challenges of her SAS training regime some 20-years-ago and accused me of "cashing in on my experiences" when in fact profits from the book have gone to a military charity.
"These people are trying to destroy my reputation, but I am a fighter, and I am not going to let them do this to me," she says.
"I believe certain groups would much rather see me not getting a chance to fight in the forthcoming election; I'm keen to stand again if I make it onto the shortlist for a seat."
Having explored various legal actions against 'Russia Today,' she says she might not be able to shut down the trolls completely, but is determined they won't beat her.
"I am going to stand up to this hate campaign," she says determinedly.