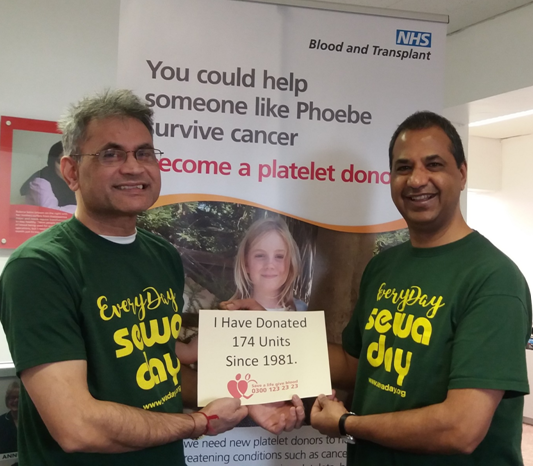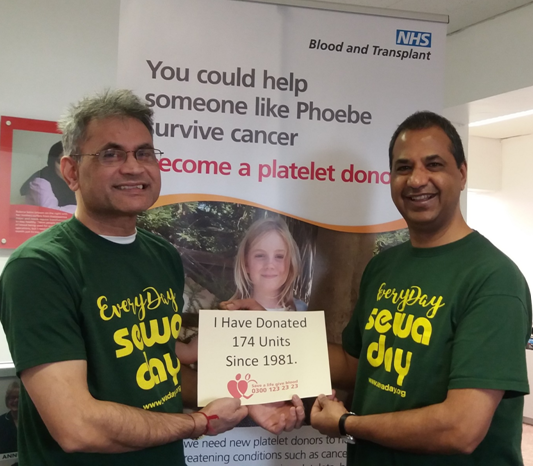 An unsung hero has given a whole new meaning to 'doing your bit' for charity.
Yorkshireman, Thakorbhai Rambhai Mistry has been giving blood for the last 36-years, donating (get ready for it) an incredible 174 units of blood in this time!
Now he's all ready to stick a needle in it again in the hope that it will inspire people from ethnic backgrounds to donate blood and possibly save someone's life.
Thakorbhai's remarkable 175th donation will take place on 30th March and is tied in with the Sewa Day National Blood Donation Drive.
Speaking to the Asian Express spoke to Thakorbhai, aged 62, discloses just what it is that motivates him to keep going back and what got him into blood donation in the first place.
"Whilst working in the University of Bradford in 1981, I noticed my colleague would often disappear for an hour or so and I started to ask questions as to where he was going. I was surprised to find out that he was going to donate blood," reveals Thakorbhai.

"The University of Bradford were and still are, a really responsible employer, and were happy for their employees to take time away from their work in order to give blood.

"After having some questions initially such as, 'Does it hurt?' 'Will it take a long time?' and 'Will I feel weak?' I attended the next donation with the reassurance of my colleague.

"I haven't stopped since then because I know it will benefit others, including my family and members of my wider community, especially as there is such a shortage in Black and Minority Ethnicity donors and blood types.

"I do it on a regularly because the blood I give is replenished within a few days and only takes an hour of my time."
Mr Mistry says he has never felt unwell after giving blood and feels it's an insurance, as it means blood is checked on a regular basis, meaning any potential illnesses could be detected.
---
Feeling inspired to help an incredible cause? Thakorbhai gIveS us some essential advice for first time donors
Go with someone you know and feel comfortable with. "

Whether it's a friend, family member or colleague, going with someone familiar will help you feel more relaxed."

Being fit and healthy, looking after your diet and exercising regularly will go a long way in ensuring you have a great reaction to donating. "

I make sure I am careful with my diet and like to lead an active lifestyle, this has definitely helped me in being able to donate for such a long time. Although don't push it too much on your donation day, you don't want to be too tired!"

Find out information beforehand if you're curious about the process. "

Back in my day, there were leaflets available at the donation centre which were great for providing more information. These leaflets are still available if you go along to a centre – although you can find out everything online nowadays!"

It's understandable to build up a sense fear and apprehension before going along, but there's nothing to worry about.

"Once you donate that first time and realise what amazing, life changing work that unit will do for someone, you will realise there was never anything to fear!"
---