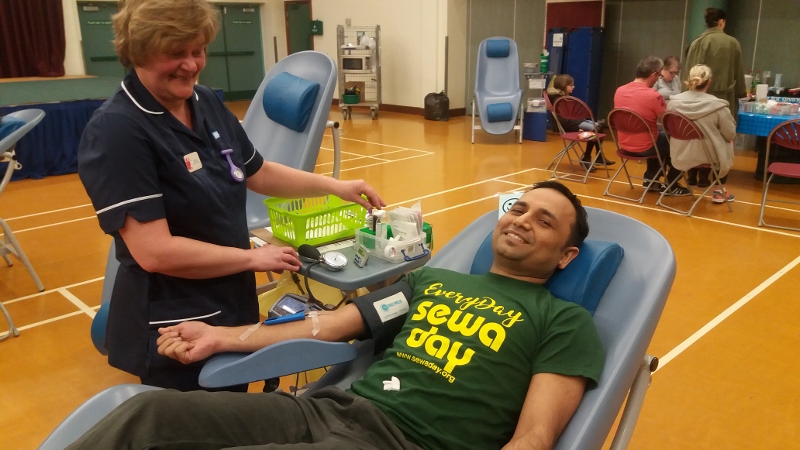 Bradford charity launch campaign to encourage Asian blood and organ donors
Did you know, that around 14% of the population of England are black or South Asian but less than 3% of people who have given blood in the last twelve months are from these communities.
Now a Bradford-based charity is on a relentless mission to change the lack of Asian blood donors and has partnered up with NHS Blood & Transplant services for 'Sewa Day.'
Coming together to raise awareness of the shortage of Asian blood types donating blood, they hope to encourage more people to get involved taking up regular donation when possible.
The number of patients from South Asian communities on the transplant waiting list are exceptionally high, yet are hugely under-represented on NHS Organ Donor Register.
Speaking to Asian Express, Theo Clarke, National BAME (Black, Asian, Minority, Ethnic) Manager at NHS Blood and Transplant said: "We are very grateful that Sewa Day is working with us to help save more lives.
"South Asian patients wait longer than white patients for transplants as there are not enough suitable organs available.

"By joining the NHS Organ Donor Register and sharing your decision with your families you could save up to nine lives, if you are able to donate after your death. By becoming a blood donor, you can save up to three lives every time you donate."
In the ancient Indian language of Sanskrit, Sewa means selfless service and on Sewa Day individuals, voluntary groups, schools, and companies are encouraged to commit their time to doing a good deed with an aim of making a positive difference to someone else's happiness, quality of life and prosperity.
Bharat Vadukul, Sewa Day Chairman told Asian Express: "When people from South Asian communities find out they may have rare blood and tissue types, I'm sure they will want to do everything they can to help save lives.

"There are many South Asian people who actively donate blood but we need more. I urge people to find out if they can donate blood, register online at www.organdonation.nhs.uk and to join the NHS Organ Donor Register. One day it could be someone you love who needs an organ transplant or a blood transfusion."
In order to give people more information Sewa Day are running two Donor Drive events happening soon, the first on 30th March and then a second event on 30th April.
---
Sewa Day Donor Drive
30th March at the Bradford Blood donor Centre 11 Rawson Street, Bradford BD1 3SH
30th April at Shelf Village Hall, HX3 7NT
You can also join the NHS Organ Donor Register or become a new blood donor by calling 0300 123 23 23.
---