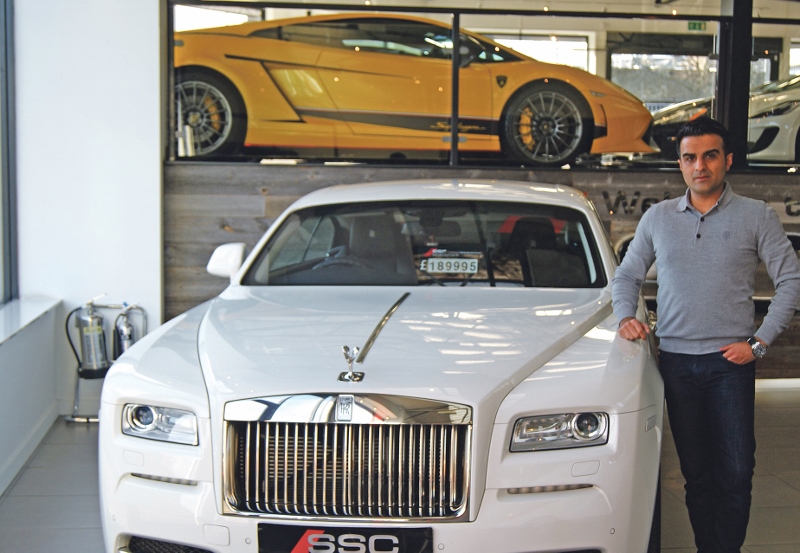 A Huddersfield man has spoken about being the victim of a conman who scammed him for thousands of pounds.
In a cunning, London-man Mohammed Humza by providing fake documents bamboozled the DVLA into believing a £97,000 Rolls Royce belonged to him, and then duped Shak Shah, a Huddersfield car dealership into buying it.
The Rolls Royce Phantom Coupe, actually belonged to Saudi Sheikh, Mohammed Alibrahim of Mayfair in London and had been parked up while the Sheikh was abroad.
After filing a false V5 form claiming ownership of the car, Humza managed to obtain spare keys for the Rolls Royce by providing ID of the Saudi prince and other documents. Humza proceeded to offload the vehicle to an unsuspecting Shak Shah for cash and part-exchange.
Speaking exclusively to Asian Express, Shak Shah – Managing Director Of Shaks Specialist Cars dealership, tells us his version of events from the day the police first flagged him about the stolen vehicle two years ago, to last week when the criminal admitted theft and five counts of fraud on 13th March.
In what had become 'a living nightmare' Shak says the incident threatened to jeopardise his 'well-earned reputation and life's work'
Shak discloses that he was contacted by London-conman Humza in early April 2015, who expressed interest in some cars at his showroom, and said that he was interested in part-exchanging his Rolls Royce for a couple of other vehicles.
"He (Humza) was here for about five-hours that day and we discussed what cars he would want to exchange for.
Humza even presented Shak with customs documents to verify the car had all the customs duty paid – without which you cannot register a car in this country.
The fraudster even had a service receipt from the Rolls Royce garage in Mayfair.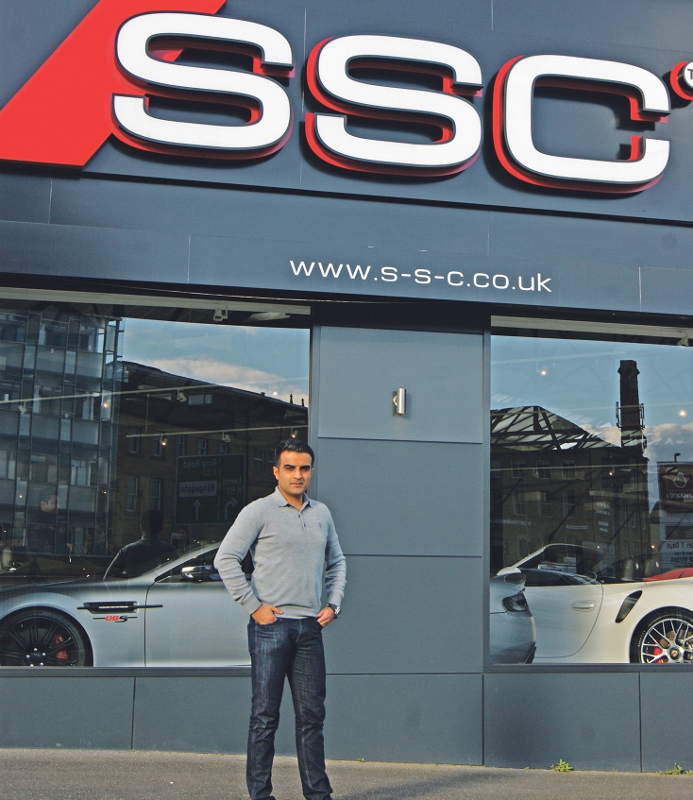 "I carried out the standard protocols, as I do with everyone, everything seemed in order and I transferred the £27,000 to his own bank account and he left with two of my cars – a blue BMW M5 Series and a white Mercedes-Benz A45 AMG."
The following day his team proceeded with the usual paperwork that follows when the dealership takes in a new vehicle.
Just after midday, a PCSO (Police Community Support Officer) visited Shak's business premises.
"This whole thing is really bizarre," says Shak.

"What was especially strange about what happened that day is the PSCO walked into my showroom, without introducing himself or showing any form of identification saying: "Hi Shak! That car outside is stolen."
Shak, shocked by the bluntness of this approach began to question the PSCO but didn't get very far.
"I've had no answers on why and how the police turned up the day after this car arrived at my showroom. I believe someone somewhere must have known what was happening.

"This was a burgundy Rolls Royce worth £97,000 being driven from London to Huddersfield – if the police knew this car was stolen, I don't understand why it wasn't stopped before it reached my showroom.

"It's not exactly the most subtle car on the road – someone obviously knew what was happening to the car otherwise the PSCO wouldn't have been able to locate us so soon."
Shak states that to this day no official police visit or detective has visited him in person regarding this case and all the communication with the police has been via email. Shak wasn't even asked to attend court or to participate in the trial.
It took police just under two-years to arrest and convict Humza, who was jailed for four-years-and-two-months at Southwark Crown Court on Monday 13th March.
"I'm just as much a victim of this conman as the Saudi prince," Shak says.

"After taking matters into my own hands I had someone visit the address on Humza's bank account I managed to retrieve my vehicles, but I've been informed that if I sell them I'd be convicted for handling stolen goods!

"So I've lost the money I gave to Humza, and now I can't even sell the other two cars to try and make up the shortfall," a frustrated Shak adds.
With widespread tabloid coverage on the case in papers such as The Sun, The Daily Mail, The Telegraph and many other local papers – Shak's side of the story, and the role he played, has been massively misinterpreted.
"If I had done this deal without the documents and without checking things then yes, I would deserve it – but none of the tabloids have focused on the fact that this man is a complete conman.

"I still haven't been told how he managed to elaborately pass off the fake documents, including the Saudi prince's identification, to the DVLA convincing them enough to transfer the vehicle into his name.

"The tabloids also made it seem like I paid £27,000 for a car worth close to £100k. That is of course, not the case. I also gave this guy two really high spec cars, the £27,000 was the price to make up the difference."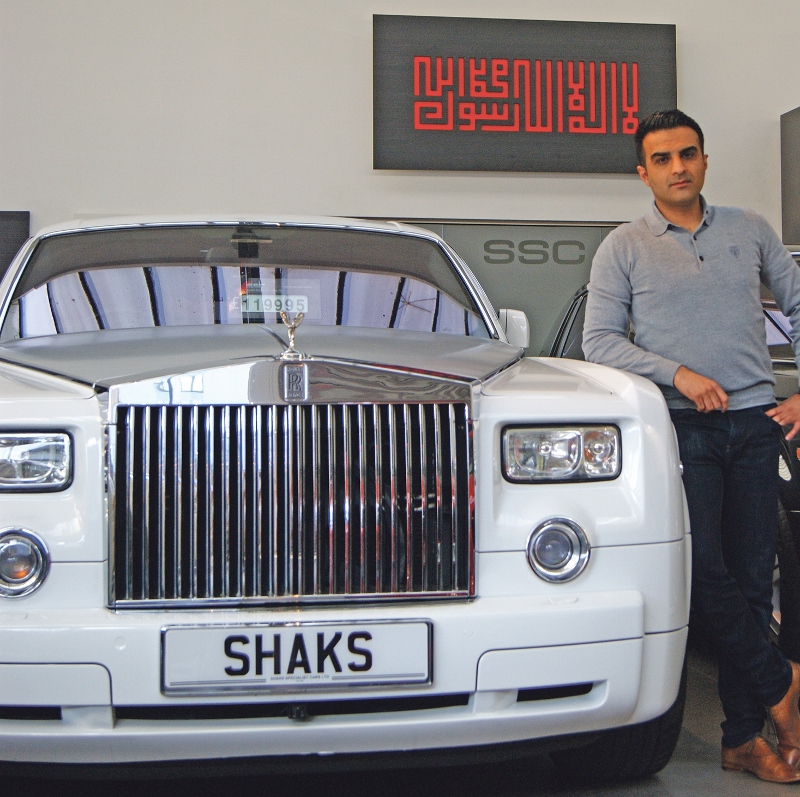 Shak then contacted the tabloids to clarify this as he knew this was reflecting badly on his integrity as a businessman, but he's heard nothing back from them.
"I've worked hard on this business since 2004, I'm an independent car dealer – I buy these cars myself and it's my money on the line. This has been a harrowing ordeal for me, my family and my business.

"I told the tabloids I would never jeopardise my life's work with a dodgy deal, and as far as legalities are concerned, the deal I did with this guy was completely legal from my side."

The failings by the police to include Shak about the proceedings of the case, when he was also a victim, the failings by the tabloids to reveal the truth of the story and the failings to return the lost money to Shak have disappointed him and left him rather confused with the system.

"The national mainstream press have trailed my name through the dirt.

"The tabloids have just been regurgitating the stories featured by the other newspapers and online media.

"Asian Express are the first paper to contact me and actually allow me to speak out on what it's meant for me and I'm glad I can now set the story straight after so long."
Shak still hopes that one day, the money he lost as a victim of this crime will be returned and now that he's given his version of events, he can move on and leave this long and exhausting experience firmly in the past.
Humza had also tried the same scam with the DVLA in attempts to obtain ownership of a £127,000 Ferrari, a £75,000 Porsche and a £21,000 Aston Martin.