Editor's Note: Graphic Content
A powerful and deadly bomb blast ripped through a protest rally in the busy Mall Road in Lahore, Pakistan, killing at least 11 people and wounding dozens a local emergency rescue service said.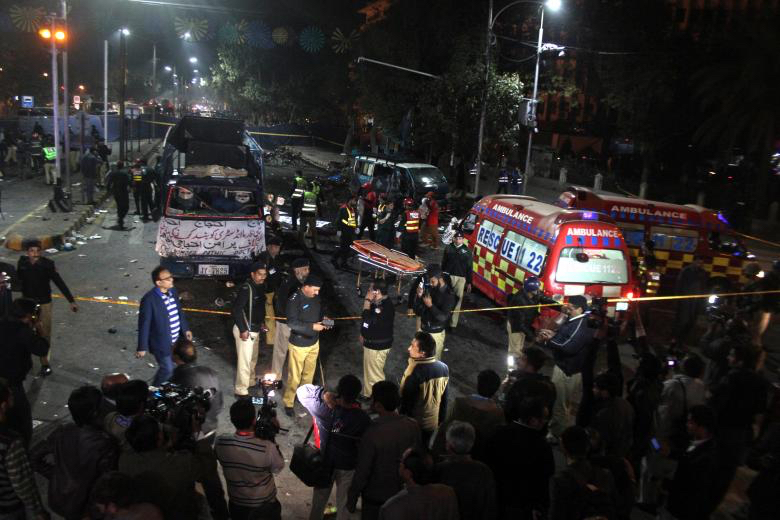 The explosion on Monday 13th February, rocked a protest organised by Pakistan's chemist and pharmaceuticals manufacturers outside the provincial assembly building. It was attended by hundreds of pharmacists who were protesting new amendments to a law governing drug sales.
Sameer Ahmad, the Lahore deputy commissioner, confirmed at least 11 people had been killed and 58 wounded, including nine who were in critical condition.
Two senior police officers, including a former provincial counterterrorism chief, were among those killed, police said. There are fears that the death toll will rise further.
The attack has been claimed by a breakaway Taliban faction named Jamaat-ul-Ahrar, who state it was revenge for Pakistani military operations against Islamic militants in tribal regions.
Witnesses narrate that a suicide bomber on a motorcycle purposefully drove into a police vehicle, resulting in a violent explosion which could be heard several kilometers away.
Pakistan's Prime Minister Nawaz Sharif has strongly condemned the attack: "Terrorism isn't a novelty for us. Our story has been one of constant struggle against its grasp and a fight for the soul of Pakistan," he said in a statement.
"We have fought this fight against the terrorists among us, and will continue to fight it until we liberate our people of this cancer and avenge those who have laid down their lives for us."
Lahore has been repeatedly targeted by militants in recent years.
In March 2016, around 69 people, including young children, were killed in an explosion in Lahore. The park where the terrorist attack took place was crowded with families, some celebrating Easter.