CINEMA: THIS WEEK – "Running Shaadi"
---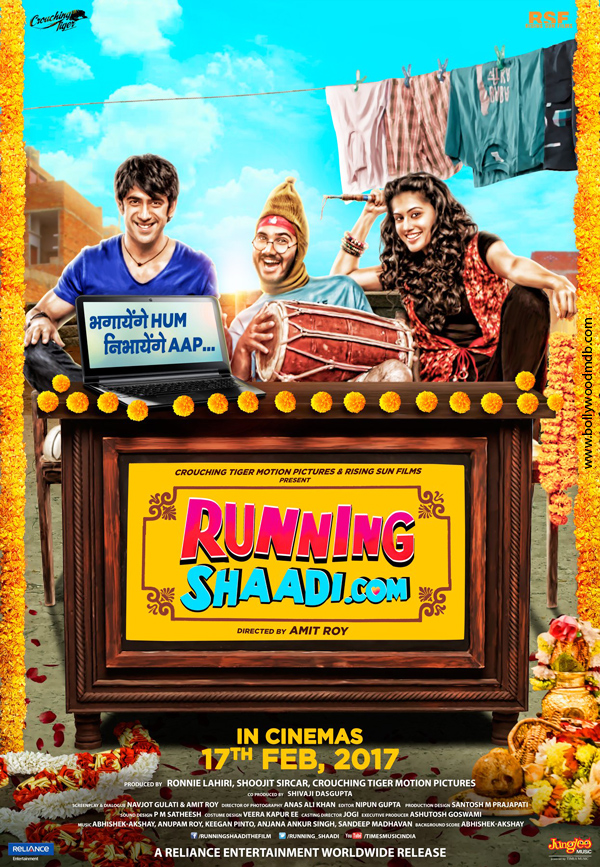 Star Cast: Arsh Bajwa, Brijendra Kala, Tapsee Pannu
Director: Amit Roy
Genre: Romance
Release date: 17/02/2017
It tells the story of Ram Bharose (Amit Sadh) and his friend Sarabjeet Sidhaana aka Cyberjeet (Arsh Bajwa), who set up a website to help love struck couples in the city of Amritsar defy their families' marriage orders and elope together.
Taapsee Pannu, who plays Nimmi, the female lead, says the reason the role appealed to her was because the character is almost similar to her.
She says that although she didn't have to step too far outside her comfort zone to play Nimmi, she learnt a lot from the experience. "The characters in the film are very real. That's where the humour comes from – not from funny lines, but from these very real characters that everyone can identify with."
Although the movie is a light-hearted romantic comedy, Pannu concedes that the issues it addresses are a serious matter for many people.
"Arranged marriage is an issue that affects a lot of people in this country," she says. "It sometimes seems like couples have to think about everything except their own feelings when they get married. They have to think about their religion, their caste, their family, society – and the last question seems to be 'do you actually want to marry this person?'"