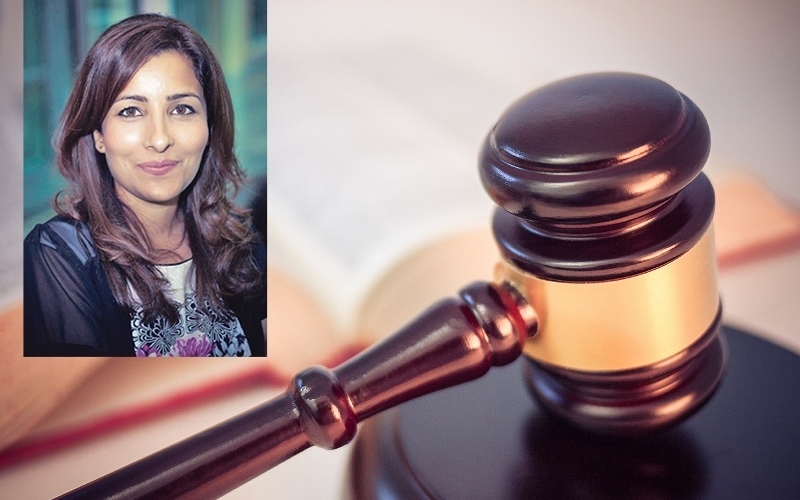 Meet Ayesha Nayyar, Specialist Solicitor with over 20 years of legal experience. She is Principal Solicitor at Nayyars Solicitors and together with her team of dedicated lawyers she can help answer any of your legal queries.
Each issue she will be answering all your questions about family, immigration, personal injury and writing a will. Email them to ayesha.nayyar@nayyarssolicitors.co.uk or call 0161 491 8520 for a free consultation quoting The Asian Express Newspaper. Ayesha promises to deal with all your queries in a sensitive and confidential manner.
---
Dear Ayesha
My brother works in a restaurant. While another worker was frying he tipped over the pot of oil. The hot oil went over my brother's body and legs. He was badly burnt and has been in hospital since. He needs several skin grafts and has been told he will not be able to travel to hot countries for the next 12 months. Our sister is getting married in Bangladesh next month. His boss has sacked the worker since. My brother is scared to claim as he might lose his job.
Anonymous.
First of all I am sorry that your brother has been injured in this horrific accident. Your brother's employer is responsible for the actions of all employees including the worker who negligently caused the oil to tip onto your brother. The employer is likely to have insurance to pay the claim and therefore will not have to pay the money himself. If your brother is worried about his job we can refer him to our employment department to advise him on his legal rights. Your brother has sustained a severe burn injury and at Nayyars we specialise in serious accident claims. Unfortunately the road to recovery is likely to be a long one. We can ensure that steps are taken to help your brother get back on his feet including getting him medical care, physiotherapy, a house-maid and a taxi account for getting around. Please tell your brother to call us, our staff can speak Bengali.
---
Dear Ayesha,
I was shopping in a large supermarket chain and I slipped on chocolate mousse that had fallen on the floor. I reported it to the store manager and I was seen by a nurse who was on the premises. I failed to take photographs. Can I claim and will the lack of photographic evidence lessen my chances of success?
Rukhsana
Supermarkets have a legal duty to ensure their premises are safe for visiting customers. Allowing chocolate mousse to be left on the floor clearly posed a hazard to customers. In order to success against the Supermarket we have to show that they did not have a safe system of cleaning in place. The good news is that you reported your fall to the store manager and were seen by a nurse. They will now have a record of your accident and it should be in the Accident Book. The fact that you did not take photographs is not fatal. Please do give us a ring at Nayyars and we can start your claim.
---
Dear Ayesha,
I was involved in a car accident two years ago. At the time I had various personal issues going on, so I did not make a claim. I would like to make a claim now – is it too late?
Ahmer
An adult has 3 years to make a personal injury. A child (someone who was under the age of 18 years old at the time of the accident) has until their 21st birthday to make a claim. This means that court proceedings have to be started by this date. However you should not wait till the last few months to contact a solicitor and start your claim. Many solicitors will not want to take it on at that late stage. I would advise you to contact Nayyars today and we can get the claim started. Please do remember that we will do our best to make the claims process as straightforward and stress-free as possible for you!
---
Dear Ayesha
My wife will not let me see my daughters, due to our personal relationship issues. I really want to see my daughters as I have not seen them in 6 months. I went to see them at our old address and they have moved. I do not know where they have moved to – I have no other contact details. I wish to apply for contact through the courts but I don't know where my ex-wife has taken my daughters. Will you be able to find out the address details for them if I want to apply for contact?
I am sorry to hear that you are experiencing difficulties in contacting your children. We can apply to the courts on a separate form, along with the contact form, to find out details of where the children are, as once the contact application is made and it will need to be served on the mother. So the court will locate the address but the address will not be disclosed to you.
---
Dear Ayesha
Madam Ayesha my name is Vijay. I really want to invite my childhood friend from India to come to the UK for a holiday for a few weeks. He will then go back to India. I am not sure what documents he will need to apply for the visit visa to the UK. Can you kindly give me a list of documents which he will need?
Vijay, we do not give a list of documents as each application is assessed according to each individual's circumstances. However, there are a few essential documents which he will need to retain in order to apply for a visa. He will need a valid passport or other travel documents allowing him to travel and evidence that he will be able to support himself during the trip to the UK. This can be in the form of bank statements or wage slips. There are many other documents which he will need to apply for a visit visa. I would advise you to make an appointment with our office and we shall do our best to help you with your friend's application.
---
Dear Ayesha
I was listening to your show on the radio and I was very impressed with you. You are doing a brilliant job. I have a question about a will. I have the one house in which I live and a few thousand pounds of saving in my bank account. I want to leave my property to my two children as I am a widow and I have nobody but my two daughters. I wanted to ask, how will my daughters be able to get the house and my money after my death? How will it work? The house and bank account are in my name.
Mrs Musarat, thank you for your generous comments, I hope you enjoy listening to the show. In relation to your question, I would like to inform you that at the time of making your will, you will name an executor or executors – you can have more than one. An executor is the person responsible for collecting all your assets after your death, whether it is property, money or any other possessions. The executor will apply for a grant of representation and they will collect the whole of your estate and distribute it amongst the people who are entitled to it. Please contact the office to arrange an appointment to discuss the matter further.
---