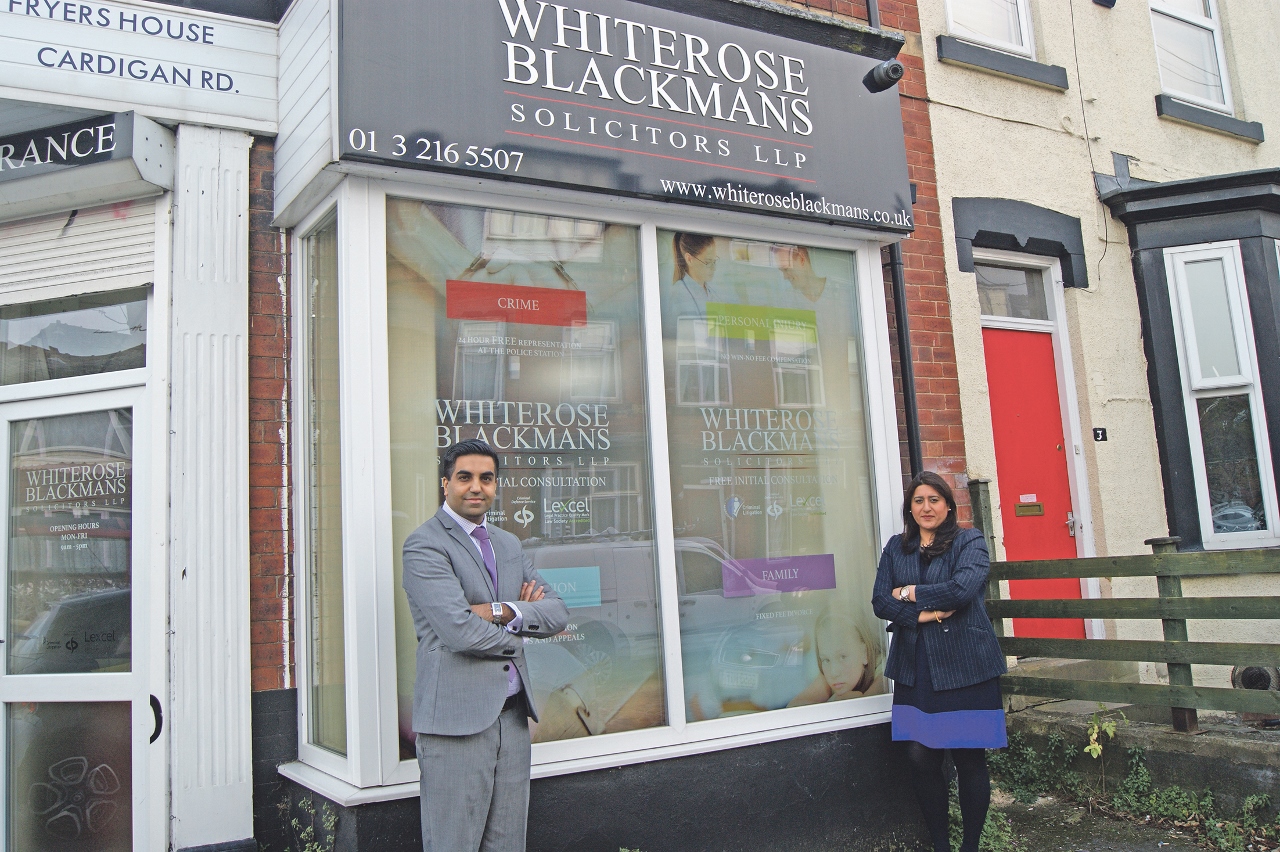 Leeds based solicitors named one of the top three solicitors in the city
Whiterose Blackmans Solicitors continue to lead the pack in their field and march on in their quest to ensure the public are given the finest service possible when it comes to serious legal matters.
The highly respected solicitors, who are based in Leeds, have been recognised for their greatly appreciated and high esteemed service, which looks to put their client first.
The ever growing and forward-thinking solicitors have been rewarded for their many years of high quality thorough work. They have been awarded and listed as one of the top three Criminal Defence Solicitors in Leeds by ThreeBestRated.co.uk.
ThreeBestRated.co.uk are an online service which aim to find the three best local businesses in each specialist field.
Whiterose Blackmans underwent the websites usual 50-point inspection, which includes background checks on their reputation, history, complaints, ratings, satisfaction, nearness, trust and cost to the general excellence.
The Leeds based solicitors were deemed to be ahead of all in their field, being ranked in the top three criminal defence solicitors in Leeds, and this comes as no surprise, given the care and attention they take on each individual case. They even offer out of hours service, understanding that law is not a 9-5 job.
Kamran Hussain who is one of the partners of the firm, has over ten years of experience, discussed the award with Asian Express. He explained,
"We have been rated as one of the top three Criminal defence solicitors in Leeds. It's a company called Three Best Rated, and they review the business on a 50-point inspection, which includes ratings and client satisfaction.
"We have been running the practice since 2008 and undertake a broad range of work, which includes immigration, criminal defence, family, divorce, civil litigation and personal injury."
Whiterose Blackmans pride themselves on having specialist solicitors in each of their practice areas with many years of experience. They pride themselves on the service they provide, with the aim of providing advice in a friendly and honest manner to obtain the best possible outcome.
Kamran explained how they only look to employ people who understand and maintain this ethos, which has been such an unchartered success as they continue to expand and move forward. Kamran explained: "We are always looking to get the right people on board, who are client driven and can put their needs first and have the ability to listen and be proactive and deal with cases properly in a professional manner."
Kamran added, "We currently have the one office based in Leeds but have a wide range of clientele who use our services. It can range from someone who has had an accident, to someone who is in trouble with the police, or someone who is unable to see their children.
"We also undertake many immigration matters and this includes advising people who would like to have a family member join them in the UK or someone who wishes to extend their leave to remain in the UK.
"We have clients up and down the country, as far as London, Southampton and Bournemouth. We are just not Leeds based. We value all our clients equally and that is a key to our success."
Speaking to Asian Express, Kamran explained the process: "When somebody has an accident, they will normally call us and explain the situation. One of our specialist solicitors will advise them over the telephone (or in person). We will assess their case and will then send out the necessary paperwork for them to complete. We can deal with such matters over the telephone and via correspondence including email.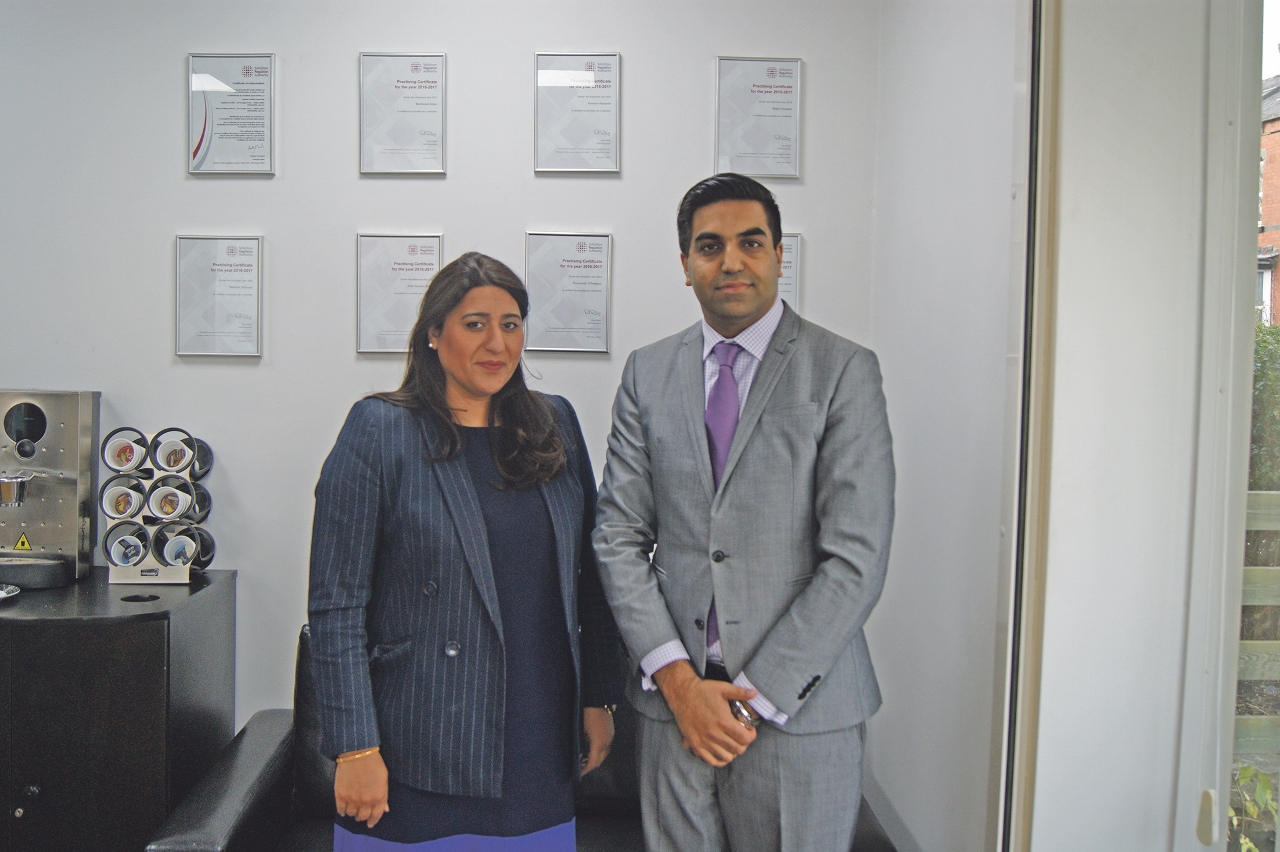 "Other clients might require our assistance at a police station or at court. We do receive a large range of instructions and many of these are of a very serious nature, and this includes offences of attempted murder, fraud and issues with drugs to name a few."
Whiterose Blackmans leave their door open to all different community groups and are constantly looking to grow, and as their recent award shows they are achieving great things. Kamran explained: "We are open to all different communities and have a range of clients from different backgrounds who we work with.
"We are constantly growing, and have repeated clients and many who recommend our services to family and friends."
Whiterose Blackmans Solicitors success hasn't just been recognised with their most recent award. They were also awarded Lexcel accreditation, which is given to practices who display high quality in relation to legal practice management standards. Kamran explained the importance of this to the practice. Kamran said: "In June we were awarded the Lexcel accreditation. Lexcel is the Law society excellence in legal practice management and client care. Independent Auditors attend the office and review files and our procedures.
"Again, this indicates to clients that we have a good reputation and we can be trusted. As a result, we do receive our share of high profile cases.
"We are solicitors who are on your side, we spend a lot of time with the client to understand their needs and treat every case differently.
"On the 1st April 2017, we received the legal aid franchise for criminal defence work."
Kamran Hussain discussed his own personal journey and briefly explained how the practice was set up and the work of some of his colleagues undertake. He explained: "I joined the legal profession in 2003 as a trainee solicitor in Leeds and qualified in 2005. In 2008, I then set up this practice alongside others. We now run a two-partner practice with over 20 years combined experience. The other partner is Majid Hussain.
Kamran is enthusiastic and passionate about law, having studied at Leeds Met University.
"We employ experienced solicitors who are highly experienced and knowledgeable within their fields.
"We have Anuf Ajaib who heads the criminal defence law department. Anuf is very experienced in criminal defence work having worked in London for many years before moving to Leeds"
Kamran also discussed how the world of law is constantly evolving and moving and how they keep up with these constant changes, Kamran explained: "It's all about hard work and total commitment and the late nights and early starts, it is not a 9-5 job and you have to enjoy what you are doing, otherwise you will struggle.
"It has taken us many years to get to where we are now, and we are not going to stop now and rest on our laurels because that is when you get left behind. Law is constantly changing, and you have to keep up to date and this motivates us."
Whiterose Blackmans always provide a free initial consultation and for personal injury cases offer a no win no fee service.
Whiterose Blackmans Solicitors LLP, are located at Fryers House, 146 Cardigan Road, Leeds LS6 1LU, and they offer emergency 24-hour advice to clients.
To contact the firm, please call 0113 216 5507 or in an emergency on 07852 338 579. You can also email them: info@whiteroseblackmans.co.uk or visit them online at www.whiteroseblackmans.co.uk