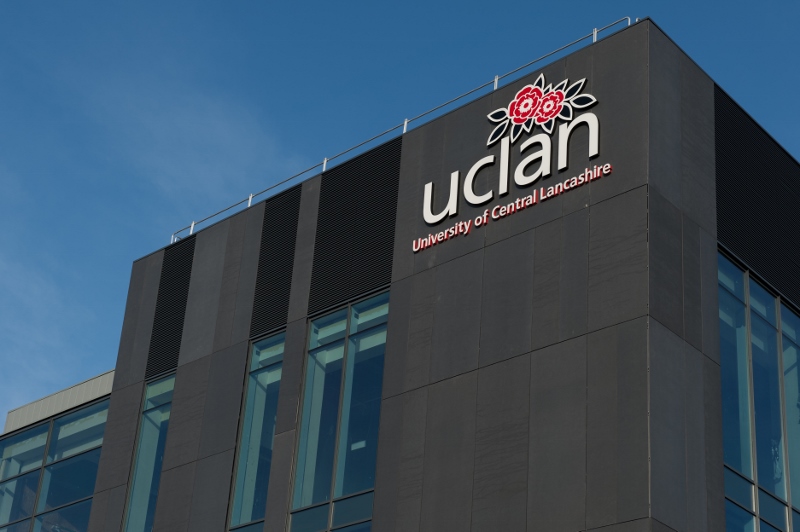 A historic ceremony saw the nationally acclaimed journalist and former University of Central Lancashire (UCLan) student Ranvir Singh, appointed as the third Chancellor of the University of Central Lancashire.
At a special inauguration event held at Preston Guildhall on Friday 20th January, Ranvir was officially welcomed into the UCLan family in front of a 350 strong audience of staff, students and guests. The event also marked the inauguration of Professor Mike Thomas as the University's fourth Vice-Chancellor.
Ranvir was brought up in Preston, completing a Postgraduate Diploma in Broadcast Journalism at UCLan in 2000.
She is now known to millions as a presenter on Good Morning Britain, ITV Evening News and News at Ten, and the Tonight programme.
She also has her own primetime series for ITV, 'Real Stories with Ranvir Singh'.
In 2013 she received a UCLan Honorary Fellowship for her contribution to broadcasting. In 2015 she was Asian Media Personality of the Year.
WARM WELCOME: Ranvir Singh joins the UCLan family with official inauguration ceremony. She is now the University's third Chancellor, taking the helm from Sir Richard Evans who was inaugurated in 2001.

Speaking at the event, Ranvir commented: "I should have been in Washington today but I told them I had something better to do! Looking out here today and seeing some of my very dearest family and friends, former teachers and colleagues tells me I made the right decision.

"I am deeply honoured to be given the chance to lead the charge for a great place of learning, a place that hones passions, and propels young people out there to think big, and put those feelings and desires into action."

David Taylor, Pro-Chancellor and Chair of the University Board, said: "In Ranvir, we have found someone who is successful, someone who can engage with staff and students and someone who has the capacity to inspire.

"Ranvir is from Preston and a former student of ours; she has an affinity for the University and cares for our heritage and our future. I am thrilled and excited at the prospect of working with her."
For Professor Mike Thomas, the inauguration marks the completion of his first year as UCLan's Vice-Chancellor. He said: "I am proud to be the Vice-Chancellor of an ambitious University, proud of my colleagues who commit their professional lives to supporting our students and proud of our students who go on to do so much good for our community and society.
"I am delighted to lead UCLan into the next stage of its development and I am determined to realise our potential as a civic university that delivers benefits to individuals, organisations and to society as a whole."
UCLan Students' Union President Sana Iqbal added: "Students today look to leaders in a position of power and authority for inspiration, and where better to look than Ranvir and Mike.
"I know they are both committed to enabling UCLan to provide an excellent student experience that is open to all – irrespective of background."
UCLan's award-winning Chamber Choir gave a special performance at the event with a piece composed for the occasion by Mark Goggins, University Chamber Choir Director. Named after the University's motto 'Ex Solo Ad Solem', translated as 'From the Earth to the Sun', the composition will be used for all future graduation ceremonies, leaving a lasting musical legacy.
Guests included Ranvir's former colleagues, much loved former co-presenter Gordon Burns and current presenter Annabelle Tiffin. The HM Lord-Lieutenant of Lancashire, High Sheriff of Lancashire, local mayors and council leaders were among the many dignitaries that attended the prestigious event.
As a truly global institution with an established campus in Cyprus, UCLan's student body includes 120 nationalities and its partnership network extends to 125 countries. In 2015 the Centre for World University Rankings placed UCLan in the top 3.8 percent of all worldwide universities.