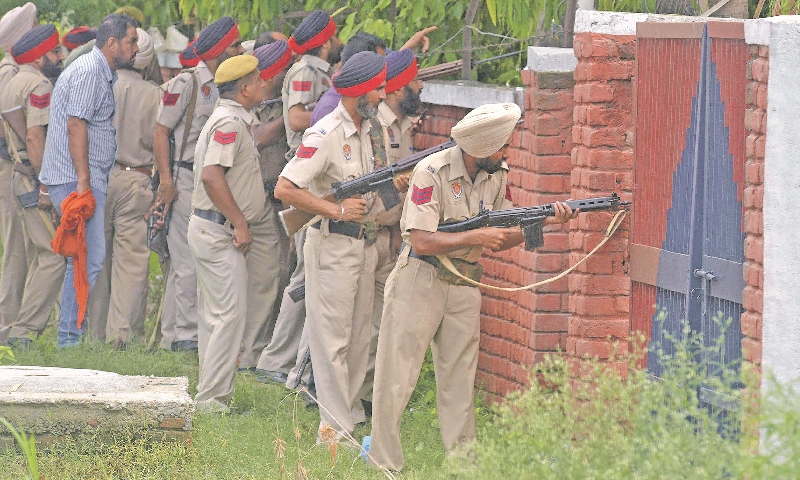 Indian police battled for 12-hours with a group of gunmen dressed in military fatigues at a small-town police station near the border with Pakistan last week, where at least nine people were killed.
Police in the frontier state of Punjab killed three unidentified assailants who had pulled up at the police complex in a stolen car near the small town of Dinanagar, automatic weapons blazing.
Indian Prime Minister Narendra Modi and his top ministers have not yet made detailed statements on the attack, which came weeks after he met Pakistan's premier Nawaz Sharif in an attempt to revive stalled relations between the nuclear-armed rivals.
Pakistan issued a statement condemning the assault and extending condolences to the government and people of India, pushing back against suggestions by some Indian security sources that the assailants had crossed from Pakistani territory.
In the first such attack in Indian Punjab in more than a decade, the gunmen shot dead a barber and tried to hijack a bus before rushing the police station, witnesses said.
Regional police chief Sumedh Singh Saini told reporters at the scene it was 'too early to say' where the gunmen had come from.
They were equipped with automatic weapons, ammunition, and grenades. Two GPS satellite location devices found on the men would be examined for 'clues', he added.
Three policemen and three civilians were also killed, according to the home ministry.
Police sources said the attackers entered from Pakistan a short distance to the north in the state of Jammu and Kashmir, where separatist guerrillas are seeking independence from India.
Jitendra Singh, a junior minister in Modi's office, said he did not rule out Pakistan's involvement.
"There have also been earlier reports of Pakistan infiltration and cross-border mischief in this area," said Singh, whose constituency in the Jammu region borders the Gurdaspur district of Punjab where the shootout took place.
Kashmiri separatist leader Syed Salahuddin, who is based in Pakistan, denied his men were involved.