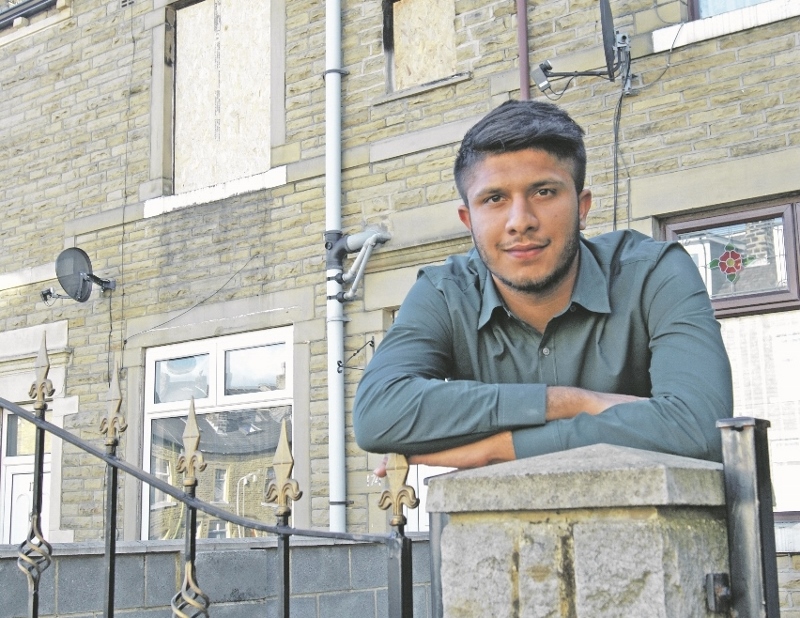 Commendations for civil servant who tackled serious blaze
A Bradford man has been hailed a 'hero' by his neighbours after rescuing a three-month old baby from a burning house fire.
22-year-old Aamir Nawaz, from Manningham, had been dropped off outside his sister's house, on Durham Road, last month when he heard screams for help.
Running down the street with takeaway in hand, the have-a-go hero arrived at his neighbour's door where she was stood with two children.
Her husband was out working at the time and their youngest child was trapped inside the home which had been set ablaze.
Courageously, Aamir dropped his takeaway, lifted his jumper over his head and made his way upstairs in the smoke-filled house.
"There was black smoke everywhere," he explained. "I ran up the stairs and started looking for the child.
"Eventually I kicked down the bedroom door and the baby was lying in a cot. There was smoke in the room but the window had been left open a bit which must have helped.
"I scooped the child up in my arms under my jumper and just concentrated on making it back downstairs without breathing in too much smoke."
Aamir made it outside with child in hand, at which time the fire service had just turned up.
He was commended for his efforts by neighbours and fire-fighters whilst the baby's family hailed him a 'hero' for his bravery.
Three children were taken to the Bradford Royal Infirmary for treatment for smoke inhalation on the night, and were discharged the next day.
"In that situation you don't really think about yourself, just the fact that there is a child who needs help," Aamir added.
"In Islam, we are told that we must help our neighbours. I have been brought up to respect this belief and the only thing going through my head at that point was that this baby needs rescuing.
"I knew it would be a risk but as soon as I was inside, I knew what I had to do."
Aamir received an official commendation from his local Masjid Umar as well as from the West Yorkshire Fire and Rescue.
Aldene Woodward, watch commander at Fairweather Green, explained how the blaze had caused significant damage.
"It was quite bad," she said. "The family has been displaced now.
"The cause of the fire is being investigated by the fire investigation team and the police.
"A significant amount of smoke spread around the house, it caused enough damage that the family wouldn't have been able to stay in the house. We called a Red Cross crisis team to help with the family.
"We will be checking on all properties in that area, offering fire safety advice and making sure all homes have working smoke alarms."