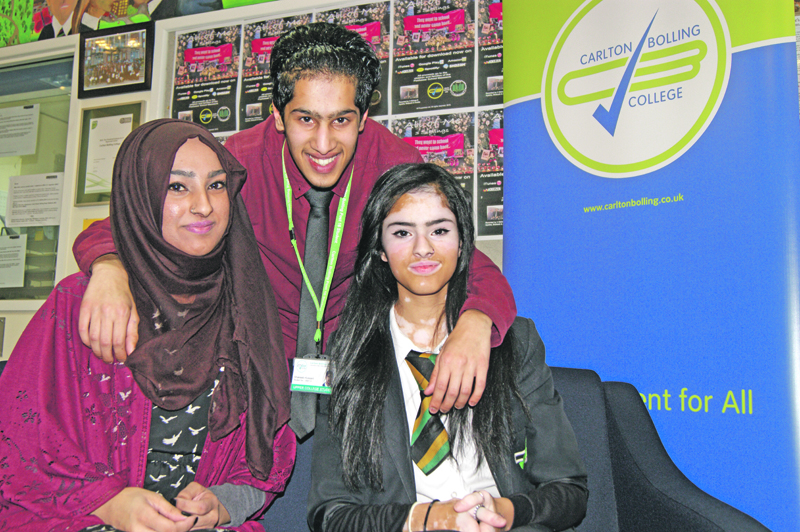 Teens head to recording studio in aid of massacre victims
Three musical siblings from Bradford have taken their fundraising to a whole new note this week after releasing their own song in aid of those affected by a Taliban attack on a Pakistan school last month.
16-year-old Shakeeb Hussain, and his sisters, Ayesha, 19, and Areeba, 15, all from Undercliffe, pulled together their own money to record and release a track in aid of the Peshawar School shooting victims.
On 16th December 2014, nine members of the Tehrik-i-Taliban Pakistan opened fire inside the Army Public School, killing 132 schoolchildren and 13 members of staff.
Vigils were held across the world in the days and weeks that followed with touching candlelight tributes seen locally in Bradford and Leeds.
Now, after deciding to do something 'different', the Hussain siblings released their song, a cover of John Legend's 'All of Me', in hope of raising money for those affected.
University of Huddersfield student, Ayesha, explained where the idea for the song came from at their official launch at Carlton Bolling College.
"When the attack happened on the school it was all over the news and I think everybody was watching it in disbelief," she said.
"It made us think that this could have been us, and what can we do to help. That is when we decided upon recording a song.
"We wanted to do something to show how much we care and decided that we should record this single and donate the proceeds to help our brothers and sisters affected by this tragedy."
After gathering their own money together, the three singers took to the recording studio and after some help from their father, launched it as a purchasable download from a number of music outlets.
"We don't want people to download this track once, but five or ten times as it is only 99p so the more times it is purchased, the more money goes to those who need it.
"We need to let these children and parents know that they are not alone and people are still thinking of them all around the world."
Mr Adrian Kneeshaw, head teacher at Carlton Bolling College, said his school holds a sense of affinity and unity with Peshawar Army Public School, due to many students coming from Pakistan, including some from the Peshawar area.
Praising the efforts of the two current students, and one former pupil, he said: "This is a typical response from Carlton Bolling students who, time after time, show their caring nature and spring into action to help others.
"The situation in Peshawar shocked us all and I am very proud of Ayesha, Shakeeb and Areeba for leading the way by releasing this single to help the families affected."
'All of Me' by Ayesha, Shakeeb and Areeba is available to download on iTunes, Google Play as well as many other music outlets with all proceeds going to children and families of the Peshawar School Massacre.
The funds are to be used to provide medical care, rehabilitation and long term care for the surviving students as well as helping grieving relatives by providing counselling services.