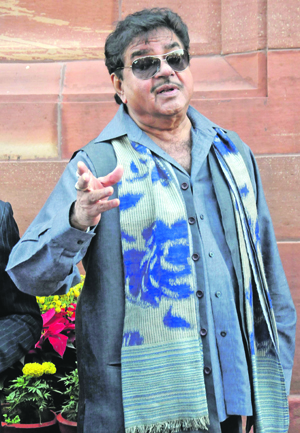 A Bengaluru-based artist Vidushini Prasad has decided to sue the family of actor and BJP functionary Shatrughan Sinha, claiming that the image of Ganesha printed on the wedding invites of his son Kush was lifted from her collection without permission.
Kush Sinha's wedding with Taruna Agarwal, the daughter of a prominent NRI family from London, was held in Mumbai on 6th January.
Prasad said: "I've spoken to my lawyer. We're not accusing the Sinha family but we will send a notice to them as we don't know which agency designed it for them."
Reiterating that monetary issues have not prompted her action, Prasad said: "In the past Delhi University and many others have called me seeking permission to use my paintings on cover pages. I've allowed them to without charging any royalty. But they acknowledged that the artwork was mine."
The image used on the invite was a Madhubani-style painting from the signature collection Prasad had done for a city lifestyle store for their Ganesha festival collection last year.
"I'd done about 35 paintings for the store. I did not expect a card meant for such a reputed family will be designed by agencies or people who steal. I hope it does not happen with any other artist," she said.